Umphrey's McGee has released their winter tour schedule for 2013 and  2014. The band will be making a stop in Buffalo, New York October 26th at the Town Ballroom and continuing their lengthy tour into 2014. Later in their tour, Umphrey's McGee will be making a stop at Upstate Concert Hall February 2nd in Clifton Park, New York as well as the F Shed at the Market in Syracuse accompanied by Kung Fu on February 8th, and the Harro East Ballroom in Rochester, New York the following day on February 9th.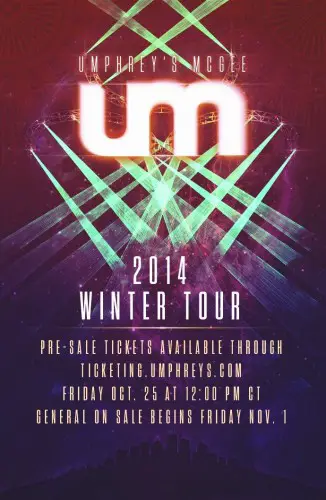 They will also be playing two nights at the Beacon Theater in New York City on January 17th and 18th.
This tour celebrates 16 years of touring coast to coast and will be shared with many special guests throughout the tour including, The Werks, Kung Fu, Moon Taxi, and more TBA.
October
10.21 State Theatre, State College, PA
10.23 House of Blues, Cleveland, OH
10.24 Sherman Theater, East Stroudsburg, PA
10.25 Stage AE, Pittsburgh, PA
10.26 Town Ballroom, Buffalo, NY
10.30 State Theatre, Kalamazoo, MI
10.31 The Riverside Theater, Milwaukee, WI (w/ London Souls)
November
11.1 The Riverside Theater, Milwaukee, WI (w/ Cosby Sweater featuring Joel Cummins)
11.2 The Riverside Theater, Milwaukee, WI (w/ Boombox)
December
12.16-20 Mayan Holidaze, Puerto Morelos, MEX
12.28 The Fillmore, Denver, CO
12.29 The Fillmore, Denver, CO (w/ Joshua Redman + Dumpstaphunk) SOLD OUT
12.30 Venue TBA, Denver, CO
12.31 The Fillmore, Denver, CO
January
1.17 Beacon Theatre, New York, NY
1.18 Beacon Theatre, New York, NY
1.29 Track 29, Chattanooga, TN
1.30 Tennessee Theater, Knoxville, TN
1.31 LC Pavilion, Columbus, OH
February
2.1 The Fillmore, Detroit, MI (w/ The Werks)
2.6 Upstate Concert Hall, Albany, NY
2.7 Lupo's, Providence, RI (w/ Kung Fu)
2.8 F Shed at the Market, Syracuse, NY (w/ Kung Fu)
2.9 Harro East Ballroom, Rochester, NY
2.13 The NorVa, Norfolk, VA (w/ Moon Taxi)
2.14 Thomas Wolfe Auditorium, Asheville, NC (w/ Moon Taxi)
2.15 The Fillmore, Silver Spring, MD (w/ Moon Taxi)
2.16 The Fillmore, Silver Spring, MD
Follow