When "All I Want" hit the airwaves in 1992, it railed delightfully against the timbre of the dominate alternate genre. So much so, the band I was in covered it, the song reached the top 5 of Billboard's "Mainstream" column and into the Top 20 of the "Hot 100". Pretty nice, as well as the equal success of "Walk On The Ocean", but for me, that was their flash in my pan, though the songs remain all-time favorites. Fear was their third release, spawned these two gems, and earned the band their first Platinum plate.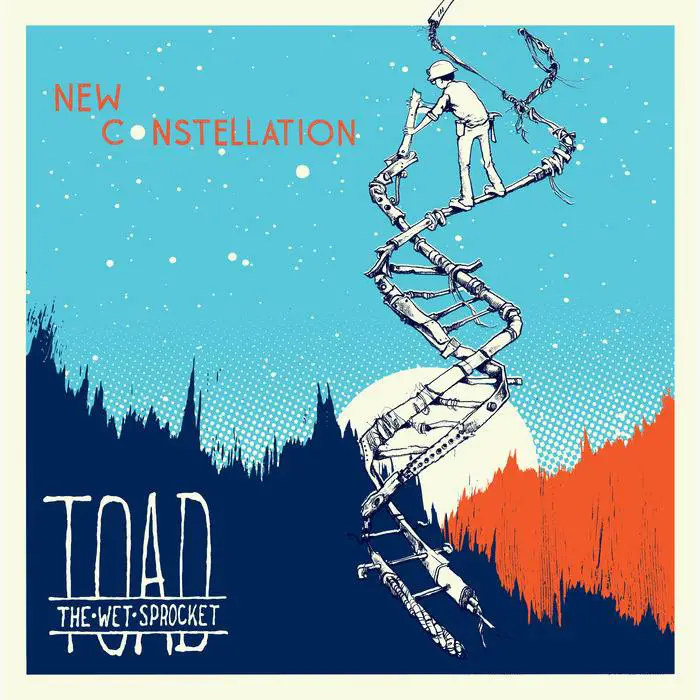 Their line-up has remained Glen Phillips (vocals, guitar), Todd Nichols (guitar), Dean Dinning (bass) and Randy Guss (drums) and they've had their break-ups and reunions, but any band lasting this long surely deserves a listen. New Constellation is the newest offering from TTWS. (By the way, the band name comes from an Eric Idle sketch where he made up a name he thought was so silly, it would never be used.)
The title track opens almost as expected, they come out of the box and flex their layered vocal harmonies over soft hooks, trying to hang on to their prior strengths while expressing 16 years of personal growth. "California Wasted" pushes the topic forward and looks back at time spent as it flies by. Not even having a chance to correct the mistakes you've made or take in what's right in front of you. Sweet melodic structure has been a signature for TTWS and continues with "The Moment" which speaks directly to living in the now and friendship lost. A nice reflection of maturity, but I always felt they were ahead of their time in the early 90s. "Rare Bird" may be a bit of a tired analogy, but the lilting guitar and the soaring, melancholy reading make it quite convincing, where "I'll Bet On You" is signature stuff. Cali beautiful, thick harmonies, big guitars that bolster, not overwhelm, it's up, it's positive, it's a single! (or should be)
"Golden Age" opens like I had been waiting for with some nice finger-picking on top of a subtle pedal-steel line, you can almost picture the three piece drum kit. Fleeting dreams and wants abandoned in search of a goal, very introspective, full of fore-thought. "Get What You Want" picks the pace of the album back up with a little Indie gas and entitlement, sticking around a developing theme of being left for what is perceived as less. It could be right, it could just be bitter, either way it rocks pretty strong on this cut. I'm not sure I'd want to be hanging with these guys while they wrote this, but the best music comes from an open-heart. "Is There Anyone Out There" continues on expressing the difficulty in communication and the nuance of hearing what is said until it's understood properly. "Life Is Beautiful" takes the next step in healing, acceptance, opening your eyes to what remains and life's possibilities, like the song title says. While "The Eye" takes a quick dig at becoming jaded and accusing, but I guess we all get a little resentful at some point. Musically it's thick and tight, fitting for the topic. "Enough" closes out the 11 song early edition I have, there are 15 on the full release. Apt to close the song cycle, it's bittersweet and heart-broken, yet yearning with positivity. Wanting just to move forward, not wanting to know more, pushing through the pain against physical resistance. "Don't tell me when I have had enough, I'll tell me when I've had enough".
It's remarkable to me that a band this talented would need a Kickstarter program, but in this case they've used it a unique way, to retain their "Indie" status and keep control over their work. Brilliant. "We hit our goal in 20 hours" noted Dean Dinning while speaking to Editor Pete Mason at FarmAid. Glen Phillips shared his thoughts, "It's been great to get the music out to the people who care the most first and take care of them. It's exciting to put something out. It's a totally different world from the last time we did it. We came from an Indie background and we finished our first two records on our own before Columbia hooked up with us, so we're excited to be back to the Indie roots and a real experienced team behind us." They immediately re-recorded their early catalog, honing chops and writing "New Constellation" on their own label.
Their fans can really hang in there with them, this being their first studio album in 16 years, but they've satiated their fans with live performances, mini-tours and live music releases. They set their crowdsourcing goal at $50,000, expecting it to take two months, their fans exceeded that in 20 hours! It speaks loudly for the fans as it's exceeded $200k and is paid back in spades with the product. This one will go right on the iPod and send me reaching into their back-catalog. Very well done.
Key Tracks: California Wasted, I'll Bet On You, Life Is Beautiful
Check out the band through their website and on Facebook or Twitter @ToadWetSprocket.