On July 5th, as the first night of Phish at Saratoga Performing Arts Center came to a close, the town streets came alive as those attending the three-night run fanned out to find after-parties to keep the vibe grooving. At the legendary Putnam Den in downtown Saratoga, those looking to keep their booties shaking found a pleasant surprise in the tucked away venue as Dead Sessions started off the night with a boisterous "Franklin's Tower".
One of my personal favorite aspects of Putnam Den is when they put on a show, they never overcrowd the venue, so as the sound echoed into the street and more ticket holders entered the premises, we all had the perfect amount of room to get down.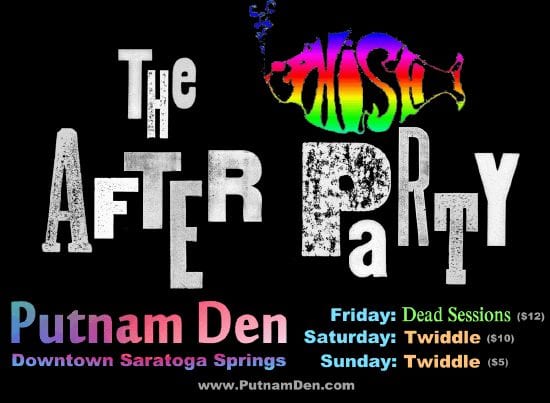 For those who have never seen Dead Sessions, this band is the embodiment of  the timelessness of The Grateful Dead's music. Although the band calls Vermont home, the band is composed of rotating members who are from various locations around the country. While they performed a plethora of old favorites including "Bertha", "Peggy-O" and "He's Gone", they also added their own improvisational jams and gave each song a piece of their own musical personalities.
During "Scarlet Begonias", their first set closer, they went into an impressive improv streak that combined new age jam with old age style and an intertwining of spacey jams that tied it all together. Keyboardist Adam King's playful melody danced around the crowd as guitar players Seth Yacavone and Adam Terrell (Assembly of Dusct / Ghosts of Jupiter/ Percy Hill), who was filling in for Tobe Kniffin dueled harmoniously with one another and the full sounded band, which included drummers Kevin Shapiro and Steve Hadeka (Seth Yacovone Band), supporting their beat every step of the way.
Dead Sessions was a great way to end the night for any Phish-Dead lover. Before we knew any better, it was 4am and with our hip joints thoroughly greased up from a full night of music, the crowd dissipated with a buzz of anticipation for two more amazing nights of music.
Also worth noting is that the show also doubled as a WaterWheel benefit and raised over $1,100 for the WaterWheel Foundation – which in turn donated it to the Saratoga Hospital Foundation which is working to build a community health center in Saratoga.
Setlist
Set 1: Feel Like a Stranger>Franklin's Tower, Jack Straw, West L.A. Fadeaway, Bertha, Brown Eyed Women, Peggy-0, Alligator> He's Gone> Scarlet Begonias
Set 2: Playin' in the Band> Visions of Johanna> Playin' in the Band, Blow Away, China Cat Sunflower> At a Siding> I Know You Rider, Easy Wind