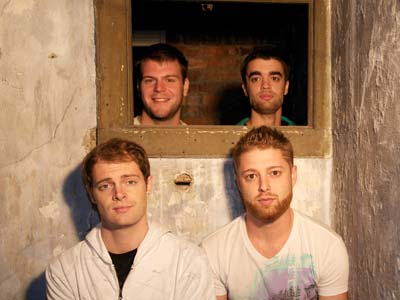 For the past decade, Summer Camp Music Festival has been on the radar of live music afficonados, as it unofficially kicks off the summer festival season. Living in the Northeast, we have our own kickoff for summer festival season, StrangeCreek in Greenfield, MA. But finally, the stars have aligned and in 3 short weeks, will be headed to Chillicothe, Illinois to cover Summer Camp Music Festival!
And we couldn't have picked a better year to be there! Upstate New York has not just founder of Summer Camp, moe., but EIGHT Upstate New York bands are on the extensive lineup, bringing the best of Upstate to the Midwest. Among the rest of the bands on the lineup, which includes Umphrey's McGee, Thievery Corporation, Trey Anastasio Band, Lotus , Cornmeal, Dopapod, Keller Williams, Conspirator, Lettuce, Big Gigantic, Tauk and dozens more, Upstate New York is represented by Floodwood, Jimkata, Giant Panda Guerilla Dub Squad, Timbre Coup, Project Weather Machine, Aqueous, John Brown's Body and of course, moe. There is rarely a festival outside the Northeast to feature so many bands from the Upstate New York region, showing that these acts are making names for themselves beyond their region and branching out to newer and broader fan bases around the country.
This installment of Summer Camp isn't just the best yet, it is also one of the best lineups anyone could ask for. For four days and nights, central Illinois will be rocking from noon till nearly dawn with some of the best jambands, electronic acts, bluegrass groups, reggae troupes and ensembles of every genre imaginable. The folks at Canopy Club have outdone themselves, and that's saying a lot when you look back at previous lineups.
Mike Armintrout, one of the promoters for Summer Camp, had this to say about the bands hailing from Upstate New York and the Northeast: "Being that moe. is such a major part of Summer Camp, and has been since the first year (2001), bands from their home area clearly hold a special place with them and therefore with the festival.  Over the years we've had a number of acts from the Northeast and Upstate NY on the festival.  This year we're excited about the return of a number of Northeast-based acts like Medeski Martin & Wood, The Wood Brothers, The Pimps of Joytime and Jimkata.  As well as a first-time appearance by some other great acts from the region like Lettuce, Dopapod, Project Weather Machine and Aqueous.  The Northeast continues to have a foothold at the Summer Camp Music Festival."
This, the 13th installment of Summer Camp will be nothing short of magical, but with so much music to see, the task of knowing what to see is daunting. For your consideration, may we interest you in the acts from Upstate New York, all worthy of an hour of your time, and quite possibly, many hours of listening in the future…
moe.
Summer Camp was founded by moe. in 2001, on the heels of their incredibly successful moe.down, now in it's 14th year. Playing six sets during the weekend, odds are you'll be seeing plenty of moe., and that you don't need us to tell you of their involvement of putting this festival together. moe. plays the mainstage each night on the main stage.
"It's interesting, when we all get togeher, it doesn't matter if its moe. or Floodwood, there's definitely a thing about being from the Northeast and being from Upstate NY. You don't really know it until you leave and get out of the Northeast and leave Upstate New York and run into people from Upstate in another geographical part of the country … we were on the road with Floodwood recently and ran into someone in  Asheville, NC. This guy spent a lot of time in Upstate and said 'I miss Upstate New York, the sarcasm, the food, the everything … when I hang with you guys for a couple days, it takes a bit to readjust (attitude-wise) with my wife." – Al Schnier, Guitar/Mandolin/Vocals, moe. and Floodwood
Hailing from Ithaca, Jimkata has begun to draw sizeable crowds throughout the country, combined electronic music with rock and progressive jams. Their recent album Die Digital has been a huge hit and led to incredible sets as they stretch into the south and Midwest. Read an interview with Evan Friedell of Jimkata with 's Johnny Goff.  Few acts from the Northeast have risen as fast as Jimkata has. To see them live is a pure treat for the ears and eyes. If you like electronic rock, you'd be hard pressed to find better. Check them out from 6-7pm on Sunday in the Vibe Tent
"I think there are a lot of hard working bands that have come out of upstate or the northeast that earn or have earned every fan or credit they get.  To see many of them on the same bill makes it feel like our area is indeed a productive one when it comes to live music and building a live music community.  Hopefully as more people from back home see their favorite hometown bands on bills like this they'll feel more inspired to continue supporting the live music scene we have going." –Evan Friedell, Guitar/Vocals, Jimkata
Progressive rock is alive and well thanks to larger acts like Umphrey's McGee, and Timbre Coup from Albany have put their signature sound on prog-rock, standing out among their peers and producing excellent albums, most recently Knuckles and Valleys, a spectacular release in 2012 that covers all 12 months of the year in 12 tracks, highlighted by the interplay of the band as they seamlessly switch instruments for various songs and intertwine their sound while our ears scream in joy. Timbre Coup is a treat every time we see them, and you'll thank us when you check them out Sunday from noon-1pm.
 "I feel like Upstate NY is a hotbed of creativity right now from the most progressive of music all the way to rustic and traditional sounds of blue grass and jam rock. Bands like Jimkata, Aqueous, Timbre Coup, Project Weather Machine and all the others that will be representing this region in the Midwest at Summer Camp show how eclectic the creativity is and how this scene really has something for everyone." – Dan Gerken, Guitar/Vocals, Timbre Coup
Giant Panda Guerrilla Dub Squad
Hailing from Buffalo, Giant Panda is one of two reggae-infused bands to come out of Upstate for Summer Camp. If you like your reggae diverse and beyond run of the mill, Giant Panda is perfect for you and makes a great mid-day aural snack on Saturday from 330-430pm
"It is some of the more honest, foot stomping fun that you will see this summer. We're all funked up from the cold and the Kodak chemie sunsets. Oh and the fracked water…" James Searl, Bass/Vocals, Giant Panda Guerrilla Dub Squad
Two parts moe. and three parts Zachary, Jason and Nick equals one helluva pickin' party with string band Floodwood. Playing bluegrass standards, David Grisman tunes and a variety of foot-stompers, Floodwood has been a huge hit out east and the Midwest is lucky to have them playing five sets throughout the weekend. There's lots of bluegrass and jamgrass at Summer Camp, so get your dose of Floodwood, as they're only playing three festivals the rest of the summer – Fiddler's Picnic June 14-16 in Lyons, NY, Clearwater Music Festival on June 15-16 in Croton-on-Hudson, NY and moe.down 14, August 9-11 in Turin, NY.
"With moe. and getting to the west coast, there's something about being from Upstate New York and the Northeast – you have this different outlook and certain kind of humor, an appreciation for sarcasm. The interesting thing I love about Upstate New York is that everyone is down to earth and it goes a long way and really stands out when you are out of your element" – Al Schnier, Guitar/Mandolin/Vocals, moe. and Floodwood
A band comprised of four individuals with eclectic backgrounds, Project Weather Machine hails from Syracuse and melds the genres of rock, dance, folk and blues, as well as jamming throughout each of these styles of music. Just over a year old, this group has caught the ears of a great deal throughout New York State and will playing from 130-230pm on Sunday afternoon.
"I feel that the Upstate bands in the Summer Camp lineup stand out mostly in the fact that it is so diverse. There are six markets across Upstate New York that are being represented and each one has it's own individual sound: Indie, electro, rock, jam, progressive, folk and dub/reggae are all being represented. It really shows what a wonderful cross section of music we have here in Upstate New York." Daniel Wafer, Bass/Vocals, Project Weather Machine
A true jamband with progressive routes and a wide-range of influences, Aqueous is full of deep improvisation, songwriting that is years beyond bands of similar caliber and a live performance that is a hallmark of Upstate New York. They kick off the music on Sunday from 11am-12pm, so start the day off right with an early dose of true improv.
"The bands selected to represent the Northeast at this year's Summer Camp Music Festival are among the finest Upstate New York has to offer and we're excited and grateful to bring our sound to the incredible mix of bands on the lineup!" – Mike Gantzer, Guitar, Aqueous
Playing from 5-6pm early Sunday evening, John Brown's Body has the recent distinction of having the #1 album on Billboard's Reggae Chart. Hailing from Boston via Ithaca, this ensemble of musicians uses reggae as the base for their sound, bringing in drums and bass, dub and electronica into the mix to bring their music to another level. Horns and a tight core develop immense rhythms. Don't' miss out on JBB.
"I think it is the people themselves that our making music from the Upstate NY region unique and interesting. There is wisdom and inspiration that has been passed on from older generations of musicians from the area and from our peers who lead their own groups. We are originally from Ithaca NY, so for JBB, it is individuals like Kevin Kinsella and our own Elliot Martin, and bands like Giant Panda and Thunder Body from Rochester that represent a sound and approach unique to this place." -Drew Sayers , Saxaphone, John Brown's Body
See you at Summer Camp!