On the Periodic Table of Music, if there were such a thing that is, Kuti (Ku) would most definitely be it's own element. Fela Kuti pioneered Afrobeat, an infectious blend of West-African and American funk and jazz. It's a sound that's influence has found it's way into a huge swath of music since, but is a bit more difficult to find in it's purest form. Fela's son Femi Kuti has helped carry the torch forward. And Kuti's son Made has in turn continued the tradition. Femi and his band, The Positive Force, including son Made, turned a quaint lakeside winery into a Nigerian dance party on Sunday afternoon. An event as unlikely as it was enjoyable.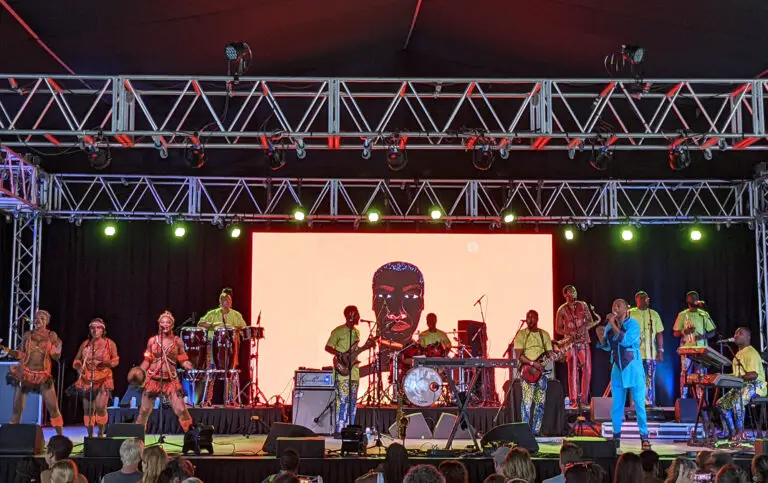 The beauty of the Finger Lakes was not lost on Kuti, "I woke up to one of the best views I've ever seen," he remarked soon after walking on stage. And his afternoon view from the stage at Point of the Bluff Vineyards, of the sloping grapevine covered hill down to Keuka Lake's shores was stunning. On stage though, the beauty was all Nigerian. Kuti led the 12-piece band through a rapid fire 90m African soundscape and political-sphere.
The music was a flurry of movement, as were the people playing it. Three female backup singers shook and gyrated in mesmerizing fashion while Femi Kuti bounced and bounded across the stage. The energy emanating from the band was infectious. Pure elemental Kuti pinged off the stage and into the crowd, zapping each and every person with pure Kuti energy until everyone was dancing in the best way they knew how.

Fun and funky, but not without function. Ingrained within were messages of love, peace, and freedom. "There's a storm coming … they teach us the to be scared … we need to change the narrative, let the storm bring love!" "I've got too much on my mind / I believe with time everything will be fine." "You can't fight corruption with corruption." The messages were a constant.
So too was the music. Just as soon as applause arrived, the next song quickly drowned it out. Kuti vowed to play with as much energy as every other night, even on this, their second-to-last show of a 30-date tour. At 60 years old, he did it and then some.
The show ended with a passing of the torch of sorts. First with a father and son sax jam. Then, father Femi left the stage and Made led the band for a song, a reggae-ish groove with rhythmic singing, highlighted by the band building behind a single note Made held on his soprano sax for a good two minutes, before releasing to a huge explosion of sound. The Kuti torch is in good hands for years to come.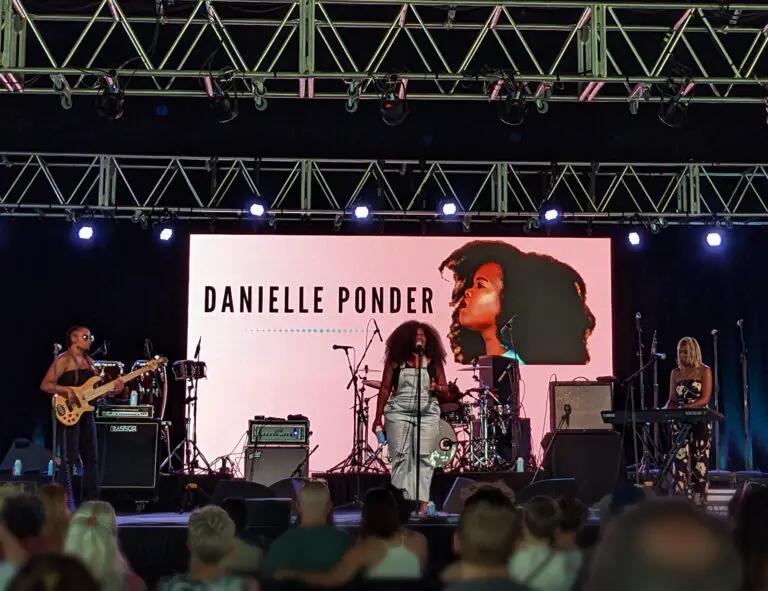 Local singer Danielle Ponder opened the show with a stripped down trio of Avis Reese on keys and Rayelle on bass, in her first gig with Ponder. She continues to work, even wearing her working overalls for this gig, winning over fans everywhere she goes, previewing material off of her debut album arriving later this summer.
Ponder's songs are written from her personal experiences. Speaking on her songwriting process, she said when she is raw and truthful, the freer she feels. The emotions of the subject matter carry over perfectly to her performances.
The songs seemed to ask more questions than they answered. On "Someone Like You," accompanied by a slinky bass groove and bending echoey keyboard notes, "Why won't the stars align? Someone tell me." On "Fray": "Anybody out there know this pain?" Even the powerful cover that closed out the set, Radiohead's "Creep," asked "Do I belong here?"
There is certainly no question however, Ponder's career is set on a meteoric upward course. Stay tuned.