Despite the relief Jason Isbell felt not playing in 125 degree heat for once, it was hot and humid for the western New Yorkers settling in at CMAC on Wednesday night. Isbell, along with Sheryl Crow, and Waxahatchee, incredible songwriters across three generations, would prove their inter-generational appeal over the course of the evening. Each brought their arsenals of songs and their own bands to aid in fleshing them out to their full splendors.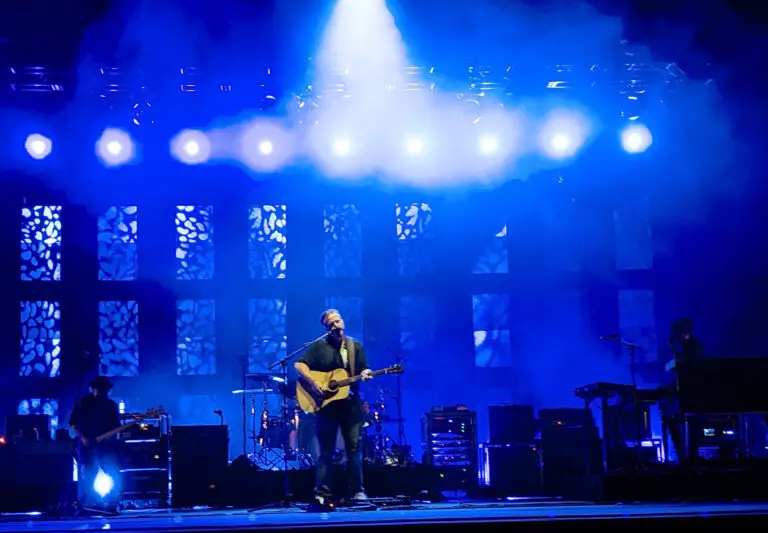 Waxahatchee, the brainchild of Katie Crutchfield, won over the early attendees, stuffing her 40 minute set to the gills with a expansive overview of her material. Gently lilting folk songs that floated upon Crutchfield's angelic voice. The catchy-as-heck "Lilacs" was dedicated to both Isbell and Crow. You could just imagine each of them stopping her backstage earlier in the day to let her know how great it is. A late set "Witches" had some big 80's energy that could have easily threaded into Crow's ensuing set while "Fire" added more modern splashes of electronic pop into the mix. Crutchfield and her five-piece confidently commanded the stage for what could be perceived as quite a difficult position.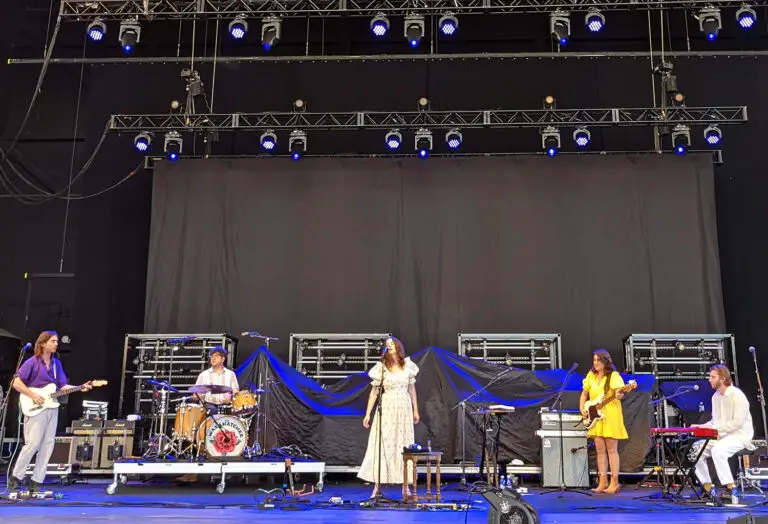 Indeed when Sheryl Crow strutted out on the stage in her hot pink leather jacket and sparkling pink cowgirl boots 20 minutes later, with the aid of an engaging light show, a full house, 40 years of experience and a few #1 hits in her pocket, it wasn't even a fair comparison. The eldest performer of the evening matched both her tour mates in youthful energy, sounding as good as in her prime, or maybe her prime is now. As Isbell correctly pointed out, seeing Crow perform was "just great song after great song after great song," a deceptively deep catalog.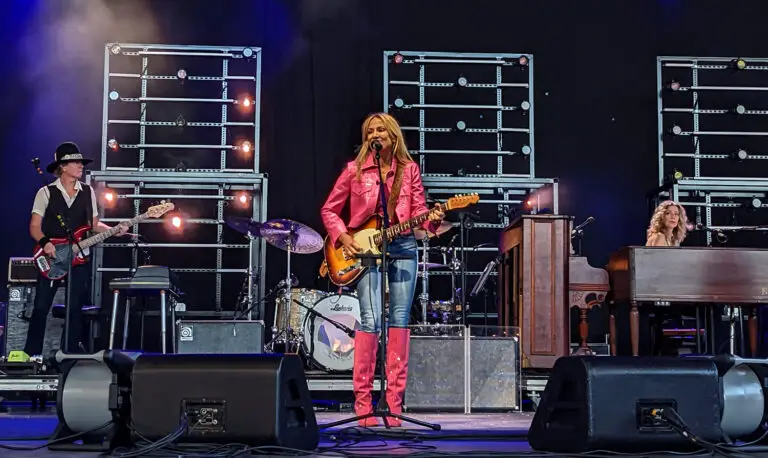 She hit the crowd early with two of her biggest hits, "Happy" and "All I Wanna Do," then delved deeper into her catalog where she was more prone to delve deep into their exploration. She brought along a strong 5-piece backing band including the great Audley Freed on guitar, who ripped some mean guitar solos in "Steve McQueen" and "Cross Creek Road." Aside from the great songwriting and beautifully aged (or not at all) voice, Crow also boasted some great musicianship. She picked up bass duties for "My Favorite Mistake" and "Soak Up the Sun," strapped on the guitar and even blew some impressive harmonica. And just when you thought she had played all of her hits, she still had "Everyday is a Winding Road" waiting in the wings for the big set closer. She also endeared herself to the locals with tales of taking her kids to the Museum of Play, the Rochester Museum and Science Center and out for some Pittsford Dairy Ice Cream. What, no Wegmans?!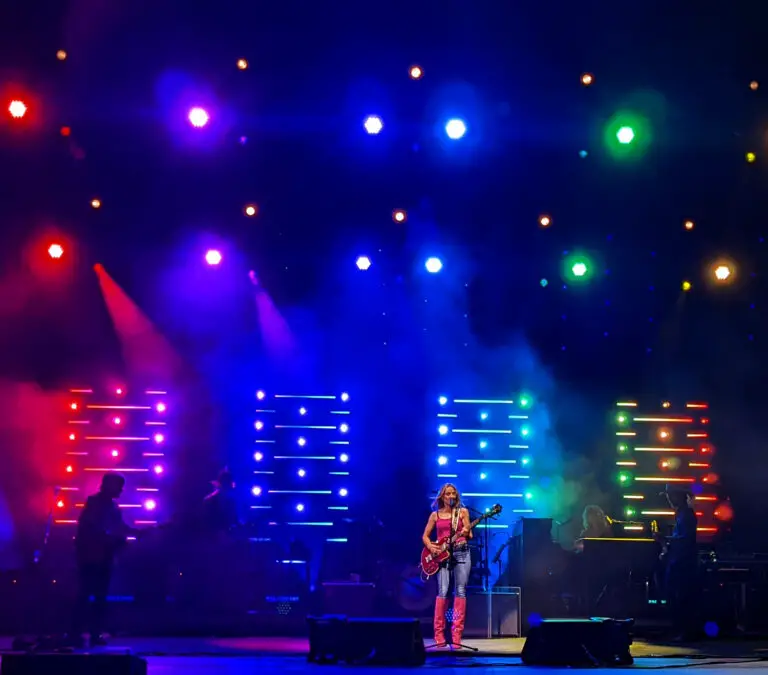 Nestled generationally between Waxahatchie and Crow, Isbell came out for the knockout closer set. Him and his 400 Unit band were of course well up to the task. "Dreamsicle" was an early set highlight, with guitarist Sadler Vaden slinking back into a nuanced groove above an infectiously watery bass line. "Be Afraid," played for Isbells's 6.5 year old daughter before she had to get to bed, featured some guitar pyrotechnics with both Isbell and Vaden dueling it out. Though bassist Jimbo Hart proved to be the MVP of the set, providing a consistently powerful presence throughout, blasting bass bombs left and right while more than ably directing the rock and roll traffic. His playing was particularly and uniquely noteworthy on "If We Were Vampires," evoking deep spacey moans, building in both intensity and eeriness. A thing of beauty.
Isbell's respects to Crow boomeranged around to describe his set just as well, "great song after great song after great song." The night closed with his Drive-By Truckers classic "Decoration Day," "an old one, written 20 years ago." When Crow was 20 years into her career while Crutchfield was a preteen, possibly dreaming of the day she would one day share the stage with rock stars.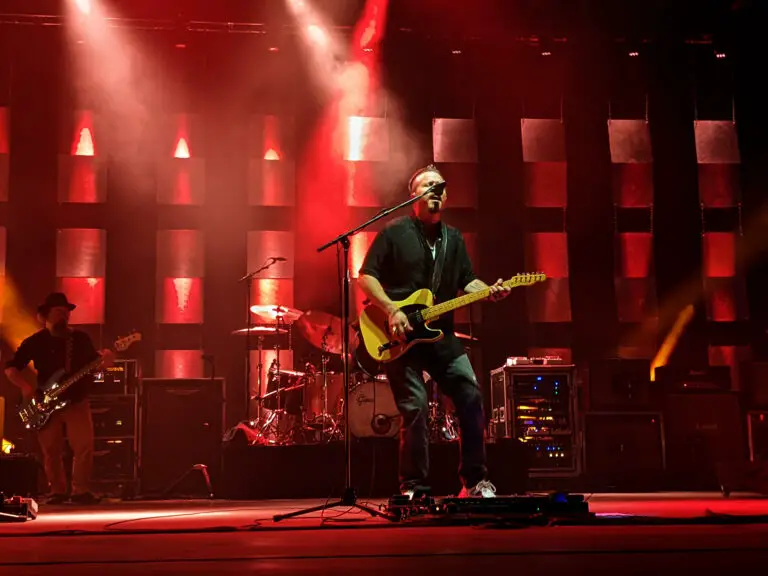 It was an evening exhibiting song craft of the highest order. Each artist has a vision and a voice to share it with and we're all the richer for it. Even so, they each saw fit to share an other's song as well. To fit into a set with their own incredible works, they had to choose wisely, and that they did. Waxahatchee closed their set with a beautiful rendition of Dolly Parton's "Light of the Clear Blue Morning," strong enough to stick itself into your head across two sets and a night's sleep. Crow tossed a cover of the Rolling Stones' "Live With Me" in the middle of her set, culminating in a raging jam featuring her aforementioned impressive harmonica playing. Sadler Vaden led the 400 Unit through Isbell's cover choice, "Honeysuckle Blue," from Kevn Kinney's great band Drivin' N Cryin', of which Vaden was a member. The song was also featured on Isbell's 2021 release Georgia Blue, an all covers album benefiting voting rights in Georgia.
By the end of the night the only heat and humidity was emanating off the CMAC stage, though mother nature kept the entertainment going with a wild lightning display that lasted well into the wee hours.
Setlists:
Waxahatchee: Oxbow, Recite Remorse, Can't Do Much, The Eye, Hell, Lilacs, Ruby Falls, Witches, St. Cloud, Fire, Light of the Clear Blue Morning (Dolly Parton)
Sheryl Crow: Happy, A Change Will Do You Good, All I Wanna Do, My Favorite Mistake, Leaving Las Vegas, Strong Enough, Forever, Steve McQueen, Live With Me (Rolling Stones), First Cut is the Deepest, Cross Creek Road, Soak Up the Sun, Everyday is a Winding Road
Jason Isbell: It Gets Easier, 24 Frames, Dreamsicle, Be Afraid, Hope the High Road, Alabama Pines, Elephant, Overseas, Honeysuckle Blue (Drivin N Cryin), If We Were Vampires, Super 8, Cover Me Up E: Tour of Duty, Decoration Day