The Troy Music Hall has announced the return of their free outdoor concert series Summer Square. The series will kick off on July 8th and continue every Friday and Saturnday until August 27th.
Located in the Music Hall courtyard on 2nd Street, the series will be showcasing some of the Capital Region's top talents.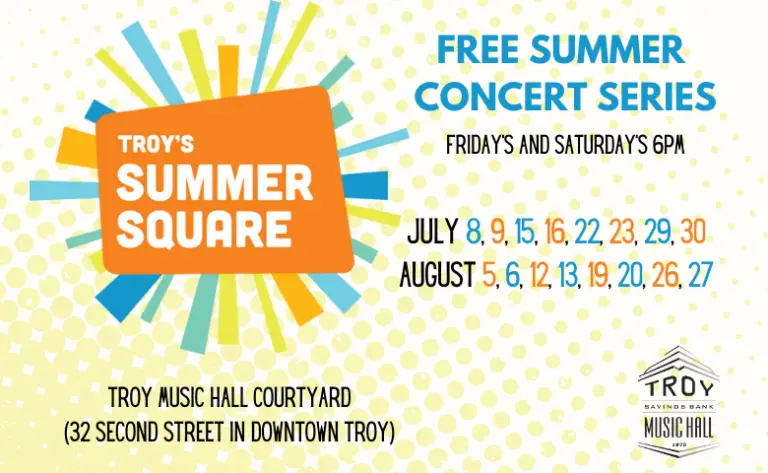 The Summer Square series will host 16 musical acts, opening with Arch Stanton Quartet and ending with Troy native Ryan Leddick.  Other performances include jazz band Heard and blues duo Mark & Jill, among others.
Arch Stanton Quartet experiments with original jazz music, with influences in bop and post-bop traditions. They are planning their third album, inspired partly by the book "Invisible Man" by Ralph Ellison.
The closing performer for the series, Ryan Leddick, released an album "Up, Up, & Away" in 2020.  Leddick grew his love of music in the Adirondacks, and his current music blends together folk and rock.
The Summer Square music series also welcomes back musicians from previous years among the lineup. Acts such as Julia Alsarraf, Bossamba, Jordan Taylor Hill, and Triskele all took a part in 2021 and will come back this summer.
Troy Savings Bank Music Hall has a long history of drawing top talent to the area. Opening its doors in 1875, world-renowned artists such as Lillian Nordica, Henri Vieuxtemps, Ignace Jan Paderewski, Albert Spaulding, Sergei Rachmaninoff, Myra Hess, and Jose Iturbi have performed within the historic Hall's walls.
Built in 19th century, the Troy Savings Bank Music Hall was supported by the Troy Savings Bank to appreciate the citizens. With several intervention, the narrow shoebox form promotes early sidewall reflections that are important for a sense of envelopment, and the tall ceiling and ideal seat count of 1180 to provide intimacy and sustain an optimal reverberation. It also owned the nation's largest nineteenth-century concert organ in original condition.
Summer Square is a free outdoor concert series every Friday and Saturday evening at 6pm. Lawn chairs are allowed to enjoy this event.
Troy's Summer Square Concert Series Lineup
Friday, July 8 – Arch Stanton Quartet
Saturday, July 9 – Sonny & Perley
Friday, July 15 – Triskele
Saturday, July 16 – Lost Radio Rounders
Friday, July 22 – Carol Daggs
Saturday, July 23 – The Fatuzzo Brass Quintet
Friday, July 29 – Jordan Taylor Hill
Saturday, July 30 – As Iz
Friday, August 5 – Heard
Saturday, August 6 – Dust Bowl Faeries Duet
Friday, August 12 – Julia Alsarraf
Saturday, August 13 – Mark & Jill
Friday, August 19 – Sydney Worthley
Saturday, August 20 – Bossamba
Friday, August 26 – Ellen Sinopoli Dance Company
Saturday, August 27 – Ryan Leddick
For more information visit: www.troymusichall.org