Ron Carter received the perfect celebration for his 85th birthday at Carnegie Hall on May 10. The prolific Michigan-born jazz bassist is regarded as one of the most influential jazz musicians in the world, with a world record 2,221 recording session appearances since his career started in the 1960s.
Jazz connoisseurs were delighted by Carter's presentation of three of his ensembles showcasing the diversity of his musical talents fit for the pristine acoustics of Carnegie Hall. His first set featured two traditional jazz settings supported by phenomenal musicians – the Golden Striker Trio and the Foursight Quartet – while his second set featured an orchestrated octet blending jazz and world music sounds. Closing the night after a sentimental birthday wish on stage from Carter's son Quintell Williams Carter, he performed a solo piece on piccolo bass which is a signature invention by him and Stanley Clarke (a piccolo bass looks like a regular bass but is tuned an octave higher to give more prominence to solos and lead parts on the instrument).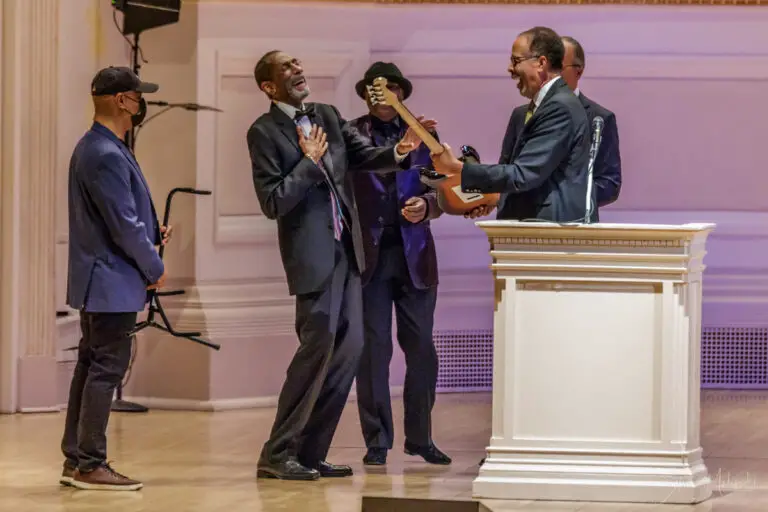 Throughout the program, emcee Lester Holt and guest speakers/fellow bass virtuosos Stanley Clarke and Buster Williams spoke in great repute about Carter's diverse talents in music, writing, collaboration, and education and each echoed his great character and humor as a person which he demonstrated throughout the night while explaining the compositions or sharing an off-the-cuff story. "We're gonna keep comin' out here til we get it right!" he exclaimed during each of his ensembles sets, slightly ironic to Carnegie Hall's famous line of "practice, practice, practice!" before his closing remark of "well, I guess we finally got it right."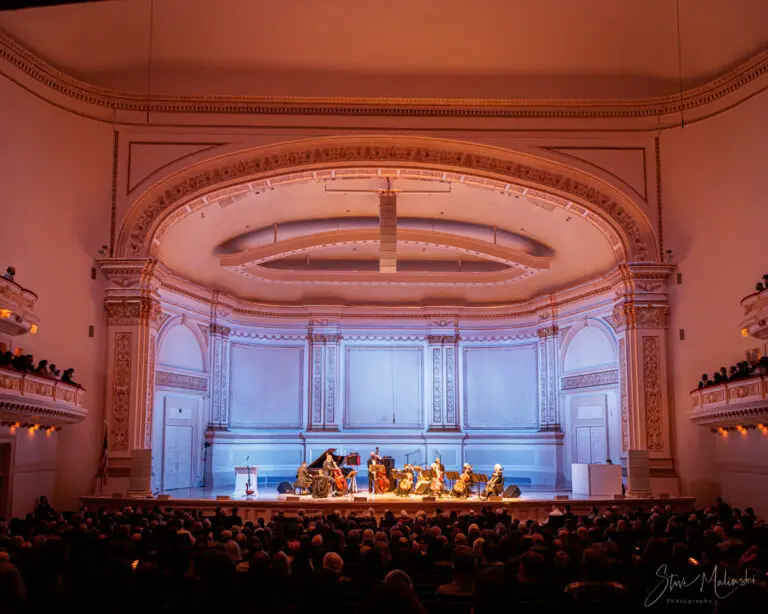 After a brief intermission, Lester Holt welcomed to the stage Mikio Mori, Ambassador and Consul-General of Japan in New York. Amb. Mori expressed the deepest of gratitude to Carter for "helping jazz evolve as a language between Americans and the Japanese in the spirit of friendship and peace" which has flourished a jazz movement in Japan over the last several decades. From his various contributions along with performances in Japan following the Sept. 11, 2001 attacks and following the devastating earthquake in March 2011, Carter was bestowed the honor of the Order of the Rising Sun with Rosette in 2021.
Witnessing Mr. Carter's performance at Carnegie Hall was an immersive exhibit of world-class talent. We would like to extend our warmest of wishes for his 85th birthday and look forward to hearing more of his virtuosity.
Ron Carter at Carnegie Hall Setlist (composer listed in parenthesis):
Golden Striker Trio: Laverne Walk (Pettiford), Candlelight (Carter), Soft Winds (Henderson)
Ron Carter Foursight Quartet: 595 (Carter), Mr. Bowtie (Carter), My Funny Valentine (Henderson), You and the Night and the Music (Schwartz)
Intermission
Ron Carter Octet: Abide with Me (trad.), El Rompe Cabeza (Carter), Song for You (Russell), Song for a Friend* (Carter), All Blues (Davis), Just a Closer Walk with Thee (trad.)
*"Song for a Friend" written in dedication to Carter's father