PRIDE is back, and New York State has dozens of celebrations, parades and events across the state. Celebrating PRIDE in also 2022 means live music and in person events, with a huge slate of events in all parts of the state. Kick off your summer with PRIDE month gatherings from Albany to Buffalo, Watertown to Long Island and NYC and all points in between.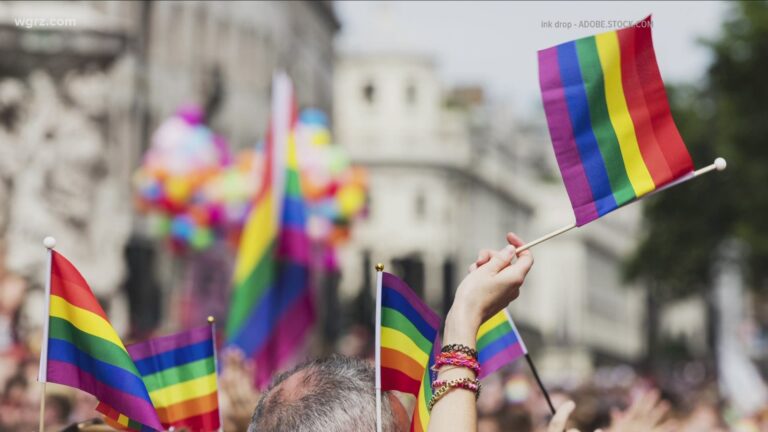 Albany
June 12, 12-5pm – The signature Capital Region Pride event – the Capital Pride Parade & Festival – is one of the largest Pride celebrations in the Northeast. The parade kicks off on State Street at noon, with Pride Fest held in Washington Park with live music, theatrical performances, and Albany's Annual Drag Revue.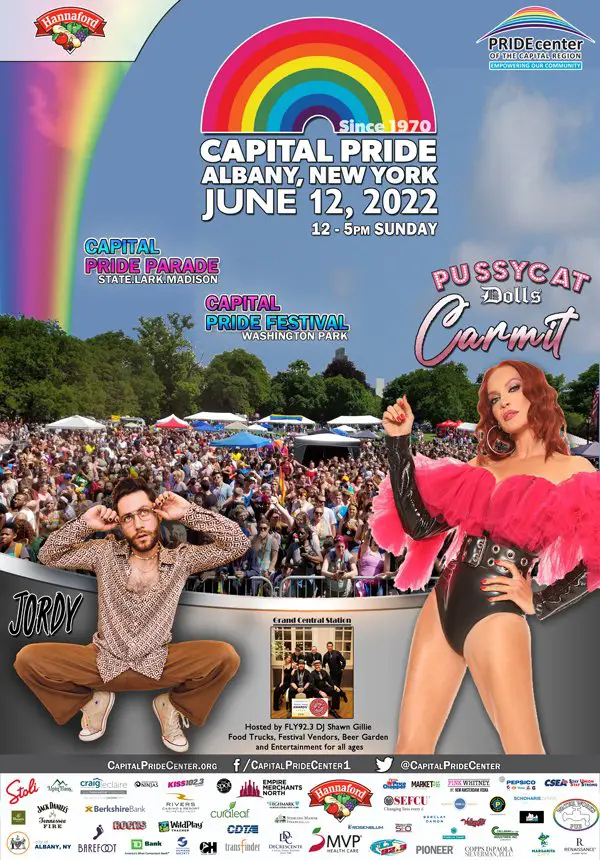 June 11, 12-5pm – In Our Own Voices will hold their 16th Annual Say It Loud! Black & Latino Gay Pride Celebration, an opportunity to celebrate the contributions of LGBTQ+ persons of color in the Capital Region. The main celebration will be held in Washington Park in Albany with performances from London Jae Precise, Aja, Jewel the Gem, and more.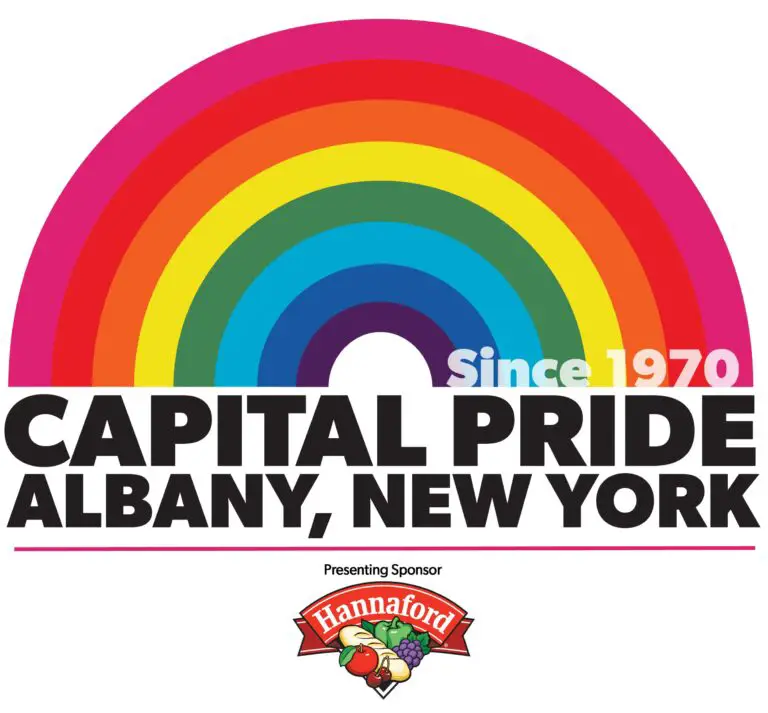 Schenectady
June 4 – 2:30-6pm – Schenectady Pride will host their 10th annual festival at Gateway Plaza where the Rainbow Pride Arches are next to SUNY Schenectady. The Pride Festival features live entertainment, DJ RVMBA, Schdy Musical Theater & Drag Show, with food, drink and merchandise vendors along with local non-profits and more.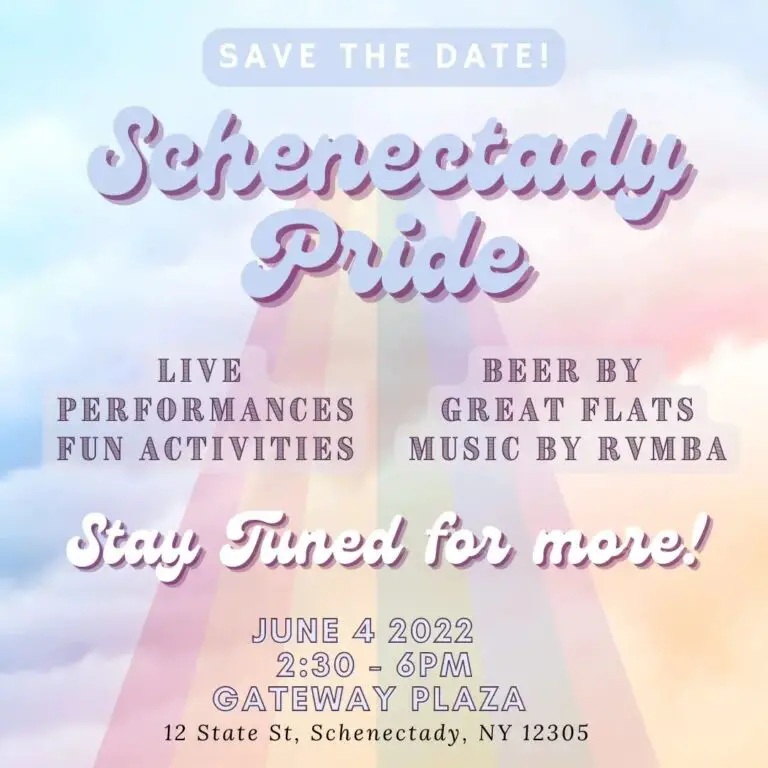 Binghamton
June 4 – Noon – Pride 2022 in Binghamton begins with a ceremonial flag raising by Mayor Jared Kraham.
June 4 – 4:30pm – join the Pride Protest Party at Peacemakers Stage, organized by Black queer and trans organizers from Binghamton. This year features local speakers, musicians, food/drinks, kid's activities and the main event of the night, a Drag Show hosted by Vivi Nox.
June 11 – 12-6 PM. Pride-Palooza is held in Otsiningo Park. Bring blankets and chairs while listening to live entertainment with a drag show and The Binghamton Pride Idol Contest.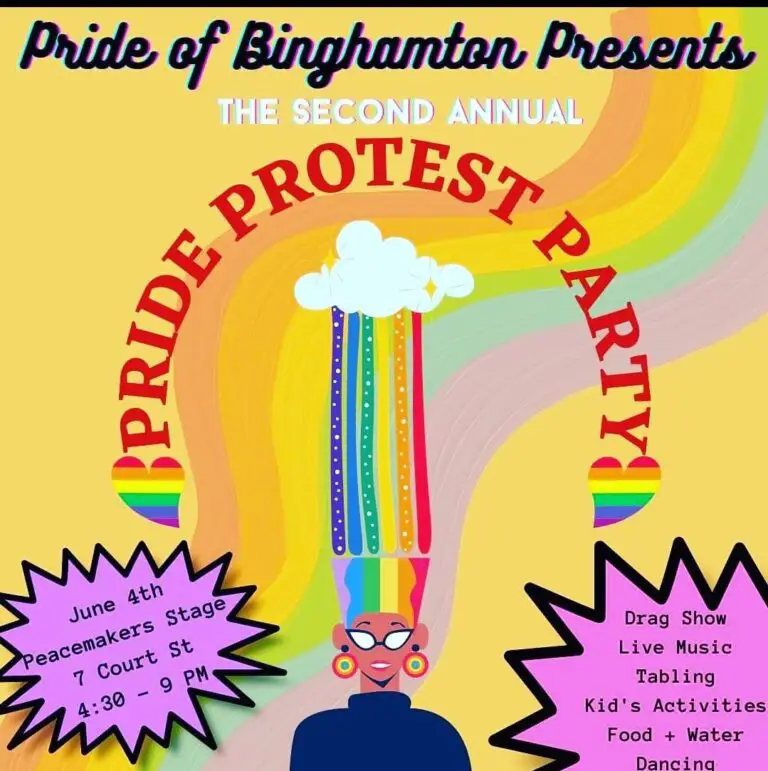 Hudson Valley
June 2, 7:30 pm – Rainbow flag-raising ceremony at Hudson City Hall (520 Warren St., Hudson)
June 3 – 6-9PM – Hastings-on-Hudson Friday Night Pride Parade will be held on Warburton Avenue.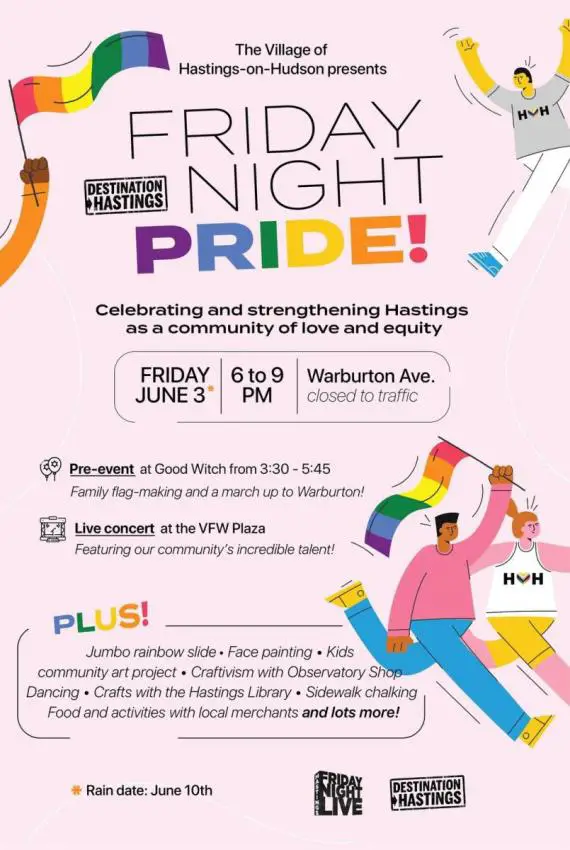 June 4 – 2pm – Parade (from 7th St. Park to the end of Warren at Front Street, Hudson)
June 4 – 12 noon – Duchess County Pride Center Youth Pride Picnic, Bowdoin Park (85 Sheafe Rd, Wappingers Falls)
June 5, 12 – 5 pm – Hudson Valley Pride Coalition Pride March (New Paltz Middle School, 196 Main St, New Paltz) and Festival (Hasbrouck Park, Mohonk and Tricor Avenues, New Paltz).
June 5 – 4 pm – Out Loud Hudson Valley Pride Tea Dance, Featuring local DJ Bill Coleman, The Hudson House & Distillery (1835 Rte 9W, West Park)
June 5 – 11:30 AM-5 PM – Westchester Pride is back with host for the day, Olivia Lux, a former contestant on RuPaul's Drag Race. The day-long celebration happens in downtown White Plains, kicking off with a flag raising in Renaissance Plaza. There is a pet parade and there will be a Family Zone with special games and treats and Broadway Sings for Pride returns with Broadway stars and local performers belting out showtunes. Speakers throughout the day will discuss challenges the LGBTQIA+ community continues to face. 

June 11 – 12 – 5 pm – PKGO Pride Parade and Festival in Poughkeepsie, Dutchess County Pride Center, PKGO Pride Parade and Festival, Parade: At Market and Main Streets in front of the Bardavon Theater, Poughkeepsie, Festival: Waryas Park (Main St, Poughkeepsie)
June 11 – 7:30 pm – 1 am – Peekskill Pride, Dramatic Hall (900 Main St, Peekskill)
June 12 – 12-5 PM – Celebrate Rockland Pride with a day of music, dancing, and fun for the whole family. Downtown Nyack will close its streets to traffic to allow for strolling, shopping, and dining, with live performances by Frankie D and The Boys and special guests, plus the crowning of Mx. Rockland County Pride.

June 12 – 1 PM – Celebrate the third annual PUTNAM PRIDE in Brewster Village. The event begins at 1 Main Street with a march to Wells Park, 98 Oak Street, with speakers, vendors, and music to follow, with Angel Elektra and Shay D'Pines! Park at the Metro North train station as there is limited accessible parking at Wells Park.  Bring a blanket/chairs, but no pets.
June 18 – 12 – 4 pm – Newburgh Pride in the Park, Downing Park (123 Carpenter Ave, Newburgh)
June 18 – Beacon Pride Festival event details
Saratoga Springs
June 1 – 12 PM– Saratoga Flag Raising, Saratoga Springs City Hall
June 11 – 12PM – Flag Day Parade – Join Saratoga Pride to march in the annual parade down Broadway in Saratoga Springs.
June 24 – 8:30 PM – late night – PRIDE Party at Putnam Place
June 26 – 2-5 PM – Saratoga Pride Festival, High Rock Park, Live Music, Family Activities, Community Groups and More.
June 26 – 5-7 PM – Pride After-Party – Solevo Kitchen + Social, 55 Phila St, Saratoga Springs.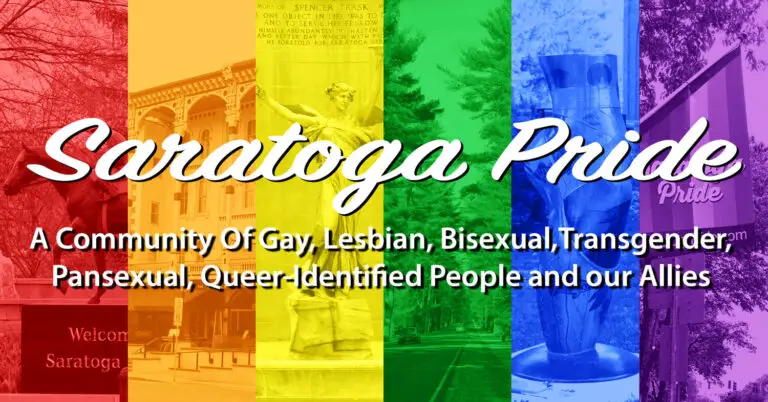 Syracuse
June 9 – 6:35pm – The Syracuse Mets show their Pride at the annual Pride Night at NBT Bank Stadium in Syracuse. The first 500 fans to arrive at the game (against Scranton) will receive a Syracuse Mets Pride Jersey and the first 1,000 get a Pride flag. A portion of the proceeds of tickets purchased from this link will go to CNY Pride. Fans can take their seventh-inning stretch at the 315 Bullpen Bar, where DJ Joe Driscoll will be spinning tunes. 
Watertown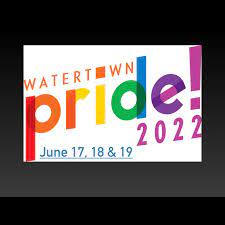 June 17-19 – Celebrate Pride in the Thousand Islands all weekend long and beyond! Watertown Pride (New York) is three-days of celebrations around the historic downtown core of the small (20,000 residents) city along the Black River. It starts on Friday's at the kickoff party at the historic Paddock Arcade, with The Paddock Club supplying food and drink specials. Then check out drag show performances at Savory Downtown.  Saturday hundreds turn out for the annual Pride flag raising at City Hall, then head up to historic Olmstead-designed Thompson Park overlooking the city to be part of "Out in the Park," a family-friendly event with live music and the popular 5K Color Run.  Saturday night ends with a traveling Drag show and a majestic fireworks display at Duffy Fairgrounds.  Sunday winds the weekend down with the annual Tea Dance at Garland City Beer Works, a local LGBTQIA+-owned brewery. 
June 18 – 9 AM-3PM – River Pride features celebrations taking place all along the St. Lawrence River in communities like Cape Vincent, Clayton, and Alexandria Bay.
Rochester
July 16 – parade 1 PM, free, festival 2-8 PM, general admission: $5. VIP: $50 – After a two-year absence, the Rochester Pride Parade is back, thanks to the ROC Pride Collective, to mark the 50-year anniversary of Rochester's first organized Pride events. The parade begins at 1 PM on Park Avenue and ends at Cobb Hill Park, where the celebration of Pride and community continues with Pride Fest with food trucks, wine and beer for sale, vendor tables, games and activities, and a designated play area for kids. There will be live music all day long, with surprise performances.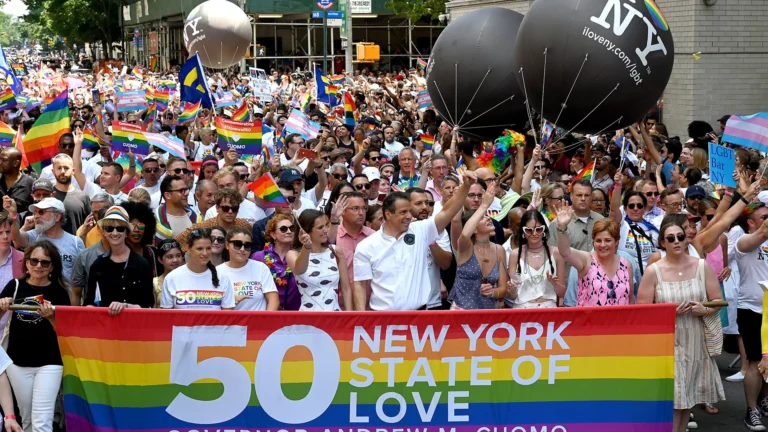 Catskills
June 18 – 1-6 PM– The hamlet of Callicoon comes together for Catskills Pride 2022. Entertainment will take place at several venues and local businesses will offer special food, drinks, and activities. Party like it's prom night at The Callicoon Marketplace, whose merchants are coming together to provide 1970s dresses and tuxedos, and photo booths to capture you in those stylish threads. Callicoon Theater will feature LGBTQIA+ films and programming all day long. There'll also be an event to honor the 20th anniversary of the Day to be Gay Foundation, a non-profit founded locally to support LGBTQIA+ youth. 
The entire hamlet will be visually transformed by a professional event designer who is curating it with a Pride aesthetic. The focal point of events is Celebration Station, connecting Upper Main to Lower Main Street activities. This is where attendees can regroup and grab some shade, water, and snacks. The Catskills Pride afterparty will take place at the Delaware Youth Center from 8-11:30 PM. Tickets are $10 in advance and $12 at the door. All ages are welcome.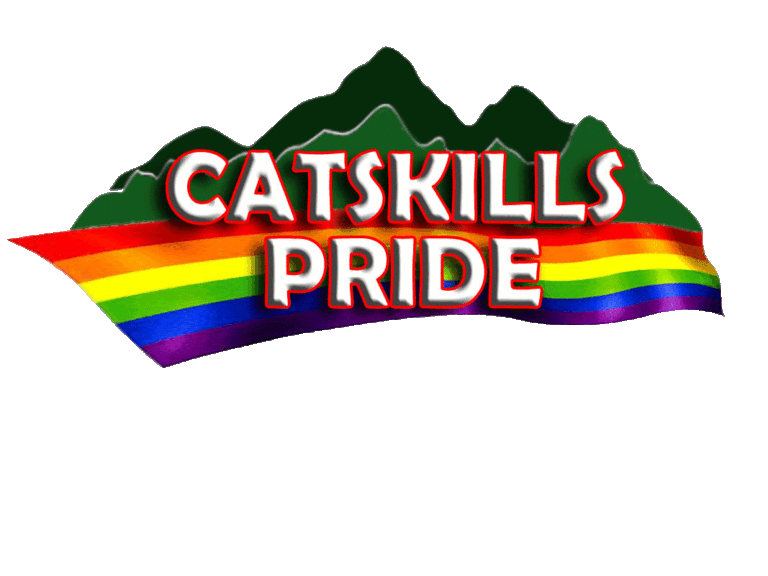 Finger Lakes
June 4 – 11 AM-4 PM – Pride festivities begin in Centerway Square in Corning with Drag Queen Story Hour at 11 AM. At noon, radio personality Ally Payne will host activities, live trivia, and giveawayswith a DJ taking over to spin tunes until 4 PM. The Pride Car Parade begins in Elmira at noon and the caravan of cars and trucks, adorned in Pride-themed regalia, make their way down Market Street around 12:45 PM. Corning businesses are celebrating Pride, with shops, restaurants, and cafes on Market Street holding sales and special events like karaoke. The Corning Museum of Glass and The Rockwell Museum offer free admission (June 4-12) to everyone who attends the Car Parade. 
Ithaca
June 26 – Pride Week Kick Off at Buffalo Street Books ** – Check out special book lists for all ages at the bookstore and join us in kicking off the celebration of our LGBTQIA+ Community!
June 27 – Planned Parenthood PreP Meet and Greet on the Commons for HIV Testing Day
June 28 – 5-6pm Ithaca LGBTQ Local History Walking Tour. Led by Luca Maurer and Ithaca College LGBTQ Center staff, learn about local landmarks and history of the LGBTQ community here in Ithaca
June 28 – 7-9pm Cinemapolis Stonewall Anniversary Documentary Screening – Pay It No Mind: The Life and Times of Marsha P Johnson and Sylvia Rivera, Trans Movement Founder
June 30 – Summer Concert Series at Bernie Milton Pavilion – Performer TBA
June 30 – Thursgay at the Range – 21+ Event, Proof of Vaccination required. 
July 1 –  Opening Ceremonies at the Bernie Milton Pavilion
July 1 – 6-8 pm Drag Show with hosts – Noah Phence and Samantha Vega, Performers – Will B Cumming, Ginger Vicious, Vivi Knox, Saylix Morrison
July 1 – 8 pm – 11 pm Dance Party at Community School of Music and Arts featuring DJ – The Dutchess
July 2 – 11 am-1 pm – Youth Drag/Fashion Show, partnered with Tompkins County Public Library LGBTQIA+ Youth Programming attendees, coordinated by Regina DeMauro/TCPL Youth Programming.
July 2 1-5 pm – Music/Performances/Circus on the Bernie Milton Pavilion 
July 2 – 6-8 pm – Drag Show*with host: Kyla Minx, Performers: Nigel Lestat, Femme de Violette, more TBD
July 2 – 8 pm-11 pm: Dance Party at Community School of Music and Arts featuring DJ Rogue
July 3 – 2pm-6pm Family Picnic in Dewitt Park performances by the Ithaca Gay Men's Chorus, AFAB4, and Jonah Hirst.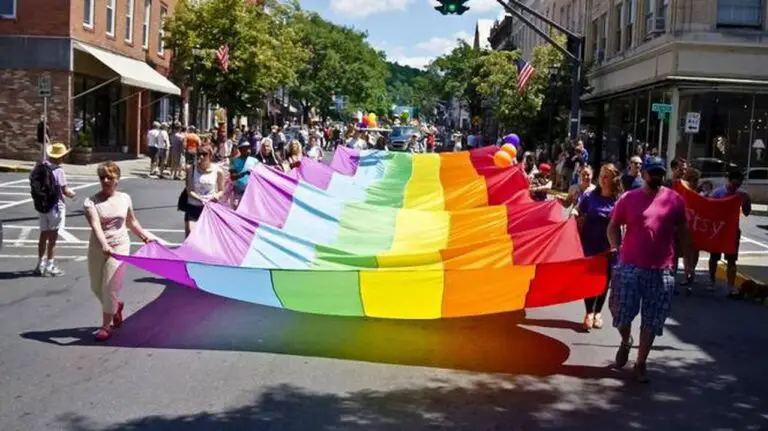 Buffalo
June 1 – Flag-raising ceremonies will be held at Artpark (9 AM), Niagara Falls State Park (10:30 AM), Niagara Falls City Hall (12 PM), and Lockport City Hall (2 PM).
June 1 – Niagara Falls will be lit up with Pride colors this evening.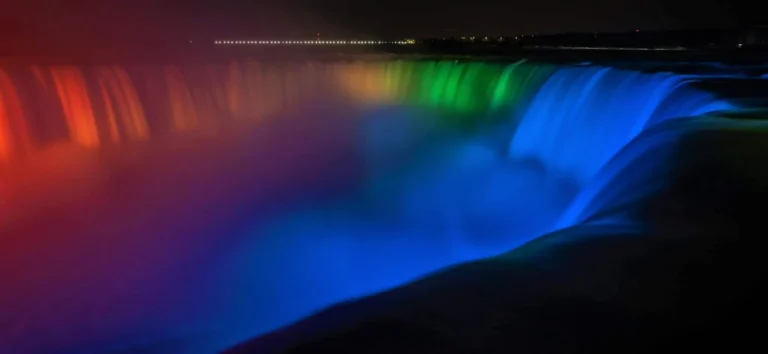 June 5 – 11 AM-7PM – The week of celebration culminates with the Pride Parade. Bring your friends, family and chosen family to watch the floats march down Elmwood Avenue in celebration of our history and all who make up our vibrant LGBTQ+ community here in Western New York. 
June 5 – 1-7 pm – Immediately following the Pride Parade, head to Canalside for a vibrant celebration of Western New York's LGBTQ+ community, featuring entertainment, family-friendly activities, food and beverages, live performances as well as nonprofit and retail vendors. Tickets are available for purchased at buffaloprideweek.com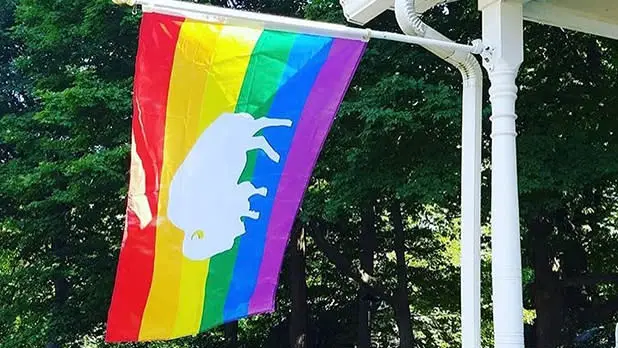 Delaware Valley Region
The Delaware Valley Arts Alliance (DVAA) will kick off Pride Weekend over June 24 and 25 at the Tusten Theatre in Narrowsburg, NY, about 20 minutes west of Bethel.
June 24 – 7:30pm – The rock-confessional musical, ¡Oso Fabuloso & The Bear Backs!, which tells the story of a queer Latine Bear named Oso Fabuloso (C. Julian Jiménez), who has recently been dumped by a two-timing Daddy bear. Oso seeks the help of his therapist Dr. Calvo (P.K. Variance), who convinces him to sing the blues away. Oso goes on tour with his therapist and his two best friends, Gummy (Vasilios Leon) and Grizz (Joseph Distl), hoping it will cure him of his romantic woes.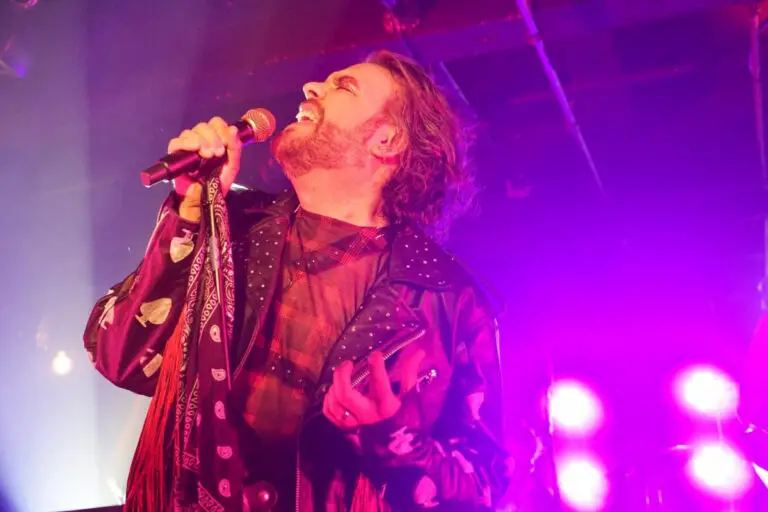 June 25 – 7:30pm – A heartfelt and hilarious one-woman show by Maureen Muldoon travels the journey of coming out as transgender from the point of view of the mother of a transgender child. The goal of Trans-Parent Love is to promote conversations that help people talk about the questions, concerns, and commonalities we have with each other. A discussion is held after the show where a panel of parents can share their stories. Tickets for both shows are available here.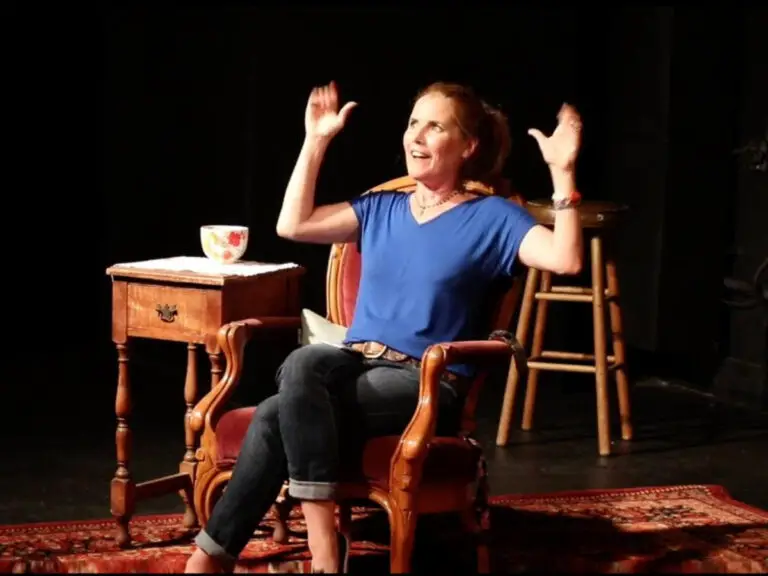 New York City
June 4 – 12-7 PM – Open Streets + Brooklyn Pop-Up. The Fifth Avenue BID in Park Slope holds Brooklyn Pop-Up from Union Street to Sterling Place, bringing in over 50 vendors with everything from cards and ceramic art to roti and African baskets. DJ Disco Czech will be setting the vibe; find him on 5th between St Johns and Sterling Place.
June 5, 7, 8, 10 – Rufus Wainwright will hold a "Rufus Does Judy" residency on four nights in the first half of June at City Winery.
June 5 – Queens Pride with the Queens Public Library, Queens
June 10 – 6pm, June 12 – 5pm – ChamberQUEER Pride Festival Part of The Future Is… Festival
ChamberQUEER is a multifaceted organization with the mission of highlighting historically underrepresented queer figures in western classical music and providing an intersectionally inclusive space within western classical music for artists and audience. ChamberQUEER 2022 opens their two-show engagement at National Sawdust on June 10. The concert weaves musical worlds together through reflective improvisations that converse with multifaceted experiences of queerness across the centuries. Confirmed performers for June 10 include violinist Mazz Swift and baritone vocalist Lucas Bouk alongside the core ChamberQUEER ensemble of Jules Biber, Danielle Buonaiuto, Brian Mummert and Andrew Yee.
The June 12 performance highlights Gay Guerrilla by iconoclastic queer composer Julius Eastman, in a new arrangement for string septet by Jessie Montgomery, and featuring the arranger on violin. The program traces lines to queer modernism of the earlier 20th century, including Benjamin Britten's Les Illuminations, to the poetry of the visionary Arthur Rimbaud. Confirmed performers for June 12 include Montgomery and soprano vocalist Melissa Wimbish alongside the core ChamberQUEER ensemble of Biber, Buonaiuto, Mummert and Yee. $25 in Advance, $29 Day of Show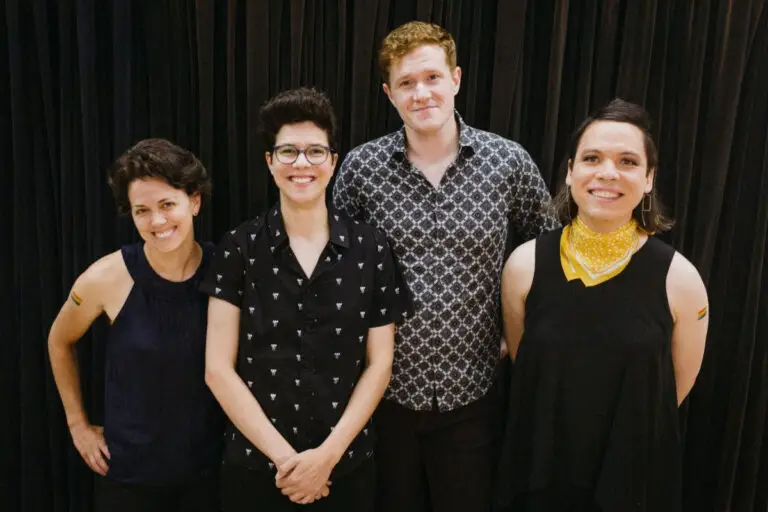 June 11 – 11 AM-5 PM Celebrate Brooklyn Pride with a week of exciting events, including Comedy Night at Branded Saloon and Pride Night with the Brooklyn Cyclones at Maimonides Park. Brooklyn Pride Day is Saturday, June 11 with a street festival and entertainment stage, and the twilight Brooklyn Pride Parade starting at 7:30 PM. Bring the kids out on Sunday for Brooklyn Pride's first-ever Youth Pride.
June 11 – 2-8 PM Yonkers Pride Celebration will be held on Main Street in Downtown Yonkers. The Yonkers Pride Festival is an outdoor event showcasing celebrity entertainment, food, merchandise, activities, and numerous community organizations and will be held rain or shine.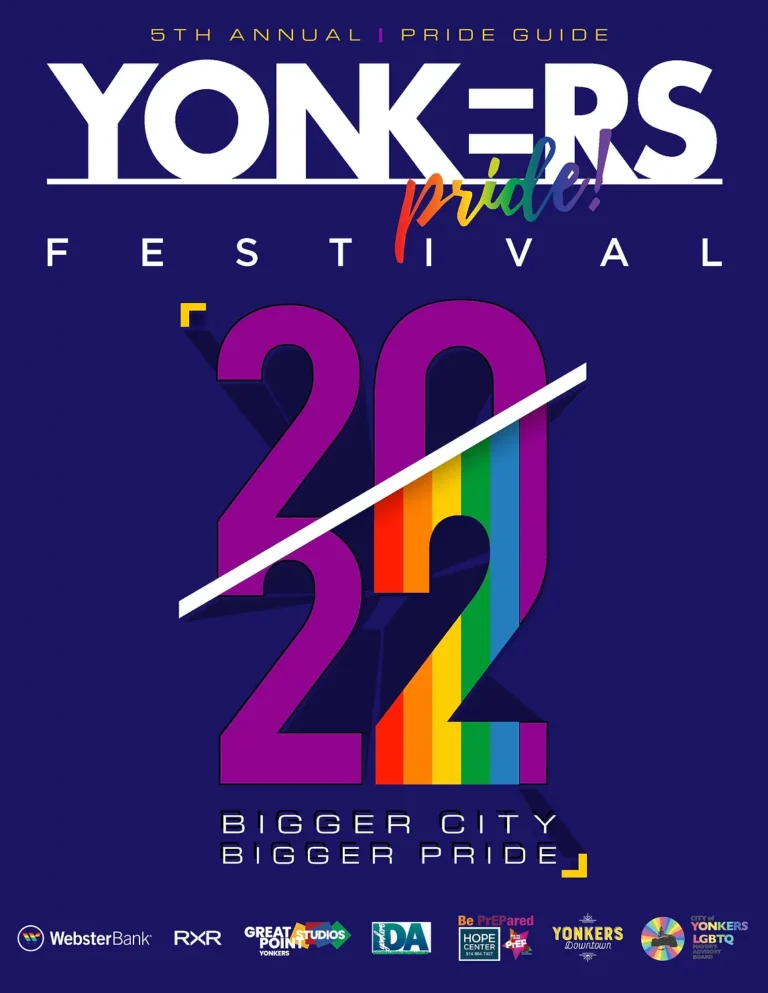 June 14 – 6-9pm – Bronx native and celebrated stylist, Jérôme LaMaar will be hosting a Sip & Slime Pride Celebration at Sloomoo Institute in SoHo. The event will have live music from DJ Flash and performances from the hip hop duo, The Dragon Sisters. Tickets start at $95 with 10% of all ticket proceeds benefiting Stonewall Community Foundation.
June 17 – 7pm – Bryant Park Picnic Performances presented by Bank of America continues on June 17 with New York City Opera's annual celebration Pride in the Park. City Opera will also be joined by the LaGuardia High School Choir, directed by Jeanne Cascio. Michael Capasso, General Director of New York City Opera, says, "'The People's Opera' is thrilled to return to our summer home at Bryant Park, where we can continue our mission of free performances for New York audiences." First-Come, First-Served Entry (All Bryant Park Picnic Performances Are FREE)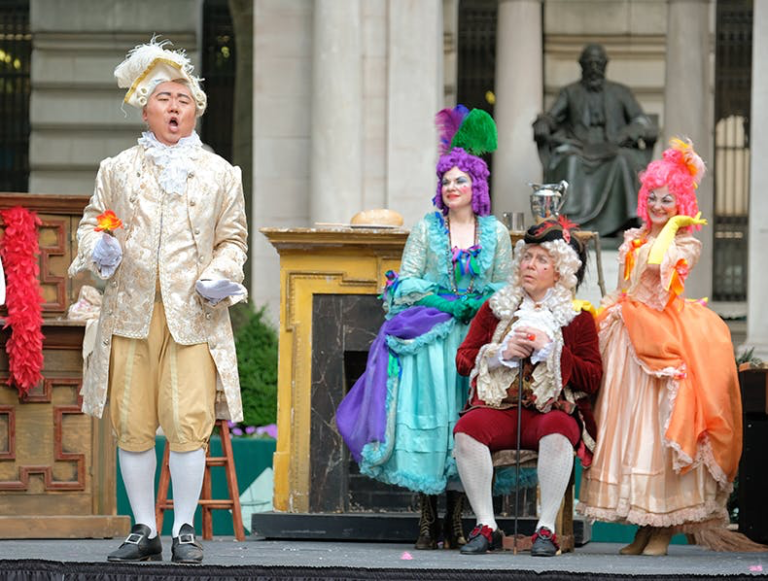 Elsewhere in Brooklyn has a series of events planned for Pride Month:
June 25 – 5pm – Dyke March (a protest march, not a parade). The March is a demonstration of the First Amendment right to protest and takes place without permits or sponsors. Thousands of Dykes take the streets each year in celebration of our beautiful and diverse Dyke lives, to highlight the presence of Dykes within our community, and in protest of the discrimination, harassment, and violence we face in schools, on the job, and in our communities.
June 25 – 12-6 PM – Celebrate Pride in the historic neighborhood of Harlem in New York City. Festival-goers will be entertained all day long with live performances, celebrity hosts, and DJs to get everyone up and dancing. This is an event for the whole family. Food and retail vendors will be on hand and there'll be face painting and a Drag Queen Story Hour. While it's a day of celebration, Harlem Pride will also be providing practical resources for the community; attendees will find referrals for health, legal, and financial services. Medical testing and health screenings will also be available.
June 25-26 – The premiere LGBTQIA+ music festival experience of Pride Weekend is Pride Island. For the first time ever, celebrate at the new location on Governors Island. Kim Petras headlines NYC Pride's Pride Island while Lil' Kim headlines Saturday Pride Island lineup, joining Shenseea, Netta, Raye, and Papi Juice.
June 26 – PrideFest at 11 AM, Parade at 12 PM The NYC Pride March is back for its 53rd year and it'll be hosted by a slew of celebrity Grand Marshals including Saturday Night Live's Punkie Johnson. The parade kicks off at noon at 25th Street and 5th Avenue. NYC PrideFest, the LGBTQ street fair, is back at 4th Avenue between 13th and 9th Streets in Manhattan for musical performances, entertainers, food, activities, and Pride gear from unique vendors.
July 8 – New York City-based Japanese producer and musician rei brown has released his second single, "Thinking Bout You," featuring fellow rising Japan-born musician, Joji, where they yearn to be closer to their loved ones. Along with the single, rei brown announces the release of forthcoming full-length album, Xeno, due out July 8, with a sold-out North American tour with keshi underway.

August – Composer, actor and vocalist Boychik, the musical moniker of Ben Levi Ross, recently released their layered, piano-driven single, "Bombed Out Building," following the debut single "Dust After Rest," a track that frees Boychik of any gender constraints, and is filled with hope, gratitude and profound authenticity. A full album is expected in August.
Check out even more NYC Pride events below taking place in the days leading up to and following the Pride March and PrideFest. Events range from a circuit party to a symposium to a Broadway Sings concert honoring Taylor Swift.
Manhattan
Brooklyn
Long Island
June 4 – 12pm – The first ever East Hampton Village –and the Hamptons'– first Pride Parade!
June 12 – 12-6 PM – Long Island Pride is back and happening in the Village of Farmingdale for the first time, with 1000s of revelers expected to fill Main Street where the festivities will take place. The day-long celebration will include concerts and a festival with vendors, dancing, live performances, and plenty of food and drinks. The 32nd annual Pride Parade is back in full swing and fully in person for the first time since 2019.