Just days ahead of dropping their latest studio album Dripfield, buzz-worthy psychedelic improv rockers Goose kicked off summer in terrific form over the Memorial Day weekend, playing a pair of well received shows in their home state of Connecticut.  Packing the Westville Music Bowl in by the thousands, the former tennis stadium turned live music mecca is quickly becoming a favorite venue for both Goose and fans alike. In the latest chapter, the band raised expectations even higher by capping Night 2 off with two impressive sets of original music.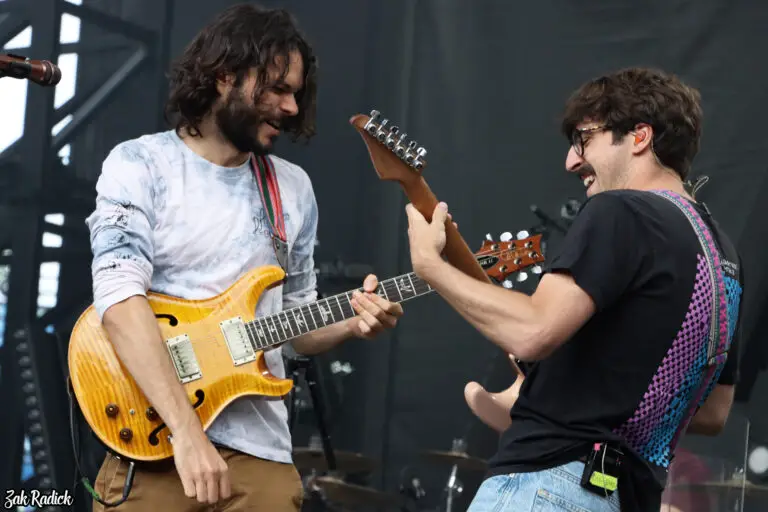 Taking flight on their turf, the summer of Goose began in New Haven, and in promoting their latest studio effort, Dripfield, the boys came prepared, unveiling a fresh new line of Dripfield themed merch that included a limited-edition beer and their first gig poster by acclaimed artist Miles Tsang.  After quick pat down through security, excited fans quickly made a B-line for the venue's well-run merch both. While an ominous sky still lingered over the Bowl, there seemed to be a minor delay to the advertised start time of 6pm. While waiting, a lot of the conversation was centered on the Tsang diptych print, which appeared to be both polarizing to some collectors, while praised by others.  The second most debated topic seemed to be over which state really has the best pizza?  
Taking the stage to a healthy hometown welcome on Saturday, May 28th, OG Goose fans were delighted to hear the opening riff of the song "Drive," one of the bands earliest songs.  Feeling a groovy vibe from the start, the band were all smiles early on. Consisting of guitarist Rick Mitarotonda, keyboardist/guitarist Peter Anspach, drummer Ben Atkind, bassist Trevor Weekz and percussionist Jeff Arevalo — Goose would continue to work their magic with high energy takes on "California Magic" and an excellent version of the ever-evolving "This Old Man's Boat." Once looking gloomy, by now the weather had become beautiful and a beach ball party was in full swing, making for a particularly on-point and potent rendition of "Turned Clouds," the opening track off the bands 2016's studio debut Moon Cabin.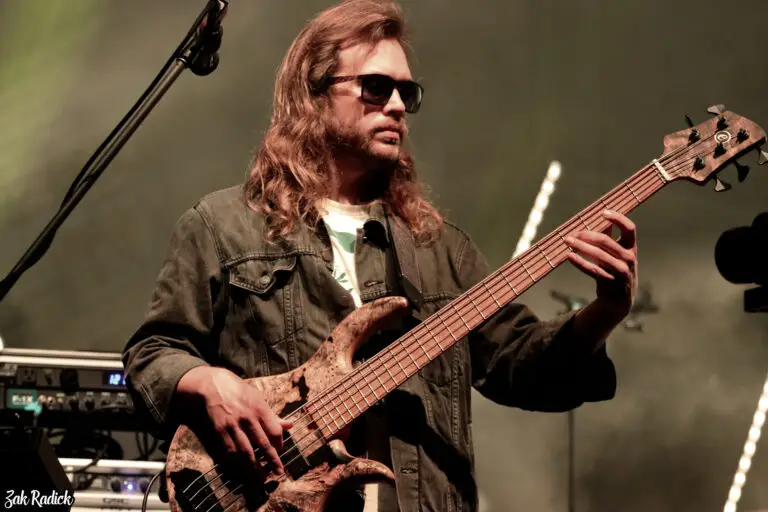 With his trusty rain stick in hand, the uplifting energy continued as the bands beloved tour manager, Jon "Coach" Lombardi, then pulled up a spot near Trevor to shake things up on "Honey Bee." Closing the opening set on a high note, Coach would stick around for the irresistible "Empress of Organos," the same song that launched the band into 2022 during their NYE run.  Indeed, this show was a celebration and the hometown homies had come to party.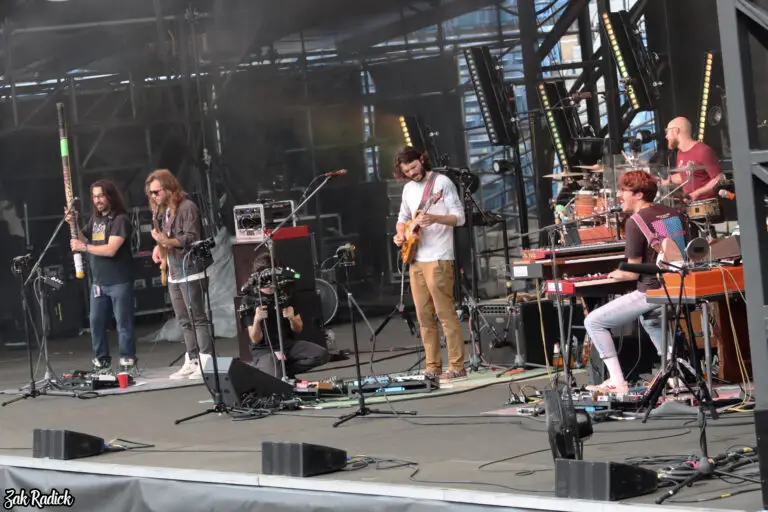 After a somewhat lengthy intermission, Goose was straight birdn' upon their return, going deep with the new song "Red Bird." The party atmosphere picked up some more during "Butter Rum," which featured some of the loudest cheers and best audience participation of the evening. Showing off a new and improved rig, lighting director Andrew Goedde was simply dazzling during the second half of the show.  Vibing perfectly in sync with the band as our musical journey seamlessly shifted from "Echo of a Rose" to a standout version of "Into the Myst," the latter was played in its entirety for the first time since 11/17/21. Upon its completion, the band members slowly disappeared from the stage in a cloud of, well, mist, triggering an ambient-like loop that would continue through the brief encore break.  With subtle teases of "Dripfield" all evening long, when Goose returned for their curtain call, they gave fans the full treatment of their new album's title track. Jammed all the way until curfew, Goose closed out the second night of their hometown throwdown in top notch form.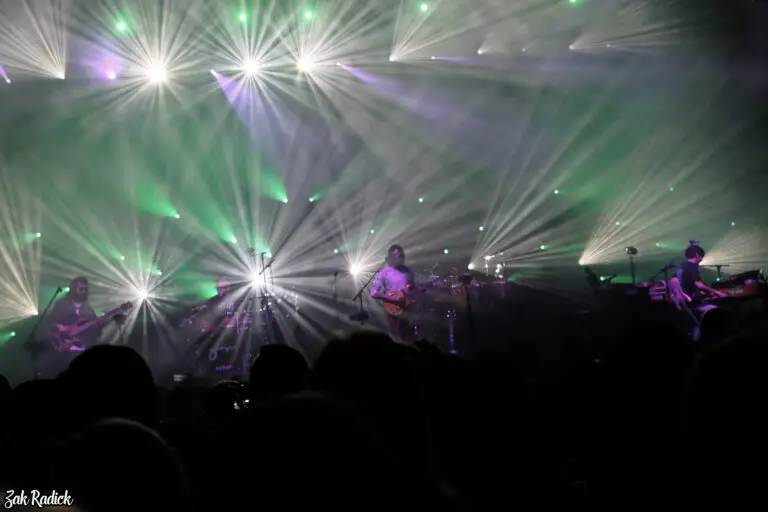 A scintillating performance showcasing all original material, stellar musicianship, an impressive light show, fun-loving fans and a charismatic "X" factor that can't be faked, this is a band worthy of the hype.  With a new album and a jam-packed summer officially underway, it's safe to say Goose are set to soar. For more information on where you can see them, including their debut at Radio City Music Hall and a stop in at Artpark in Lewiston, NY, head to bands website.
Goose | Westville Music Bowl | New Haven, CT | 5/28/2022
Set 1: Drive, California Magic, The Old Man's Boat, Turned Clouds, Honeybee1, The Empress Of Organos
Set 2: Red Bird, Butter Rum, Echo Of A Rose > Into The Myst2, Dripfield
Encore: Dripfield3
Notes
1. Coach on rain stick
2. First finished Into the Myst since 11/17/21
3. Continued from set-closing rendition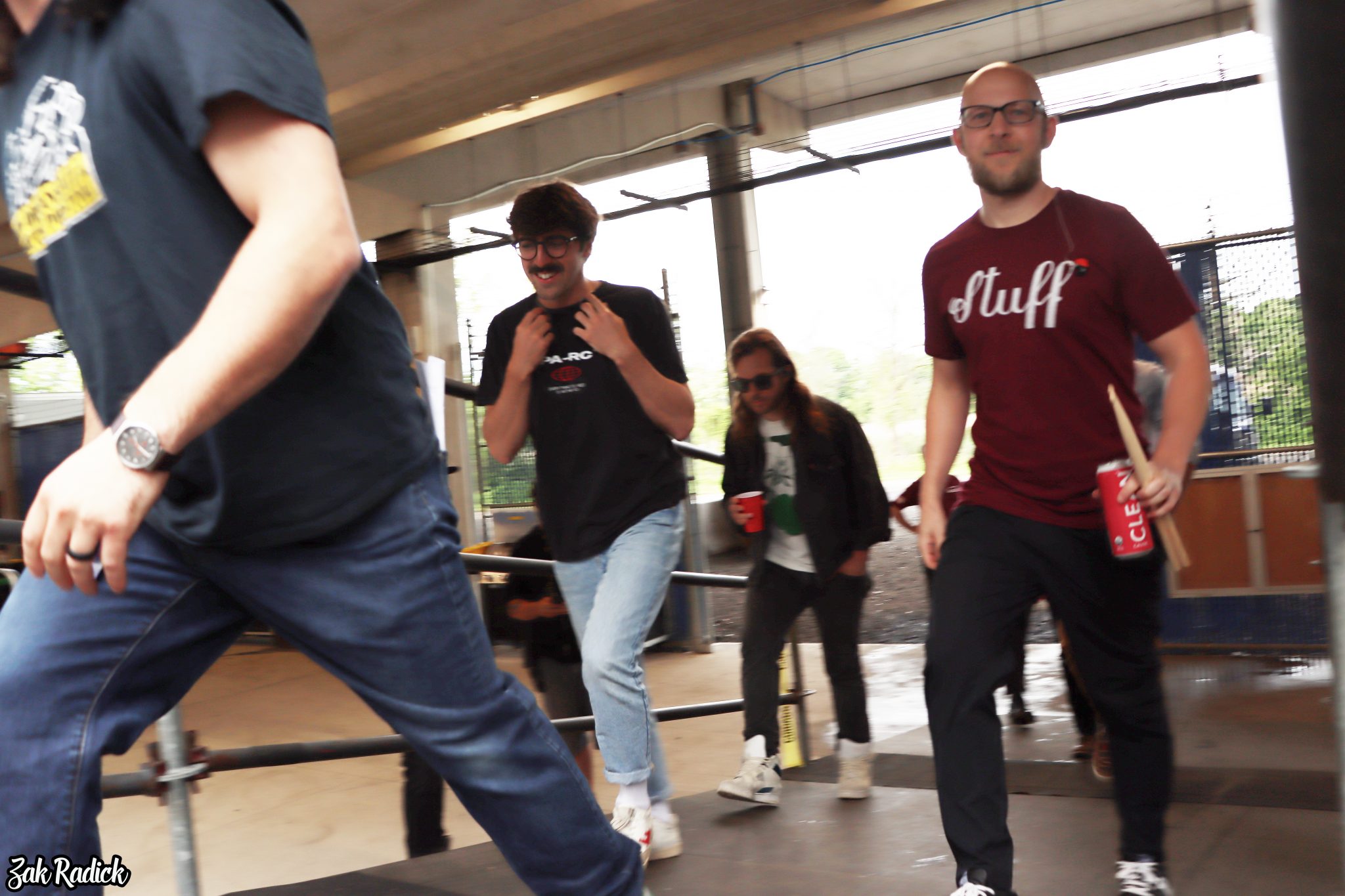 .