Aussie psych-mavens King Gizzard and the Lizard Wizard last played in Rochester almost exactly seven years ago, a half-full affair at the Bug Jar. Since then, they have put out an astounding 14 albums. In those same seven years, Water Street Music Hall, their venue of choice on their return to town Tuesday night, has been closed and opened under different names multiple times before finding it's way back once again to Water Street Music Hall. This show sold out hours after going on sale and anticipation has been building ever since.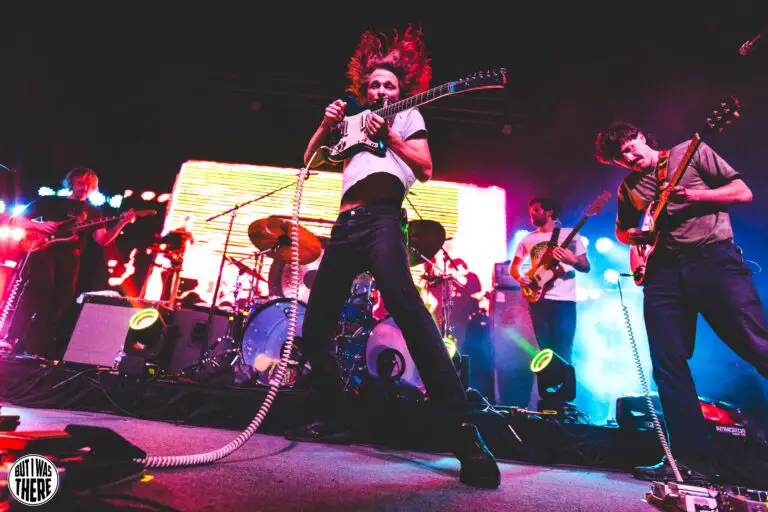 The line to get into the show stretched the full length of Water Street. Once inside, the sold-out crowd was bounding with potential energy, a powder keg waiting to be lit. Every test by every roadie for every instrument and every light and video screen was met with screams of excitement in the lead-up to the band's arrival. "Gizzard" chants started, stopped, and started again.
Opening with "The Dripping Tap," an 18 minute epic off of their just out Omnium Gatherum, the sextet quickly erupted into their frenetic guitar-heavy signature. The fireballs of energy shooting off the stage set the crowd afire. Everyone was bouncing off the floor, bouncing off each other and bouncing off the walls. It was kinetic.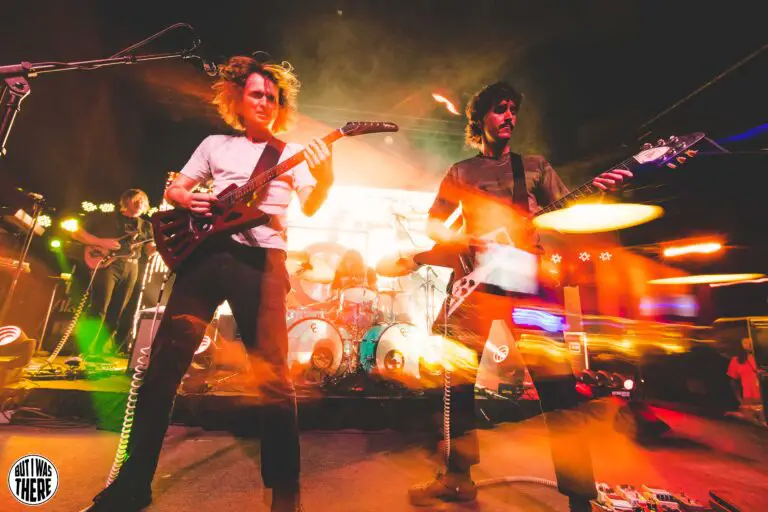 A screen on stage displayed colorful and glitchy animations that perfectly matched the bonkers activity of the musicians in front of it. The wild off-kilter lyrics, the everything all at once onslaught of sound, spasms of motion and color. Senses were sated, the audience transported.
King Gizzard and the Lizard Wizard smashed jams from no less than nine of their 20 albums into two near non-stop hours of energetic rock. Songs flowed effortlessly in and out of each other. Guitars, bass, harmonica, keys, electronics, flute and whoops and screams wove a thick mesh of sound that blanketed the vast music hall. Drummer Michael Cavanagh inhumanly kept the pace throughout, a gong seeming to serve as a protective shield for most of the night until it was finally crashed in a late set "Straws in the Wind."
The band and the crowd running on fumes, King Gizzard slammed on the accelerator one last time, closing out the night with one of their more recognizable and more frantic tunes, "Rattlesnake." There was still enough left in the tank, the crowd revved the energy back up to a fever pitch one last time.
Water Street Music Hall has been an important piece of the Rochester live music scene for decades. From the show announcement to the final notes of the show, King Gizzard and the Lizard Wizard helped revive the venue to it's former glory. A sellout show that won't soon be forgotten.