Grammy winner Angélique Kidjo released a remix and music video of her song "Choose Love". The "Choose Love" remix comes on the back of her Grammy Award win for Best Global Music Album for her album Mother Nature in April.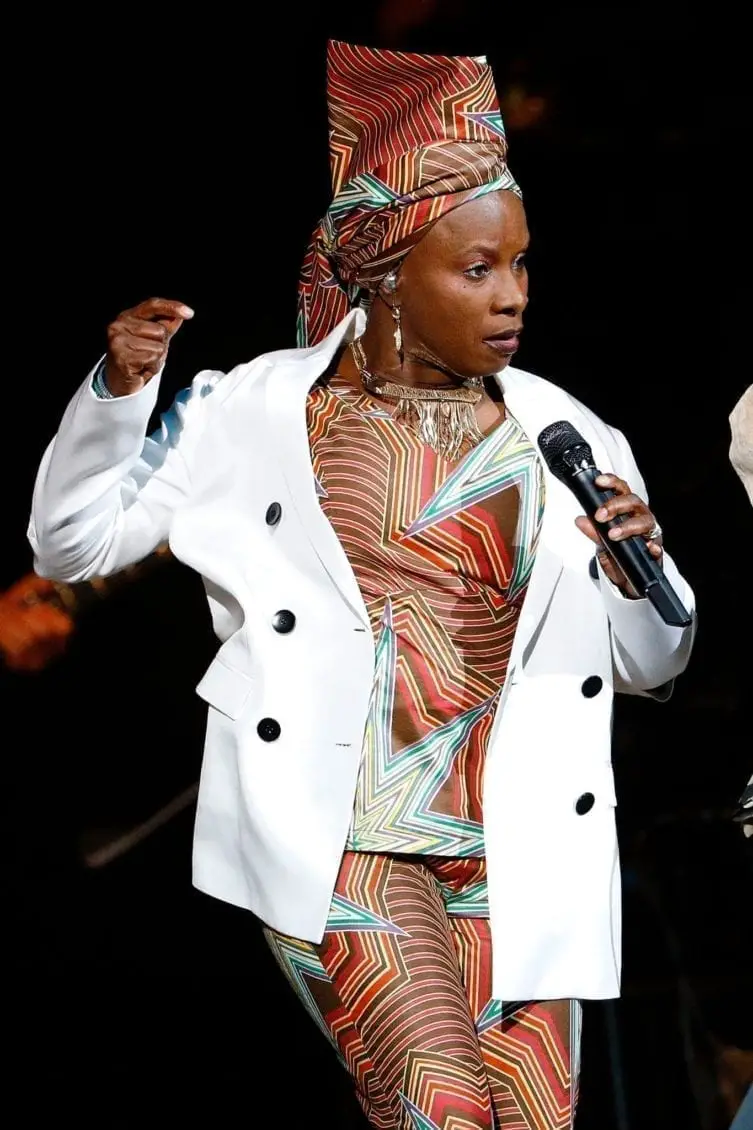 Mother Nature was released in June of 2021. The album, met with career-best raves, tackles major issues like the climate crisis and the struggle for freedom. The album continues to reinforce her status as a true icon of African music as she was joined by a host of young African stars which she influenced, including Burna Boy, Mr. Eazi, Yemi Alade and Sampa The Great.  
Kidjo is a 12-time GRAMMY nominee and 5-time winner. In addition to her win for Best Global Music Album she was also nominated twice in the Best Global Music Performance category. Once as a lead artist on "Do Yourself" from Mother Nature, featuring Burna Boy, and again as a featured artist for the recording of "Blewu" by Yo-Yo Ma.
In 2021 Kidjo was named to TIME's 100 Most Influential People list, where Alicia Keys wrote her introduction. She also had several notable performances including at the Tokyo Olympics opening ceremony and a sold out Carnegie Hall in November. She was also cast in a film alongside Viola Davis. 
The "Choose Love" remix was produced by Grammy nominee Synematik. The music video for the "Choose Love" remix was shot by famed British photographer Platon, who was recently the subject of a Netflix documentary.
"Angélique shows us the true meaning of leadership today," Platon said. "With this song, 'Choose Love' she inspires us with her extraordinary music talent, her compassion, optimism, and hope.
This is Platon's first collaboration with Kidjo.
"I love Platon's passion for Art and people," Kidjo said. "He has photographed the leaders of these world but also people from all over the World, from all social classes and all origins. He has shown us through his art the common humanity we all share."
This summer Kidjo will embark on her first foray into musical theater with Yemandja. Named for Yoruban deity, the musical is a work of magical realism set against the backdrop of slavery in 19th-century West Africa. It is a parable about gods and humans that illuminates through song what can happen when people are robbed of their culture.
Global Tour Dates
Saturday, May 6, 2022: The Kennedy Center in Washington, D.C. (Yemandja)
Sunday, May 7, 2022: The Kennedy Center in Washington, D.C. (Yemandja)
Tuesday, May 10, 2022: McCarter Theatre Center in Princeton, NJ
Thursday, May 12, 2022: Bass Concert Hall in Austin, TX
Thursday, May 26, 2022: Africa Festival in Würzburg, Germany
Wednesday, June 1, 2022: Bergen International Festival in Bergen, Germany
Friday, June 3 – Saturday June 4, 2022: Holland Festival in Amsterdam, The Netherlands
Thursday, June 9, 2022: Dresden Music Festival in Dresden, Germany
Saturday, June 11, 2022: Théâtre du Châtelet in Paris France
Sunday, June 12, 2022: Meltdown Festival at Southbank Centre in London, United Kingdom
Thursday, June 16 – Saturday June 18, 2022: Holland Festival in Amsterdam, The Netherlands (Yemandja)
Wednesday, June 22, 2022: Klangvokal Festival in Dortmund, Germany
Friday, June 24, 2022: Holland Festival in Amsterdam, The Netherlands (Symphonic)
Wednesday, June 22 – Sunday June 26, 2022: Glastonbury Festival in Glastonbury, England
Friday, July 1, 2022: Jazz a Vienne in Vienne, France
Friday, July 8, 2022: Festival dei due mondi in Spoleto, Italy
Friday, July 22, 2022: Molde Jazz Festival in Molde, Norway
Friday, July 29, 2022: WOMAD UK festival in Malmesbury, United Kingdom
Sunday July 31, 2022: Newport Jazz Festival in Newport, RI
Wednesday August 3, 2022: Longwood Gardens in Kennett Square, PA
Saturday, August 6, 2022: Caramoor in Katonah, NY
Friday, August 19, 2022: H2U Open Air in Uster, Switzerland
Sunday, October 23, 2022: Palladium Center for the Performing Arts in Carmel, IN
Saturday, January 28, 2023: Chateau Rogue in Annemasse, France
Thursday, March 30, 2023: Concertgebouw in Amsterdam, The Netherlands