On Friday, April 29th, Consider the Source brought their eclectic instruments and extreme talents to Lark Hall in Albany during the last leg of their "Acoustic-Electric Hybrid" tour to celebrate the release of their album Hybrid Vol. 1: Such As A Mule. Lark Hall was the perfect space to enjoy a slightly toned-down version of this hard-rocking band. To kick off what was one of the most musically interesting night's of my life was delightful duo Cosmal.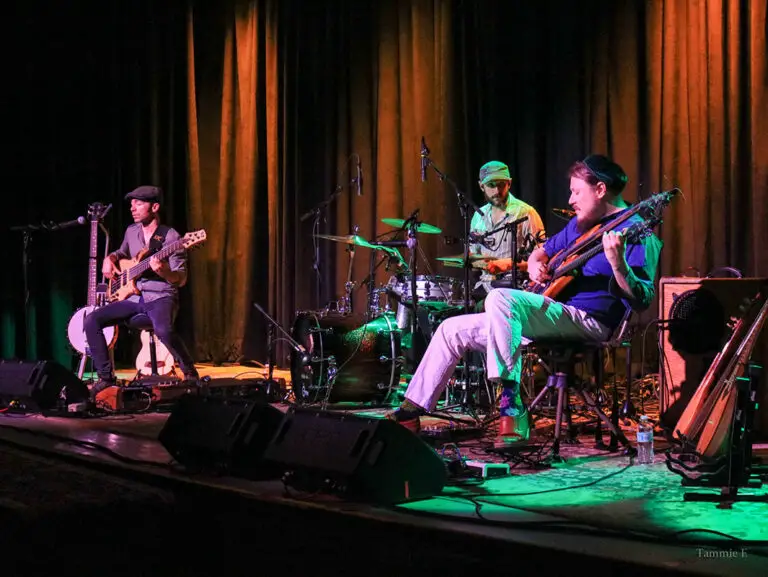 Cosmal
Ryan Coyle and Alison Lazarus are two delightfully well-rounded and multi-talented individuals and they created an amazing group called Cosmal. While Ryan creates incredible electronica jams with his midi-controller, chaos pad, and guitar, Alison live-paints and sings. This band is made of two truly unique individuals with an incredible idea — you should check them out as soon as you get the chance.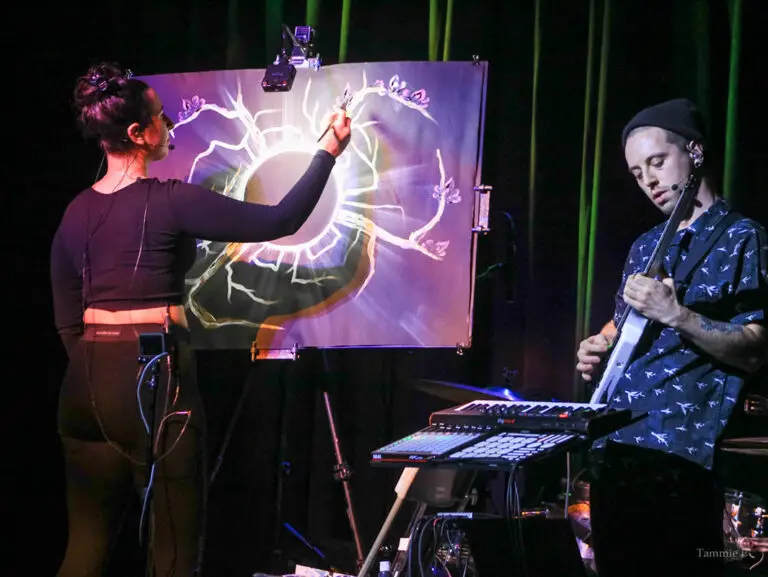 Consider the Source
Consider the Source is easily one of the most unique bands I have ever had the pleasure to listen to. They call their sound "Sci-fi Middle Eastern Prog Fusion" and if you think that sounds interesting you should hear what they actually sound like. If you're looking for something different from the usual stuff, this is your band.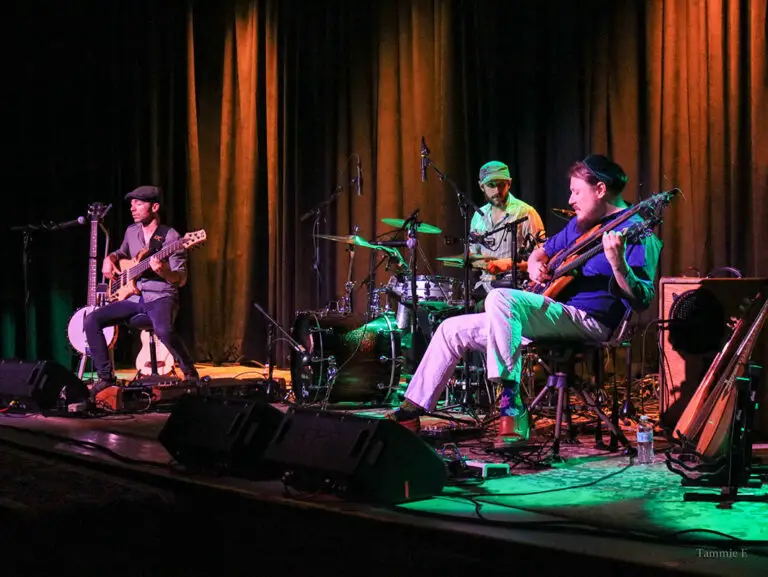 Hybrid Vol. 1: Such As A Mule
John Ferrara (bass), Jeff Mann (percussion), and Gabriel Marin (guitar, etc) have truly created a unique, eclectic, and delightful sound. Friday night's show was a rare treat — fans of the band had never seen them play in such an environment before. They played their new album in its entirety and threw a couple of older songs in there too. They used instruments many of us had never seen or heard before as well including a Banjo Bass, Dombra, Uzbek/Tajik Dutar, Doumbek, a Ukulele Bass, and many more. The set was certainly a departure from what we were used to, but it was killer nonetheless.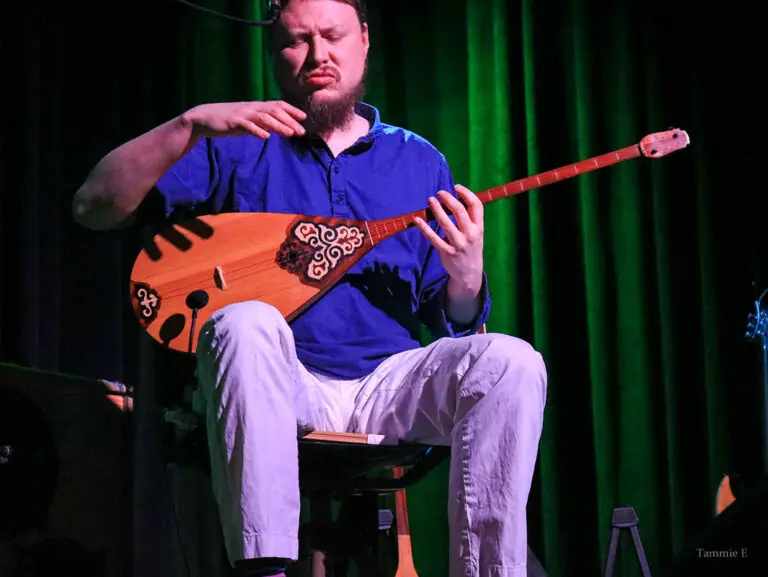 The Interview: A Surprise Announcement
I sat down with Ferrara, Mann, and Marin before their set. They told me that they had finished recording Hybrid Vol. 1: Such As A Mule right before the pandemic hit. They used the lockdown to finish mastering the album. However, and here is the big surprise: they also spent that time recording a second album — keep your eyes on their social media to find out when you can check it out. And from what I am told, it will be their hardest-hitting album yet.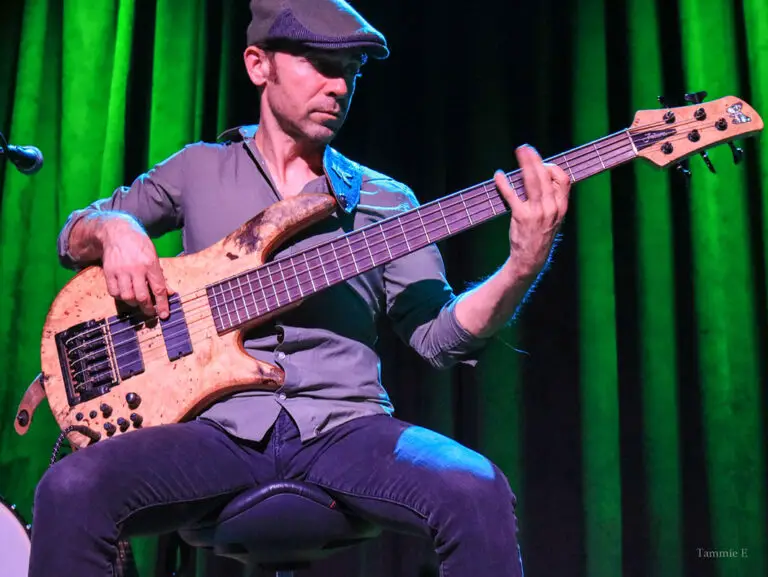 Tour inspiration
Consider the Source has such a ground-breaking sound, they could just call it a day and continue to tour for as long as they can handle it. However, they continually want to change it up for their fans. And that was the whole idea behind their most recent album as well as the tour they just completed to celebrate the release. The venues they visited for this tour were the type where you sit down, which is a huge departure from the dancehalls they usually frequent. In short, they wanted to change things up for their fans, and wow — they delivered.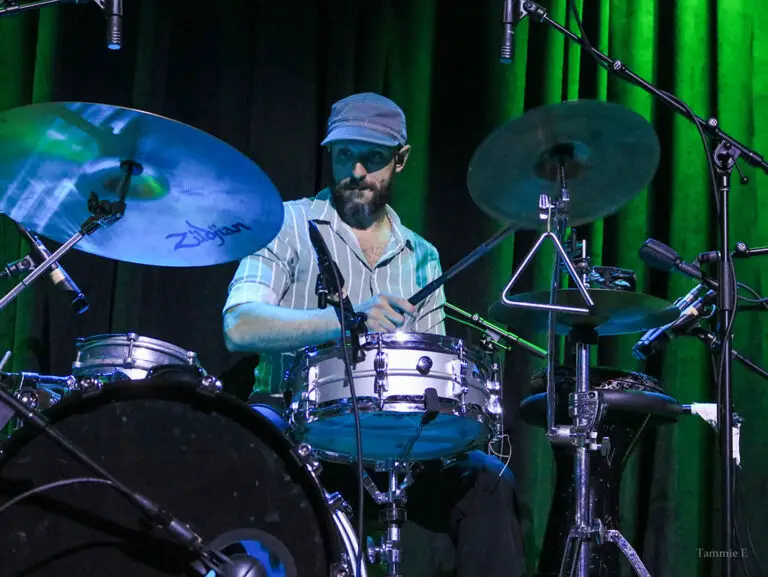 Future Plans
If you weren't able to catch them on their "Acoustic-Electric Hybrid" tour, don't fret. Consider the Source has several tour dates coming in the following months in New York, Pennsylvania, and Virginia. Check out the gallery below.