Lizzo hosted her first Saturday Night Live and returned as a musical guest for the second time, the first time in 2019 when she performed her hit songs "Truth Hurts" and "Good As Hell." She just released her new single "About Damn Time" and is also prepping to release her next album Special, out July 15.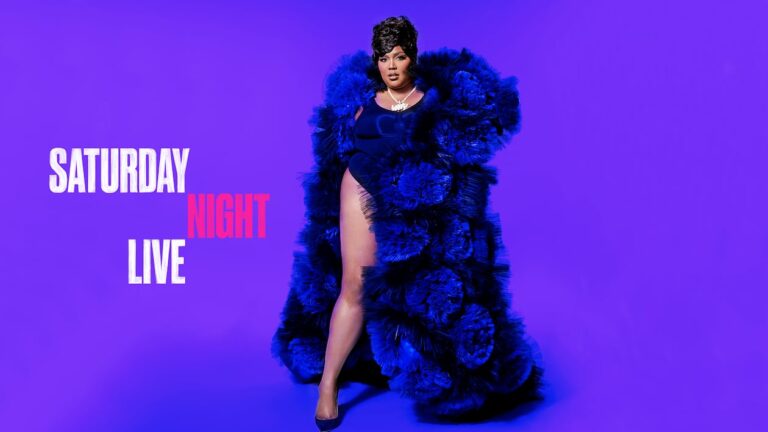 During the cold open, the Easter Bunny (Bowen Yang) made an appearance and introduced various figures in today's media talking about Easter and cracking jokes about recent events they are involved in. Dr. Anthony Fauci (Kate McKinnon), Marjorie Taylor-Greene (Cecil Strong), NYC Mayor Eric Adams (Chris Reed), Britney Spears (Chloe Finemen), Jared Leto (Mikey Day), and Donald Trump (James Austin Johnson) all made an appearance.
During her opening monologue, Lizzo joked about how she would break the record for the amount of times "bitch" is said on TV, and made a shoutout to her mother. She talked about how far she has come, from living in her car to hosting SNL.
Lizzo appeared in the next sketch as "Guess That" contestant Nicole, who was sassy and fiery about not getting the questions right and kept hitting the answer button to be annoying to the host. She also crowned herself the Mayor of "Gametown" in the sketch.
In another sketch, she is featured as a label executive, listening to The Black Eyed Peas and giving her ideas, with success. She is seen in another sketch as a girl bringing a date over, whose friends and family are all "Six Flags Guys." She was also seen as an Egyptian princess, and then a flutist in an orchestra.
On the SNL Youtube page in the Cut For Time sketch, she starred in a music video with cast members Chris Reed and Bowen Yang about eating food while watching Youtube. She had a rap at the end of the song and was starring as the Youtube Algorithm, and sang about how the algorithm knows what videos to recommend to you based on your watching habits.
"Ladies and gentlemen me!" Lizzo exclaimed as she performed her new song "About Damn Time," in a yellow neon sequined jumpsuit with neon lights shining in the back as she sings "Turn up the music, turn down the lights/I got a feelin' I'm gon' be alright/Okay (Okay), alright/It's about damn time." She even brought out her amazing flute playing skills.
SNL included an homage to the late Gilbert Gottfried, with a photo of the comedian/actor when he was a cast member on SNL in Season six. Gottfried died on April 12
In her second performance, Lizzo's mom introduced her. She performed her new song "Special" wearing a huge pink coat and sparkly dress. She sang with a lot of emotion as she sang "in case nobody told you today, you're special/in case nobody made you believe you're special/ I will always love you the same, you're special."