On Monday April 11th 2022, The Trinity of Terror Tour made a stop in Buffalo at RiverWorks. This is a triple headlining tour featuring Ice Nine Kills, Black Veil Brides and Motionless in White. The Buffalo show was a sell out with 5,000 people singing along to every song. Buffalo RiverWorks is the city's newest premier waterfront, boating, sports, music, dining and entertainment destination located along the banks of the Buffalo River.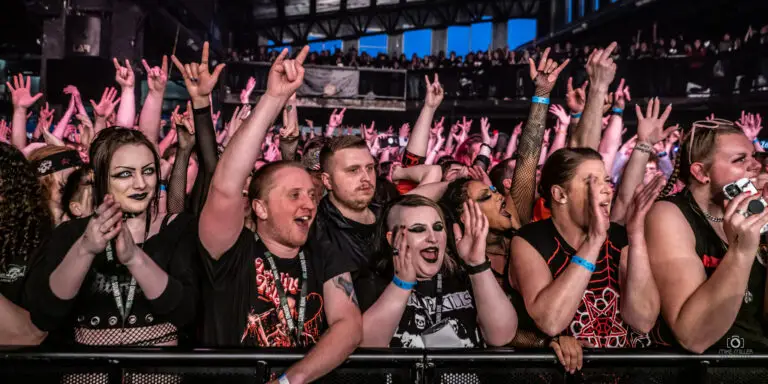 There are three guarantees in life; death, taxes and waiting in long lines at a sell out concert. Many concert attendees did not head the advice of the venue to arrive early. Traffic was as expected and one of those meandering snake single file lines to enter the venue in the parking lot. Some fans waited over an hour to enter the concert in the rain. But once fans passed through security, they were greeting with a huge two floor, standing room only, 50,000 sq. ft space, filling up with music lovers alike. The stage had a large drum riser with 2 LED video screens. One in front of the drum riser and a larger one behind it that would play music videos in between sets. Along the edge of the stage were remote light bars that are blinding if you look at them directly.
Motionless in White
Motionless in White is an American heavy metal band from Scranton, Pennsylvania. Formed in 2005, the band has stated that their band name is derived from the Eighteen Visions song "Motionless and White". Their set was nine songs in length featuring songs like, "Disguise" and "Another Life". During "Cyberhex", the song was stopped at the last chorus because of a fan injury. Security and medical professionals were able to attend to the fan and the show continued on. Their second last song was a Killers cover, "Somebody Told Me" where almost every fan was singing along to the lyrics, because who does not like The Killers? It was announced that the bassist Justin was not there because he was at home expecting a new born child in Rochester.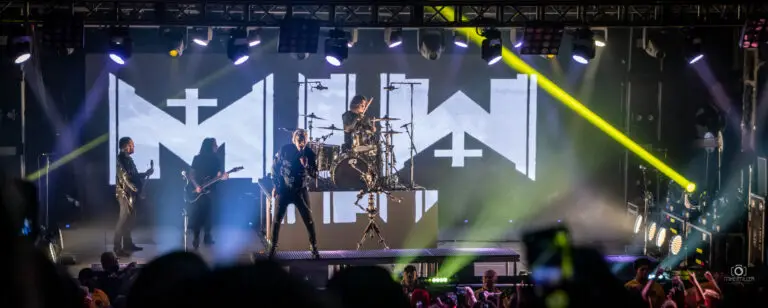 Band members: Chris "Motionless" Cerulli (lead vocals), Ryan Sitkowski (lead guitar), Ricky "Horror" Olson (rhythm guitar), Vinny Mauro (drums), and Justin Morrow (bass).
Setlist: Disquise, Reincarnate, Necessary Evil, Voices, Thoughts & Prayers, Cyberhex, Another Life, Sombody Told Me, and Eternally Yours.
Black Veil Brides
Black Veil Brides is an American rock band based in Hollywood, California formed in 2006. Their style has constantly been changing ever since the group was formed in 2006. They were originally described as metalcore when they were formed but now resemble glam metal/shock rock like Kiss or Motley Crue. Singer Andy Biersack was recently diagnosed with Covid-19 and had to drop from their current tour for a few shows. He was recently cleared and they have rejoined the tour.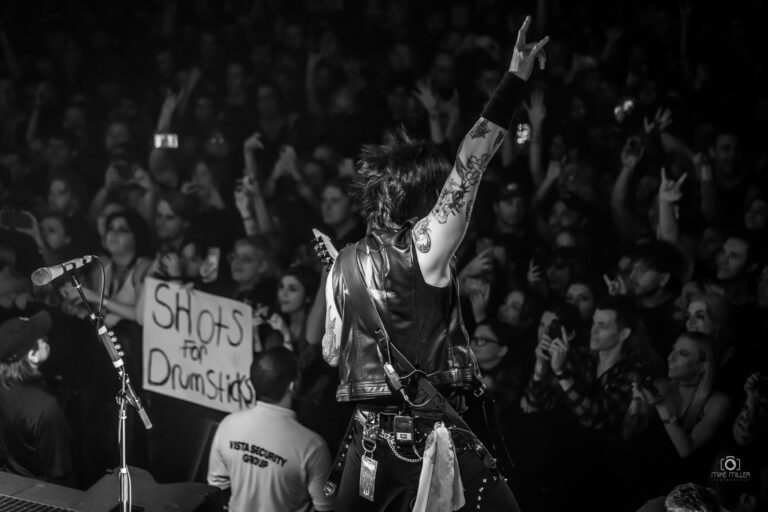 Band members: Andy Biersack– lead vocals, keyboards; Jinxx– rhythm guitar, violin, backing vocals; Jake Pitts– lead guitar; Christian "CC" Coma – drums; Lonny Eagleton – bass, backing vocals
Setlist: Faithless, Coffin, Crimson Skies, Shadows Die, Wake Up, Scarlet Cross, Knives and Pens, The Legacy, Fallen Angels, and In the End.
Ice Nine Kills
Ice Nine Kills (sometimes stylized in all capital letters or abbreviated to INK, and formerly known as Ice Nine) is an American heavy metal band from Boston, Massachusetts who are signed to Fearless Records. Best known for its horror-inspired lyrics, Ice Nine Kills formed in its earliest incarnation in 2000 by high school friends Spencer Charnas and Jeremy Schwartz. Charnas is currently the only remaining founding member.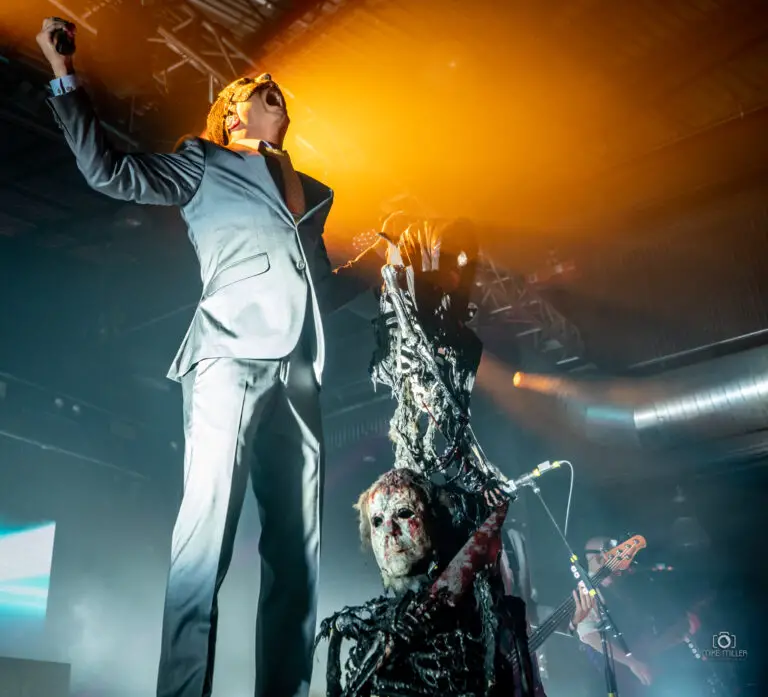 Throughout their set, they used props like axes, drills and chainsaws for imagery to remind fans of horror movies as each band member was a separate character. Some of their inspiration was from movies like American Psycho, Hostel, Psycho and The Evil Dead. Their 13 song set featured songs like: "Welcome to Horrorwood", "Hip to be Scared" and "Wurst Vacation". During their third song, a fan appeared to be injured and security signaled to pause the show again. Security was overhead saying that the fan just dropped their phone and were struggling to get back up. Shortly after this the show resumed.
Band members: Spencer Charnas – lead vocals; Ricky Armellino – backing vocals, rhythm guitar; Joseph Occhiuti – backing vocals, bass, keyboards; Dan Sugarman – backing vocals, lead guitar; Patrick Galante – drums.
Setlist: Opening Night, Welcome to Horrorwood, Wurst Vacation, Hip to be Scared, Stabbing in the Dark, Rainy Day, IT is the End, Communication of the Cursed, Take Your Pick, Ex-Martis, The Shower Scene, Funeral Derangements, and The American Nightmare.
This tour will be stopping in Huntington NY at The Paramount on Friday April 15th for another sold out show. Ice Nine Kills will be back in Buffalo opening for Metallica on August 11th at Highmark Stadium (Home of the Buffalo Bills!)
Motionless in White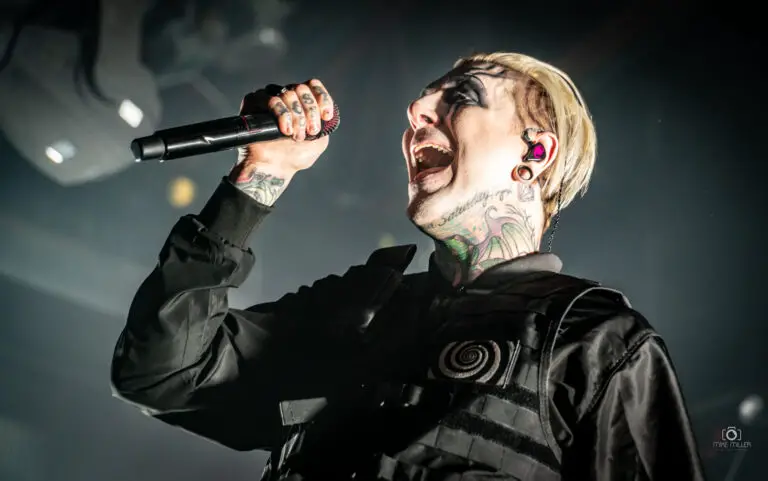 Black Veil Bride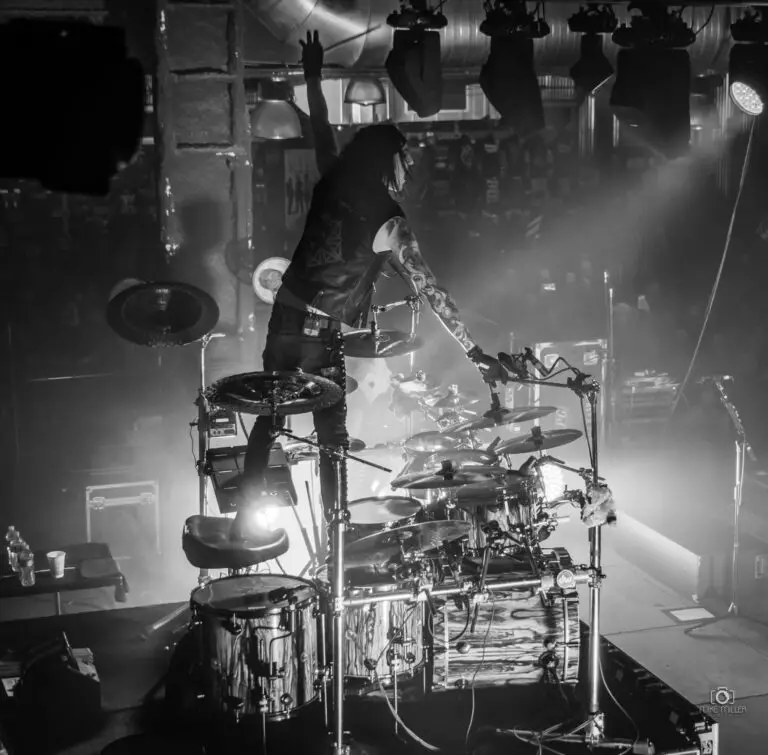 Ice Nine Kills