Texas King has recently released an acoustic version of their song 'You', which was previously featured on their Chances EP. Fans will be able to see this song, and many others, performed live in Buffalo, Manhattan and at Rochester's Lilac Festival.
The original recording of 'You', featured on the band's latest EP, shared playtime with five other anthemic tracks focused on themes of growth and self discovery. Fans will have the chance to hear all of these songs along with their older material during their 16-date tour, featuring Motherfolk and Loviet.
"When we started, I played an acoustic and that's how I wrote most of the early tunes that Texas King played. I wanted to get back to that,"

Jordan Macdonald
Formed in Ontario in 2013, Texas King is comprised of Jordan Macdonald (vocals, guitar), Phil Spina (bass), Colin Gray (guitar) and Melvin Murray (drums). The group worked hard to create the hooks and high hats for what would eventually become their 2017 debut album, Circles and the work paid off as they garnered fan acclaim around Canada.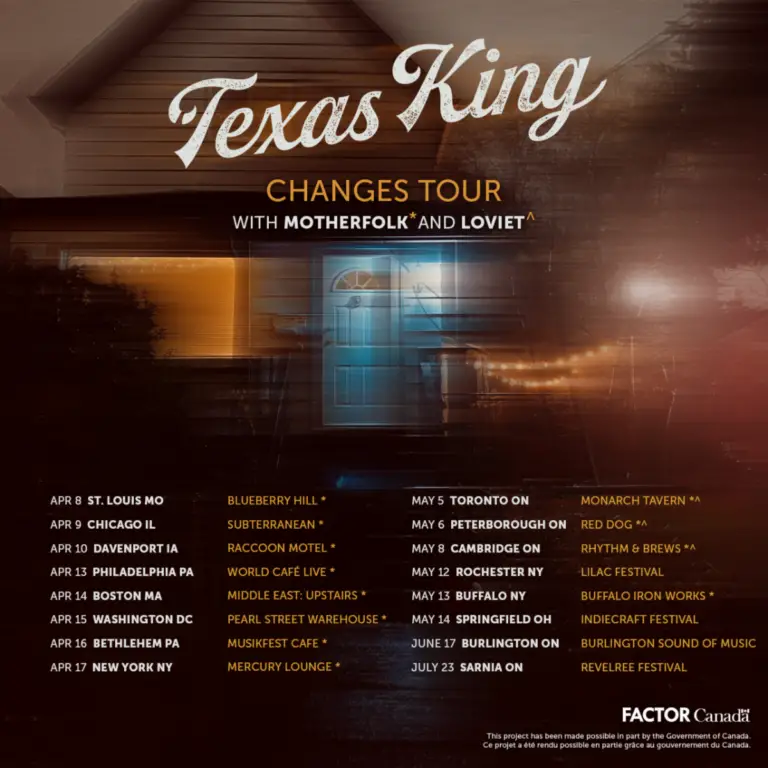 Texas King has continued to gain the public's attention as their performances have expanded into the US, with the group touring for four months through the US and Canada at the end of 2019. A number of singles have charted on the rock radio charts and racked in nearly half a million streams on Spotify. 
Tour Dates
April 8 – St. Louis, MO – Blueberry Hill*
April 9 – Chicago, IL – Subterranean*
April 10 – Davenport, IA – Raccoon Motel*
April 13 – Philadelphia, PA – World Café Live*
April 14 – Boston, MA – Middle East: Upstairs*
April 15 – Washington, D.C. – Pearl Street Warehouse*
April 16 – Bethlehem, PA – Musikfest Café*
April 17 – New York, NY – Mercury Lounge*
May 5 – Toronto, ON – Monarch Tavern*^
May 6 – Peterborough, ON – Red Dog*^
May 8 – Cambridge, ON – Rhythm & Brews*^
May 12 – Rochester, NY – Lilac Festival
May 13 – Buffalo, NY – Buffalo Iron Works*
May 14 – Springfield, OH – Indiecraft Festival
June 17 – Burlington, ON – Burlington Sound Of Music 
July 23 – Sarnia, ON – Revelree Festival
*with Motherfolk
^with Loviet