"We hold a crazy standard. If every song doesn't break a benchmark of something we've already done, then it's not there yet. It's not right."  This is how Nick Reese, lead singer for Joyous Wolf, describes the work ethic behind the writing and recording of the band's debut full length album due out this year.
Signed to Roadrunner Records in 2018, the Southern California based band quickly put out an EP "Place in Time," releasing it in early 2019. From the EP came the single "Mother Rebel." The song made its way to rock stations across the U.S, including SIRIUSXM's Octane. "That kind of lifted us to where we could be," Nick shared.  "If that didn't even happen, I don't know if we would have had this record the way it is."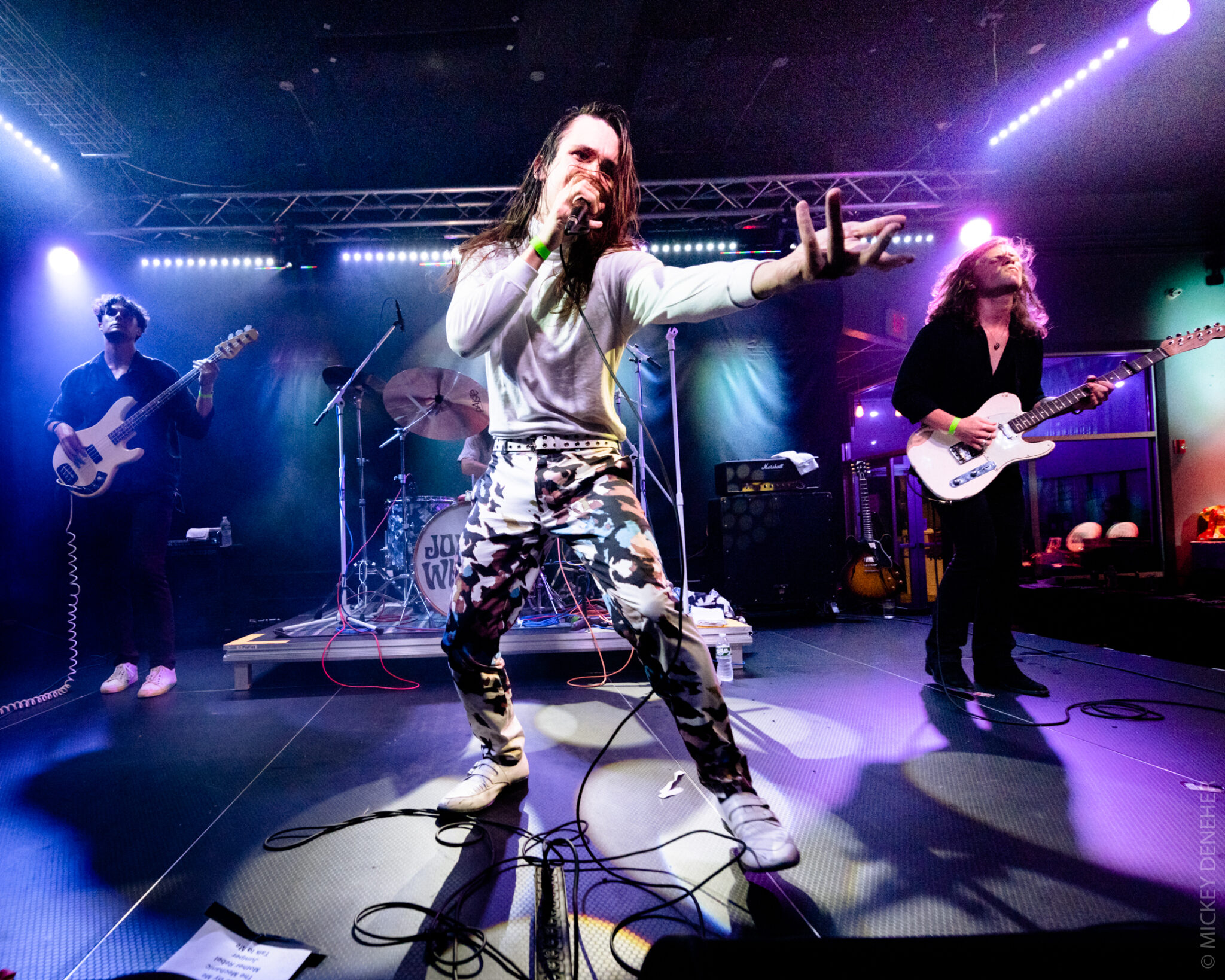 Fueled by the momentum from "Mother Rebel," Joyous Wolf hit the road performing at festivals and booking multiple dates/tours opening for Slash, Buckcherry, and Deep Purple. Then Covid hit. Like many bands, their progression stopped in its tracks.
"The pandemic happened, and a lot happened during the pandemic. It almost tore us to shreds. As it did to a lot of people." Reese shares. The band reconvened in July of 2020 to assess the health of the foursome and determine their next steps. "We had a lot of time to think about what kind of band we wanted to be, what we wanted to do, what we wanted to say."
Looking back at the recording of their EP, Nick identifies it as "primordial" with most of the songs written in two weeks. However, for the new album a different approach was taken. "When it came time to writing and recording it was about taking time. Everything now is about time. "
"I think we got the gears turning again. We started this kind of going through all the things we had been kicking around up until that point. We probably went through a hundred audio files on phones and whatever, checking things out saying 'Oh that's cool, that ten seconds of that thirty-minute thing was cool, stuff like that', We got a couple of things from that."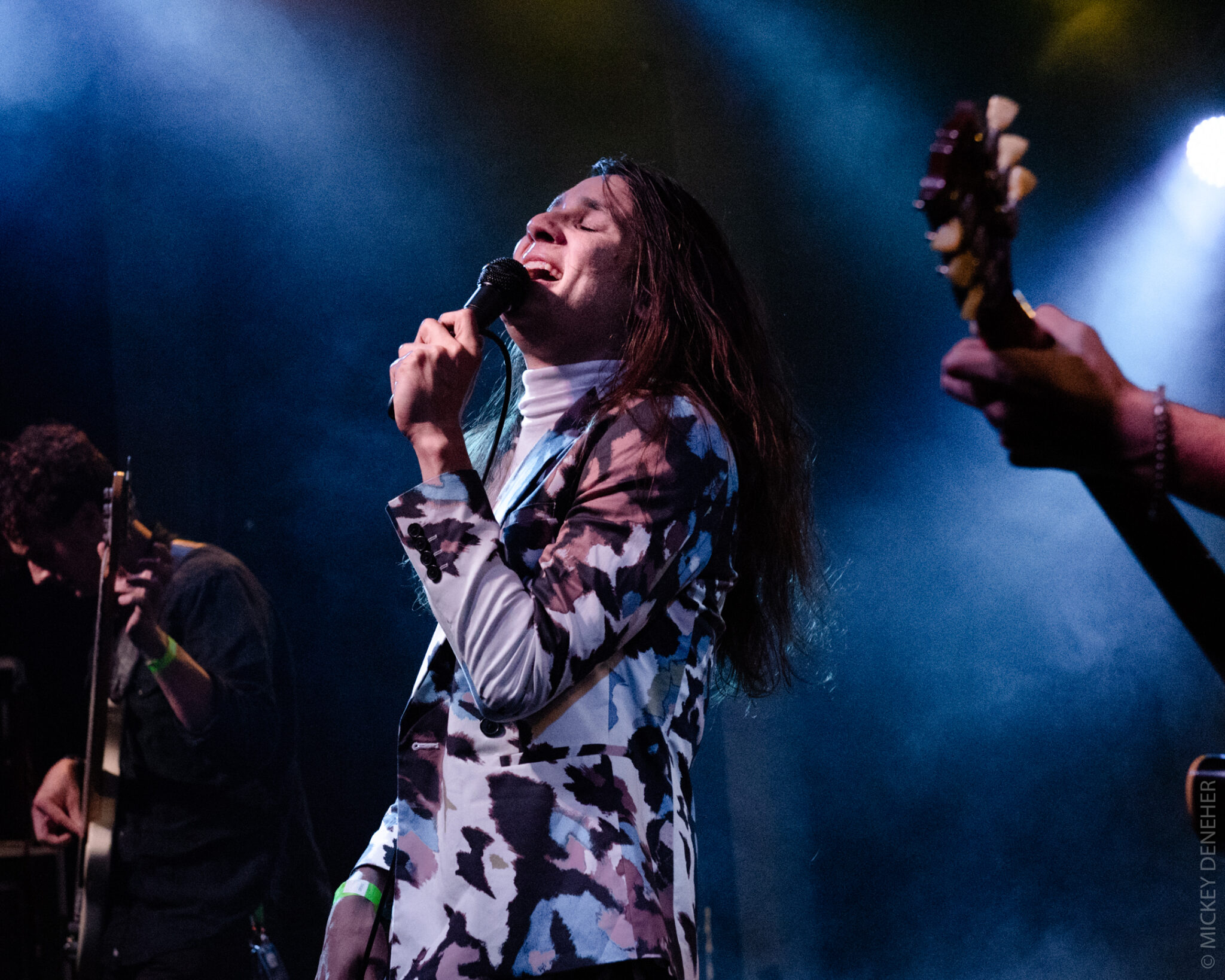 "We went out to Joshua Tree. We wrote out there. A couple of songs were yielded from that. We kept chipping away at things. Some songs we re-wrote the entire song except for this thirty seconds that we liked. Re-writing 5, 6, 10 or more times. We took that whole year for writing. We finished recording in around May (2021). It was pretty much about a year's worth of work."
"This is the first time we wrote things and trashed them even when we got to pre-production with them. It was like this is not it, but the rest of this is. Then 'Fearless' kind of came in the ninth inning, and the way it worked out, everyone seemed to like it, and they said, 'That's the first single.'"
We had a lot of time to think about what kind of band we wanted to be, what we wanted to do, what we wanted to say.
In addition to being lead vocalist, Reese is the primary lyricist for the band. "We all have our purpose. Mine is to write and to sing. That's where it's been for me. I just want to write the best stuff. Write honestly. Not try to take advantage of things. It's me. It's not me trying to pander or something. The key to myself if its edible then the song is good. I just want to write good music. I want to say what I feel."
When it comes to the new album, "it's a really naked record for me. It's a very personal record to me as far as lyrics. I think you can do whatever the hell you want in music. For me it was what I needed to do. If you asked me, why did you do it, it's because I had to. I really felt like I had to. I just want to make sure that whatever I'm going to put out there is an honest thing about myself so if you want to get to know me as a person, just listen to every song."
"'Fearless' is about when I was a kid, I was just an idiot. I would be the first person to jump off the waterfall cliffs and if there were waves, giant waves on the beach I would sprint right down and right into them. I liked that. To this day, I am still that same way. I hung by my feet upside down at Las Rageous festival and got banned for life. They did not like that. But I did it. There is this thing in my head, 'Nah, this is not the time you die yet.' I've always been that kind of a dare devil. "
When Covid put the band on hiatus, Nick took the opportunity for some personal growth. "Over the pandemic I had all this free time and after the three months of depression were over, I was like, 'You know what, I'm just going to relearn how to sing. Top to bottom.'" To achieve this Reese enlisted vocal coach, Melisa Cross. "She broke it down for me scientifically," Nick notes.  "She went and watched every live video of me singing and said, 'OK here's the things you are doing right and here's what you can improve on,' never using the word wrong. She (shared) your body is your body, and you know your body. There is a lot of gain to that, and it's been great."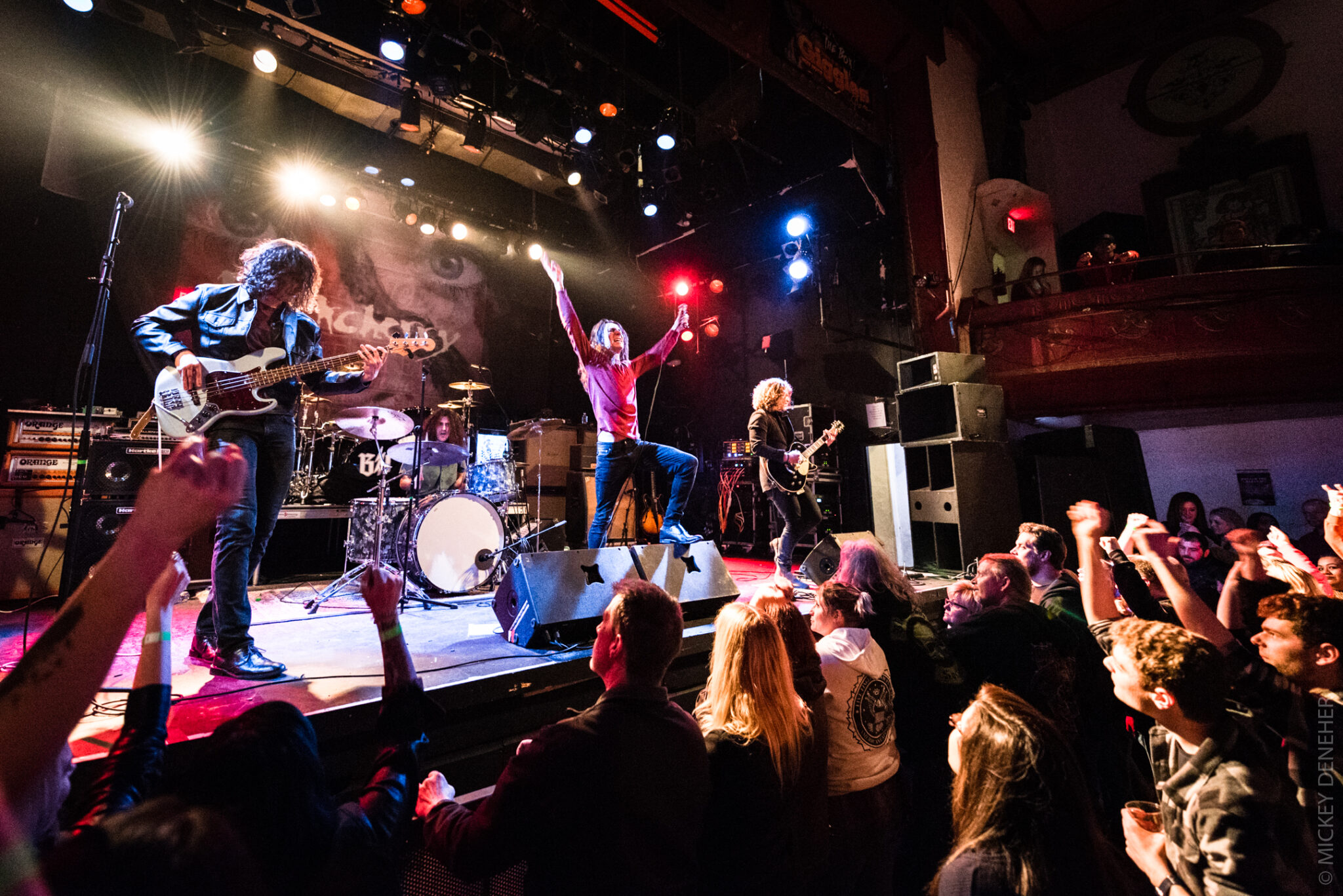 Having cut their tour teeth opening for some heavy hitters, what did the band take away from those experiences? "I didn't really learn anything, but I learned about touring, and I watched performances and I obviously picked up some things. I learned a lot watching Myles Kennedy (lead vocalist in Slash's backing band Myles Kennedy and The Conspirators) perform. Very inspiring especially in the new format of myself. If anything, my tour manager obviously taught me everything about touring. Like, 'Don't talk to this person just go straight to your corner.' I learned how to live on the road, mainly by doing it. There wasn't a band that said, 'Hey we're going to teach you how this goes.'  It was never like that. Usually, it was staying out of the way of the bands and if they welcome you into their circle (great). But we're pretty good at staying quiet and out of the way."
As the final touches are being put on the yet to be named album, Joyous Wolf is heading out on the road for a three-month run across the U.S.  The band will be opening for Dorothy on her "Gifts from the Holy Ghost" tour. So, what is it like on the road with these up-and-coming rockers?  "We never have any issues. People ask us is there problems or turmoil and there is nothing that would be entertaining. Nothing that would be an actual issue. Nothing that would be exciting like Mötley Crüe bullshit, you know what I mean, nothing like that. We are not that way. I think people see how underwhelming we are when they hang around us."
"I remember our tour manager (Stripes) when he first signed on to be our tour manager in early 2019. He thought he would be carrying dudes passed out on his shoulder and whatever. Then he realized that after the first show when he was still in the venue after the show was over and he was like where the hell did they go and he walked out to the van and there the four us were playing Mario Kart. I think at that moment he realized this was going to be a boring tour. We are not that type."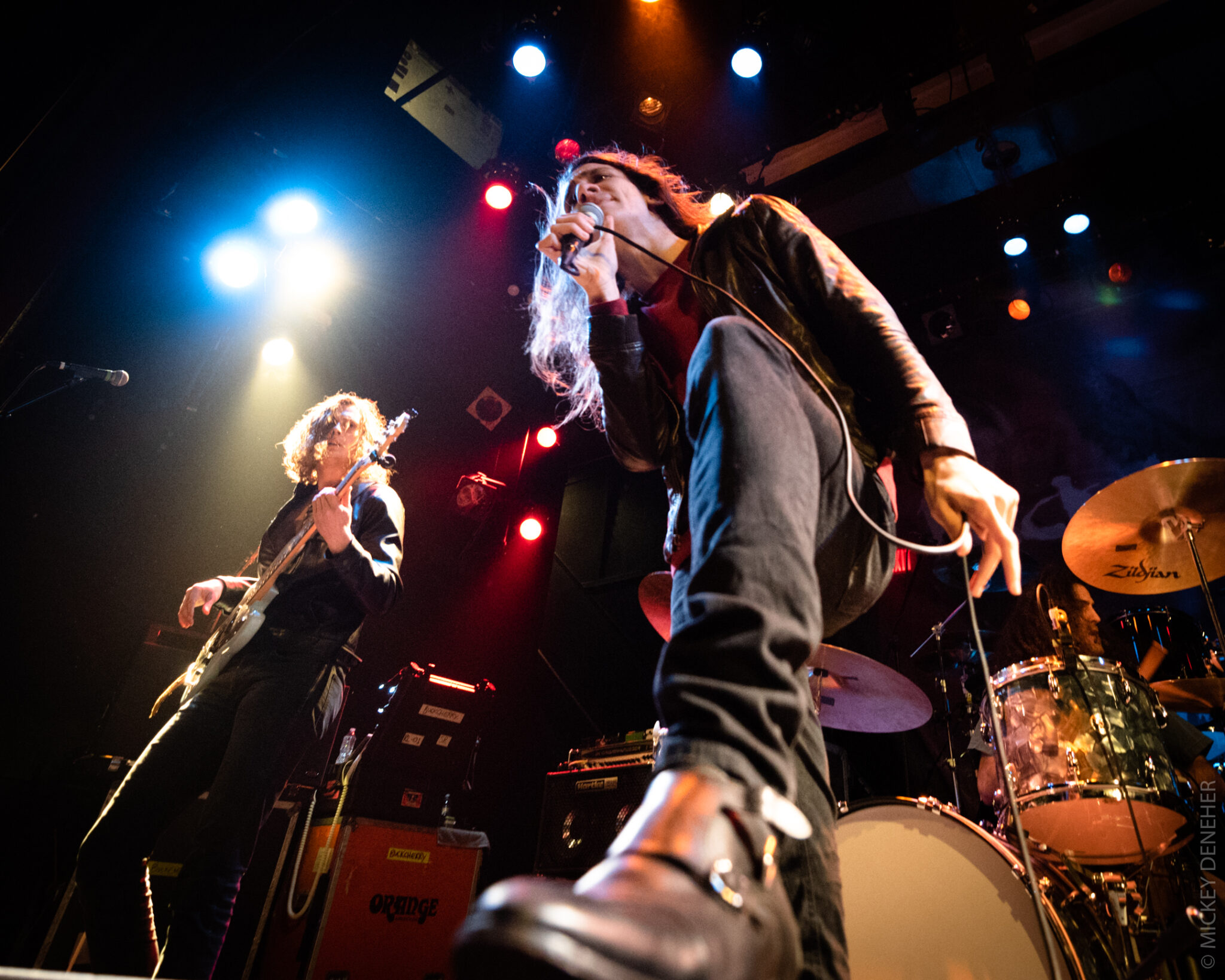 While subdued behind the scenes, the band is anything but when performing live. Electricity flows from the first note. Greg Braccio on base, and Robert Sodaro on drums set a rock-solid foundation for the songs to live on. Blake Allard's guitar paints the musical canvas with his piercing leads and power chords.  And Nick completes the picture, sharing the depth and breath of every song with his vocals.
Catch Joyous Wolf on tour in the tri-state area at Brooklyn Bowl Philly, PA 4/10, The Wellmont Theater, Montclair NJ on 4/15, and The Lost Horizon, Syracuse NY 4/16. Check their website for additional tour dates.