Just 15 minutes south of Syracuse is the small town of Lafayette, home to the Onondaga Reservation amid rolling hills and valleys. You'll find a number of apple orchards in this area as well, including Beak and Skiff, whose concert series for Summer 2022 schedule features The Wood Brothers, Death Cab for Cutie, Primus, The War on Drugs and many more.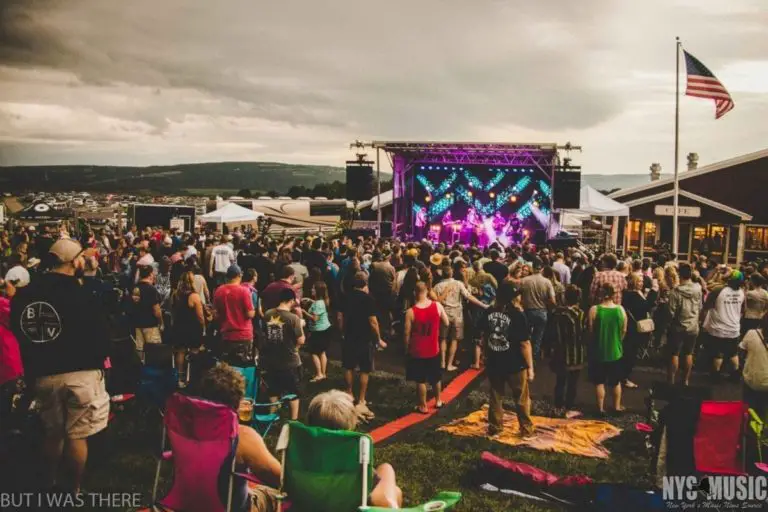 Beak and Skiff is a family owned orchard for five generations, dating back to 1911 when George Skiff, an onion farmer on the North Side of Syracuse, and Andrew Beak, a dairy farmer, met at the farmers market and decided to join forces and enter the emerging apple business. After finding a hillside area along Route 20 that provided the perfect conditions for growing apples, they started planting that very year.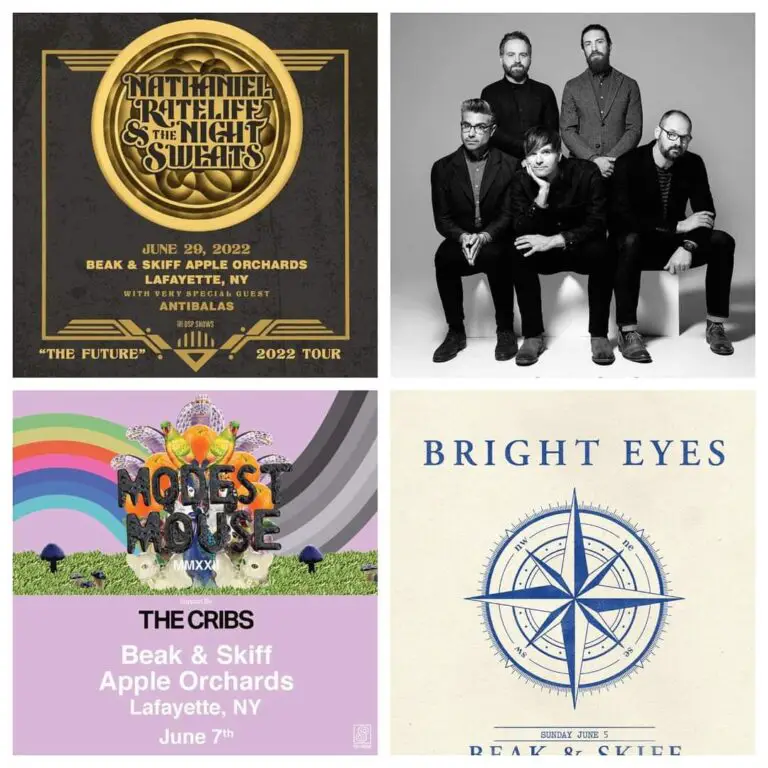 In the 1920s, Beak and Skiff began selling apples to groceries stores via wholesale, and by the late 1970s, began making apples cider, the same year they opened Apple Hill Country Store. In the last 20 years, they have branched out again by creating the 1911 Established line of Hard Ciders, and created 1911 Spirits, the first Onondaga County brand to hold a distillery license and the first to produce gin.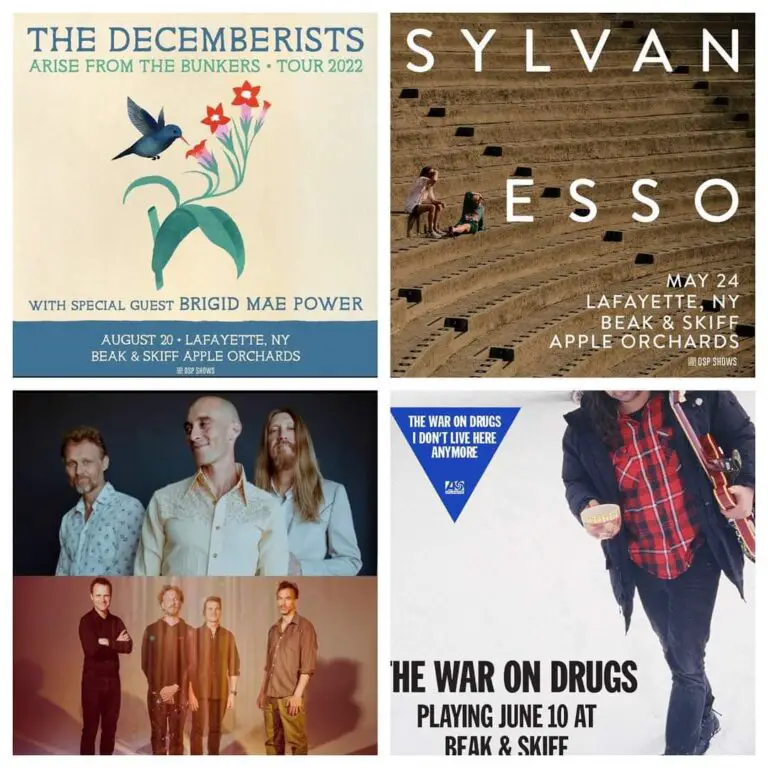 Bringing a summer concert series to Beak and Skiff is DSP Shows, based in Ithaca, NY and Northampton, MA, is one of the leading independent concert promoters in America. The company was founded as Dan Smalls Presents in 2008 by Dan Smalls and became DSP Shows in 2015 with the addition of partner John Sanders. With shows throughout Upstate New York and New England – including The State Theatre of Ithaca, Brewery Ommegang, Daryl's House, Asbury Hall at Babeville and many more, DSP shows presents a packed schedule of shows at Beak and Skiff for summer 2022. Compare to their 2021 season at Beak and Skiff.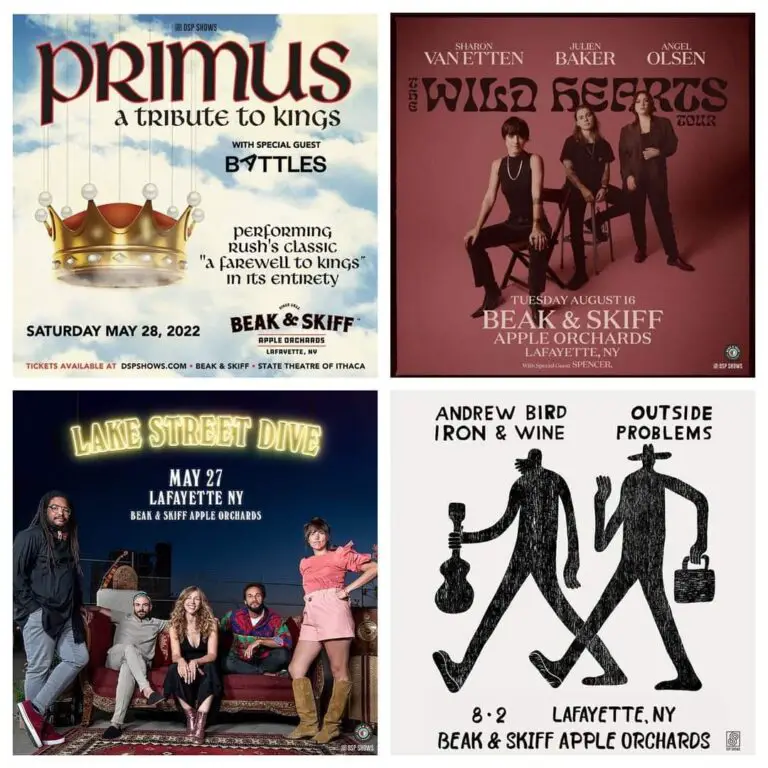 Beak & Skiff Apple Orchards 2022 Summer Concert Schedule
Beak & Skiff Apple Orchards (LaFayette):
Tue. 5.24.22 | Sylvan Esso w/ Samia
Fri. 5.27.22 | Lake Street Dive w/ special guest Devon Gilfillian
Sat. 5.28.22 | Primus – A Tribute to Kings w/ special guest Battles
Tue. 5.31.22 | The Head And The Heart – Every Shade of Blue Tour 2022 w/ special guest Jade Bird
Sun. 6.5.22 | Bright Eyes w/ special guest Alex G
Tue. 6.7.22 | Modest Mouse w/ special guest The Cribs
Fri. 6.10.22 | The War On Drugs
Sun. 6.12.22 | The Wood Brothers & Guster
Wed. 6.29.22 | Nathaniel Rateliff & The Night Sweats w/ Antibalas
Fri. 7.8.22 | Phil Lesh & Friends
Tue. 7.12.22 | Death Cab for Cutie w/ illuminati hotties
Tue. 8.2.22 | Andrew Bird and Iron & Wine – Outside Problems Tour w/ Meshell Ndegeocello
Fri. 8.6.22 | Gov't Mule
Tue. 8.9.22 | Dashboard Confessional & Andrew McMahon in The Wilderness w/ Armor for Slee[
Sun. 8.14.22 | Hear and There Festival: Courtney Barnett, Snail Mail, Faye Webster, Hana Vu
Tue. 8.16.22 | The Wild Hearts Tour: Sharon Van Etten, Angel Olsen, and Julien Baker w/ special guest Spencer.
Sat. 8.20.22 | The Decemberists – Arise From The Bunkers! 2022 Tour w/ special guest Brigid Mae Power
Tues. 8.23.22 | Wilco Cruel Country Tour