The third try was a charm over president's day weekend, as Buffalo based grove rockers Aqueous made good on their promise to blow the roof off the newly minted Brooklyn Made music venue upon their return to the big city. Once a band that appeared to be on a perpetual never-ending tour, dates for these one-time road warriors have been few and far between ever since the emergence of Covid-19 almost two years ago. For long time fans of the band, AKA AQuaintances, these days it feels like any scheduled Aqueous show is something of a "must see."
Originally set to take place back on November 6th, 2021, then later rescheduled to December 29th, both shows were postponed due to lingering health concerns. Now late February 2022 and with concerts slowly starting to happen again, the timing was ripe for a rager and fortunately for patient music fans, that's exactly what Aqueous delivered. Complete with surprise sit-in's, candid moments and teases galore, on this cold Saturday night in Brooklyn, the boys from Buffalo carved out  stellar, fiery performance that was well worth the wait.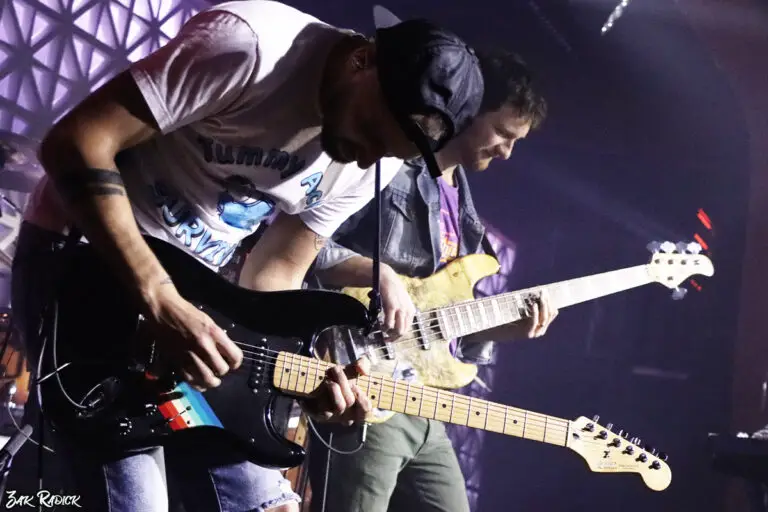 Opening the show was Philadelphia five piece Chestnut's Groove. Known for their down 'n dirty, shake, rattle and rock 'n roll vibe, this band of best friends were quite impressive in their Brooklyn Made debut.  Fighting through excessive stage fog like something out of This Is Spinal Tap and lead by the charismatic "bad girl" energy of singer Dee Gerhart and the powerhouse vocals of drummer James Daniels, it wasn't long before the band won fans over and had everyone in the place stomping their feet and clapping along too. So much fun in fact, even Aqueous guitar player Mike Gantzer couldn't resist getting in on it, sitting in with the band on their final song of the high octane set.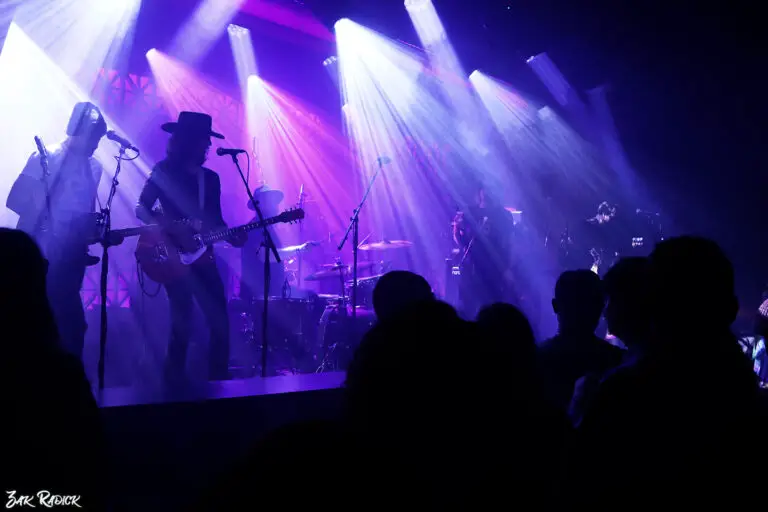 After a brief set break all the waiting was over, the stage was set and on this bitterly cold winter night in Brooklyn, it was finally going down. Aqueous, consisting of Mike Gantzer (guitar/vocals), Dave Loss (guitar/keys/vocals),d rummer Rob Houk and bassist Evan McPhaden made their intentions clear from the get go, launching into one of their signature originals "Don't Do It." Complete with an extended 'build up' intro and a healthy dive into Phish's "First Tube" territory, the party was already off to a rollicking start.  Following it up in the two-hole with one of their more electronic/ hip-hop sounding songs was "Split the Difference" which seamlessly segued into "Skyway", resulting in one of the bands biggest jams of the night.   
"I don't see any reason to get worked up, already got enough on my plate

in this mess we call life, takin' it day by day

I don't see any reason to get worked up when you got nothin' to say

you never have nothin' to say"

-Skyway
Following up "Skyway" was another highlight of the evening, a most welcome surprise sit in by the newly formed Horn Section, featuring former Turkuaz members Greg Sanderson on saxophone and Chris Brouwers on trumpet, lending their talents on a cover of the Steely Dan classic "Peg."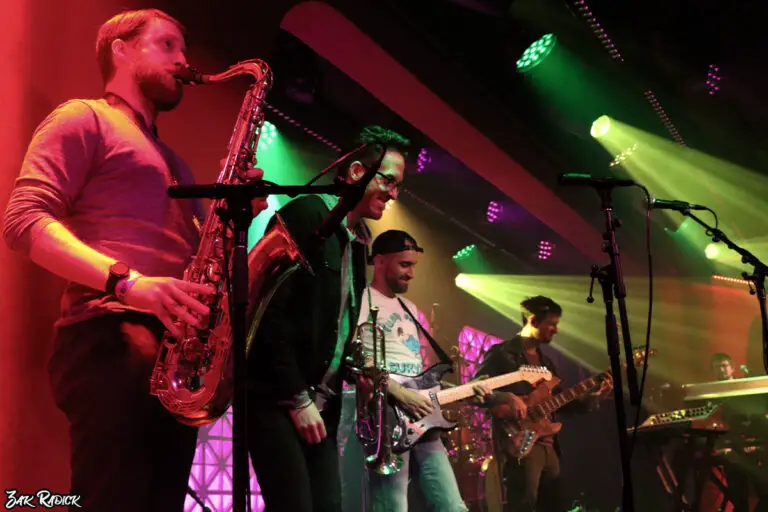 Turning up the funk now, Aqueous would uncork a monster version of Mosquito Valley, Pt. 1 that stretched so far it reached AC/DC's "Back in Black" territory, much to the delight of everyone in the room. By this point fans had to be thinking to themselves "is this the longest first set in AQ history or what?" before the band would confirm they want to keep the energy going and therefore play right though set break, then launching into another signature AQ song, The Median. Notable about this particular version was the distinctly heavier vibe it took on, presumably a direct byproduct of Ganzter's recent time on the road with his new throwback Punk/Metal outfit known as the Death Kings, which also features former Turkuaz drummer Mikey "Ox" Carubba and Umphrey's McGee bass player Ryan "Little King" Stasik.
Following up "The Median" came another fan favorite in "Second Sight," a song about human interaction, shedding cynicism and bridging petty gaps.
"Not worth its weight in gold
I feel a great divide
We're more alike than different
And still we're picking sides"

The Median
Following a brief pause between songs, some playful stage banter resulted in an impromptu crowd singalong of Greenday's nostalgic anthem  "Good Riddance (Time of Your Life), which was then quickly was rip-corded in favor of one the oldest songs in the Aqueous catalog, Eon Don.  About half way into the tune, Aqueous invited their friends in the Horn Section back out once again, this time resulting in a jaw dropping display of musicalty, as Ganzter conducted extended "call and response" type duels with both Sanderson and Brouwers before the song finally reached it's climactic peak and left the audience howling in approval as the band finally put down their instruments for the first time all night and walked off the stage.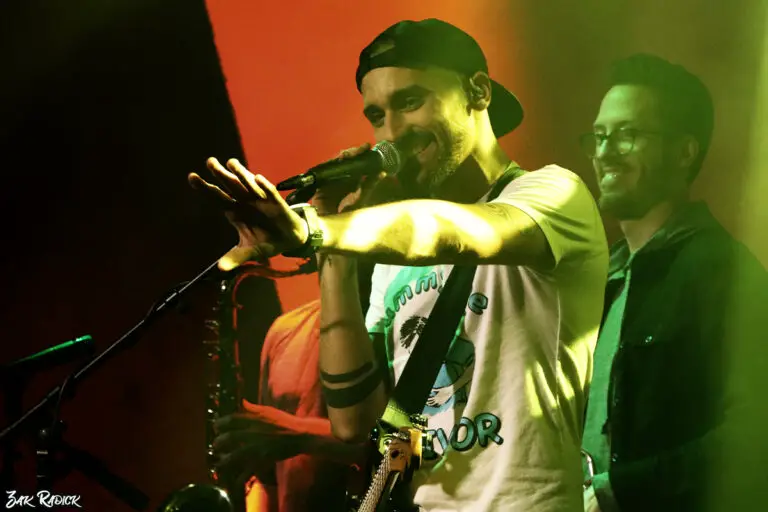 After a few minutes of straight up begging, Aqueous finally obliged and came back out for a single song encore, treating fans to a new tune called "Finding Our Way" which has only been played three other times since debuting at the Peach Festival last summer. With enough space to let each member shine individually and a chorus that sees all of the band singing along in unison, the groove heavy catchy tune, while still new, has all the moxy to become an AQ staple of the future. On a night that featured an absolute bevy of fan favorites, closing the night out like this just seemed to make sense.  A most impressive showing for their debut at Brooklyn Made.  Despite having to be rescheduled twice and almost never happening, anyone who was there will undoubtedly tell you that "this show was worth the wait."
Up next for the Aqueous is another highly anticipated makeup date, returning to Buffalo's Town Ballroom for their belated hometown New Year's Eve celebration this Friday, February 25th.  Fans will want to make sure they get there early to catch the exciting opening act as Connecticut's Eggy gets the festivities going at 7pm.  Aqueous then return to New York on April 8th and 9th for a pair of shows in Saratoga Springs and Syracuse with support from Long Island's Baked Shrimp.   
Aqueous – February 18, 2022, Brooklyn Made, Brooklyn NY
Setlist: Don't Do It, Split the Difference > Skyway, Peg*, Mosquito Valley Pt 1 > Back in Black > The Median, Second Sight, Eon Don*
Encore: Finding Our Way
*with The Horn Section