The Bozeman, Montana-based band Kitchen Dwellers have a lot in store for 2022. In addition to dropping their latest single "Wise River" this month, their tour has begun and will make stops at New York CIty's Mercury Lounge and Buffalo Iron Works. The neo-bluegrass band have also announced their third full-length album, also titled Wise River, which will drop on April 29.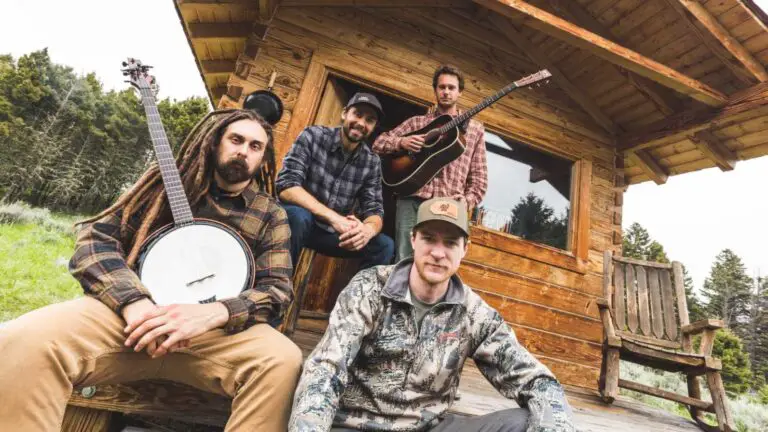 Kitchen Dwellers create their own spin of bluegrass, folk, and rock through a perspective of the American West. The quartet, including mandolin player Shawn Swain, Torrin Daniels on the banjo, Joe Funk on the upright bass, and acoustic guitarist Max Davies, combine forces to turn homegrown stories, rich mythology, and psychedelic hues into music. With producer Cory Wong, the Kitchen Dwellers are ready to release their new album.
Considering all band members are from Montana, their album correlates to how life has been through their eyes lately. Wise River is known to be one of Montana's natural wonders, considering its 30-mile stream that flows down the southwestern region of the state, from the mountains into the Big Hole River.
The town of Wise River is basically a forgotten spot on the map. It used to be a thriving place with many prosperous mines, but now it's practically dried up. There's a hell of a lot of melancholy. In our mind, it symbolizes the overall feeling of being in slowed-down Montana life.

Shawn Swain
Kitchen Dwellers are known for selling out shows, receiving credibility from well-known publications like the Huffington Post, and surpassing five million plus streams. Therefore, there is no doubt that their current tour will be a success and boost their status within the music industry.
Earlier this month, the quartet released the official music video of their newest single Wise River, along with their behind-the-scenes trailer, which can be viewed here.
In addition to going on tour in New York, Kitchen Dwellers will travel across the country, making stops along the Pacific Northwest to the Southeast. Furthermore, there will be numerous festival appearances including the Telluride Bluegrass Festival, WinterWonderGrass, Sweetwater 420 Fest, Tuck Fest, Bear Shadow, Domefest, Summer Camp Music Festival, Peach Fest, Electric Forest, Northwest String Summit, FloydFest, RiverWonderGrass, and many more to be announced.
All tickets are available for purchase on the Kitchen Dwellers website. 
Kitchen Dwellers 2022 Tour Dates
Apr 1-3 @ WinterWonderGrass Tahoe | Olympic Valley, CA
Apr 7 @ The Mint | Los Angeles, CA
Apr 8 @ WINSTONS | San Diego, CA
Apr 28 @ Charleston Pour House | Charleston, SC
Apr 29 @ Tuck Fest | Charlotte, NC
Apr 30 @ Sweetwater 420 Fest | Atlanta, GA
May 1 @ Bear Shadow | Highlands, NC
May 4 @ Richmond Music Hall | Richmond, VA
May 5 @ Virginia Arts Festival | Norfolk, VA
May 7 @ Pearl Street Warehouse | Washington, DC
May 10 @ Gateway City Arts | Holyoke, MA
May 11 @ Stageone | Fairfield, CT
May 12 @ Wonder Bar | Asbury Park, NJ
May 13 @ Mercury Lounge | New York, NY
May 14 @ XL Live | Harrisburg, PA
May 17 @ Thunderbird Cafe and Music Hall | Pittsburgh, PA
May 18 @ Buffalo Iron Works | Buffalo, NY
May 19 @ Domefest | Thornville, OHMay 20 @ The Clay Center | Charleston, WV
May 21 @ Hi-Fi | Indianapolis, IN
May 26 @ Otus Supply – Parliament Room | Ferndale, MI
May 27 @ Rivers Edge Amphitheater | Hamilton, OH
May 28 @ The Livery | Benton Harbor, MI
May 29 @ Summer Camp Music Festival | Chillicothe, IL 
June 2-4 @ Pine Creek Lodge | Livingston, MT
June 15-19 @ Telluride Bluegrass Festival | Telluride, CO
June 23-26 @ Electric Forest Festival | Rothbury, MI
June 30-July 1 @ Peach Fest | Scranton, PA
July 15-16 @ The Boogiedown Music Festival | Yuba, WI
July 21-24 @ Northwest String Summit | North Plains, OR
July 27-31 @ FloydFest | Floyd, VA
Aug 1-4 @ RiverWonderGrass | Jensen, UT