Angelique Kidjo is back with her new music video for 'Do Yourself' featuring Burna Boy. The Grammy nominated single is described as "an anthem for a new Africa."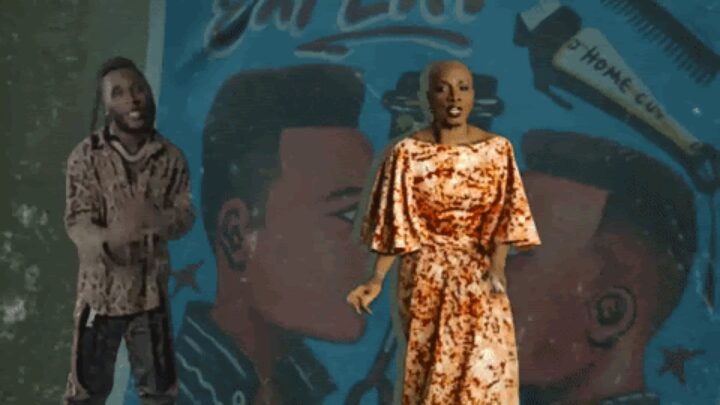 Directed by Meji Alabi, who has also worked with Wizkid and Beyonce, the music video perfectly showcases Kidjo's vibrant energy as Burna Boy croons in the background. Citing Africa as "the birthplace of all humanity", Kidjo proclaims her love for the continent and reminds us all of how strong Africa can be if we do our part. For change to be made, Kidjo says that you have to do it yourself. 
The single is fresh off her critically acclaimed album Mother Nature, released in June, which tackles prevalent issues like the climate crisis and the struggle for freedom. Her joyful sound mixed with these heavy topics creates a unique listening experience for new and old fans, while showing exactly why she deserves her "icon" status. Mother Nature features many young African artists including Mr. Eazi, Sampa The Great and Yemi Alade.
With three Grammy nominations under her belt, including Best Global Music Album, Best Global Music Performance and Best Global Music Performance for 'Blewu', it is clear that Kidjo is in a league of her own. The New Yorker called her the "towering figure of cross cultural music" and it's not hard to understand why. She has also performed at the Tokyo Olympics opening ceremony, sold out Carnegie Hall and is performing alongside Viola Davis in the film "The Woman King" later this year.
Tickets for Kidjo's 2022 tour, as well as more information, can be found here.
3/4 – MASS MoCA in North Adams, MA
3/5 – MASS MoCA in North Adams, MA
3/8 – L'Ancienne Belgique in Brussels, Belgium
3/10 – Carre Belle-Feuille in Boulogne-Billancourt, France
3/11 – La Faïencerie in Creil, France
3/16 – Musikverein in Vienna, Austria
3/17 – Festspielhaus St. Pölten in St. Pölten, Austria
3/19 – Theater of Chelles in Chelles France
3/24 – Theatre of the Vesinet in Le Vésinet, France
3/25 – Arsenal in Metz, France
4/2 – Soka Performing Arts Center in Aliso Viejo, CA
4/5 – Benaroya Hall in Seattle, WA
4/7 – Rialto Theater in Tucson, AZ
4/9 – Scottsdale Center for the Performing Arts in Scottsdale, AZ
4/14 – The Broad Stage Theatre in Santa Monica, CA
4/15 – The Broad Stage Theatre in Santa Monica, CA
4/16 – The Broad Stage Theatre in Santa Monica, CA
4/23 – Cal Performances Zellerbach Hall in Berkeley, CA
4/29 – Hopkins Center for The Arts in Hanover, NH
4/30 – Music Hall in Portsmouth, NH
5/10 – McCarter Theatre Center in Princeton, NJ
5/12 – Bass Concert Hall in Austin, TX
5/26 – Africa Festival in Würzburg, Germany
6/4 – Theatre Femina in Bordeaux, France
6/9 – Dresden Music Festival in Dresden, Germany
6/10 – Abbaye de Saint-Riquier – Baie de Somme in Saint-Riquier, France
6/11 – Théâtre du Châtelet in Paris France