Folk and protest music legend Pete Seeger performed on The Late Show with David Letterman in 2008, performing "Take it From Dr. King," a tribute to the late Dr. Martin Luther King, Jr.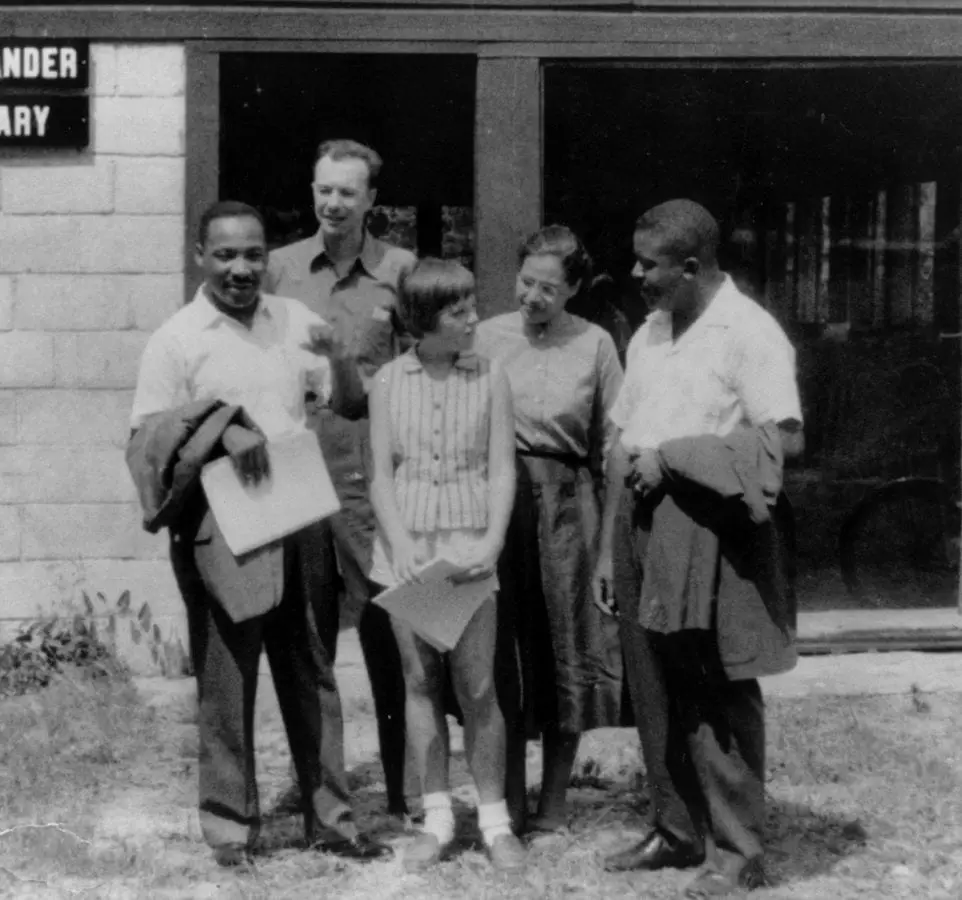 Seeger, who helped popularize the Civil Rights movement's protest anthem "We Shall Overcome," first met Dr. King in 1957 at Highlander Folk School, a social justice leadership training school and cultural center located in New Market, Tennessee. Seeger recalls the day:
I met her, I met all three of them that day. As a matter of fact there is a picture taken of us out standing out standing in front of a cinder block wall that they enlarged the barn which became their library and King, Abernathy, Rosa, Me and Miles and Zelphilia's teenage daughter were there.
Pete Seeger
Seeger would later write the song "Take It From Dr. King," a tribute to the legacy of a man who led a non-violent movement that championed civil rights and equality.
Seeger connected with King in 1957, in this story from The Kennedy Center
On September 2, 1957, Dr. Martin Luther King, Jr., visited Highlander Folk School in Tennessee. Part of the school's mission was to help prepare civil rights workers to challenge unjust laws and racist policies that discriminated against African Americans. The school also made a point of bringing blacks and whites together to share experiences and to learn from each other. It was a dangerous idea. At a time when southern laws kept blacks and whites segregated or separate, some white racists terrorized African Americans with deadly violence.

Dr. King delivered the main speech that day, honoring the school's 25th anniversary. As part of the meeting, folk singer Pete Seeger got up with his banjo. He plucked out a song he had learned at Highlander, and led the audience in singing it.

Later that day, Dr. King found himself humming the tune in the car. "There's something about that song that haunts you," he said to his companions.

The Kennedy Center
That song in question was the protest movement song "We Shall Overcome."
"Take it from Dr. King" lyrics
 Down in Alabama, 1955,
Not many of us here tonight were then alive;
A young Baptist preacher led a bus boycott,
He led the way for a brand new day without firing a shot.
Don't say it can't be done
The battle's just begun
Take it from Dr. King
You too can learn to sing
So drop the gun.
Oh those must have been an exciting 13 years.
Young heroes, young heroines.
There was laughter, there were tears,
Students at lunch counters,
Even dancing in the streets.
To think it all started with sister Rosa
Refusing to give up her seat.
Song, songs, kept them going and going;
They didn't realize the millions of seeds they were sowing.
They were singing in marches, even singing in jail.
Songs gave them the courage to believe they would not fail.
We sang about Alabama 1955,
But since 9-11 we wonder will this world survive.
The world learned a lesson from Dr. King:
We can survive, we can, we will.
And so we sing —
Don't say it can't be done
The battle's just begun
Take it from Dr. King
You too can learn to sing
So drop the gun