Goose made it look almost all too easy to sell out their second night of Terminal 5 on October 9, 2021. The Connecticut-based quartet undeniably took the audience on a full fledged journey that encompassed the multitude of genres that have influenced the band, thus far. Lucky New Yorkers had a chance to experience the powerhouse that transported us somewhere outside New York City this weekend.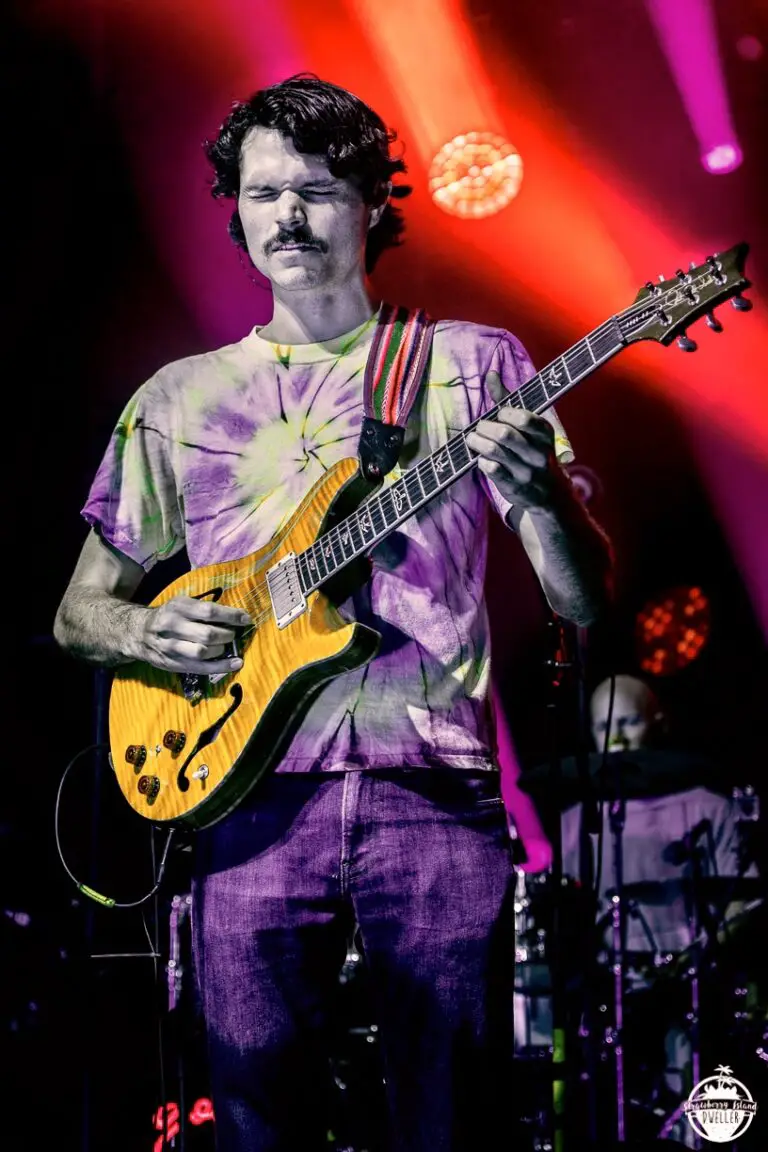 Stage lights dim welcoming Rick, Peter, Trevor, Ben, and Jeff on stage, accompanied with a roar from fans begging "GOOSE", echoing from all three stories inside the terminal. "Tumble" opened the show where Ben Atkind (drums) did us the favor of pulling us into the groovy funk dictating the addictive dancey beat that defines Goose. Rick Mitarotonda (guitar, vocals) spoke indefinitely through the gorgeous Paul Reed Smith Hollowbody II, putting the audience in a trance with his guitar shredding improv through Bob Don.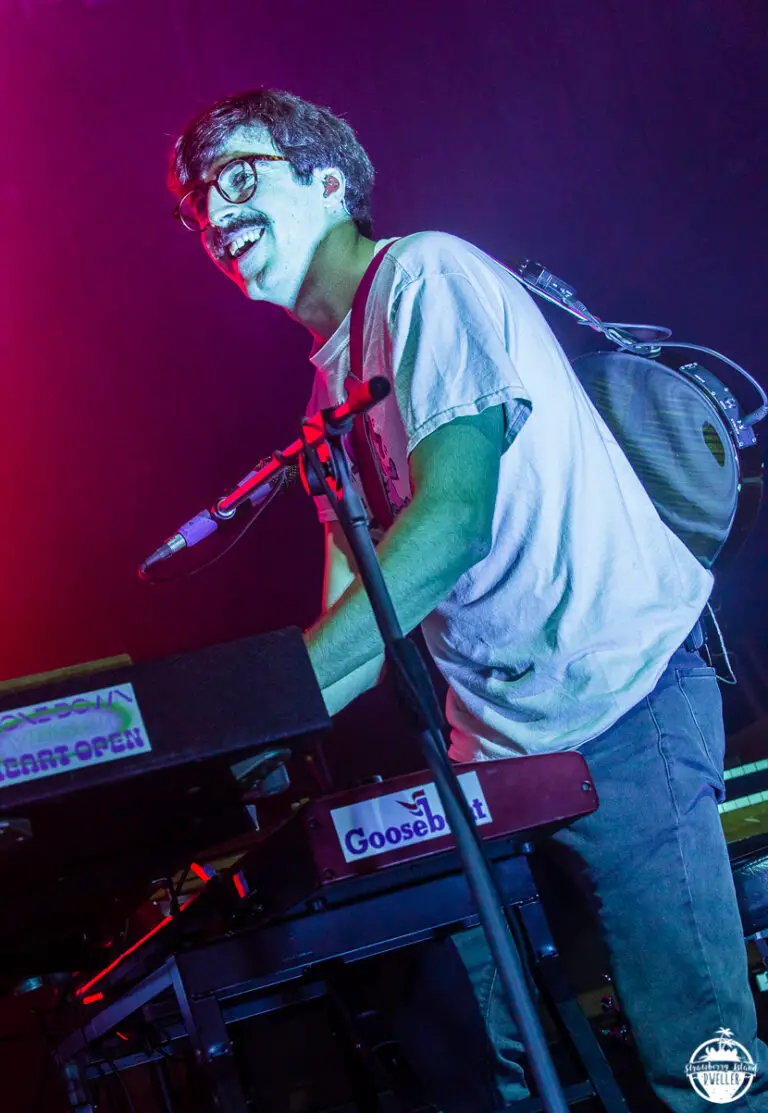 Peter Anspach makes his first lead vocal debut of the night with a new song from the band, Life On the Shelf. Clearly an unreleased hit, without knowing any words fans were hooked on the chorus, dancing and swaying to the sincere folk tune, highlighted by Rick and Peter's buttery harmonies. Followed with "Jive Lee" and "Jive II," Peter's funky solos and Trevor Weekz thick bass lines brought the crowd furiously jumping and screaming once again. Without any hesitation the audience was pulled into a surprise cover of "Rock the Casbah" from the Clash shaking the floor until the end of set I.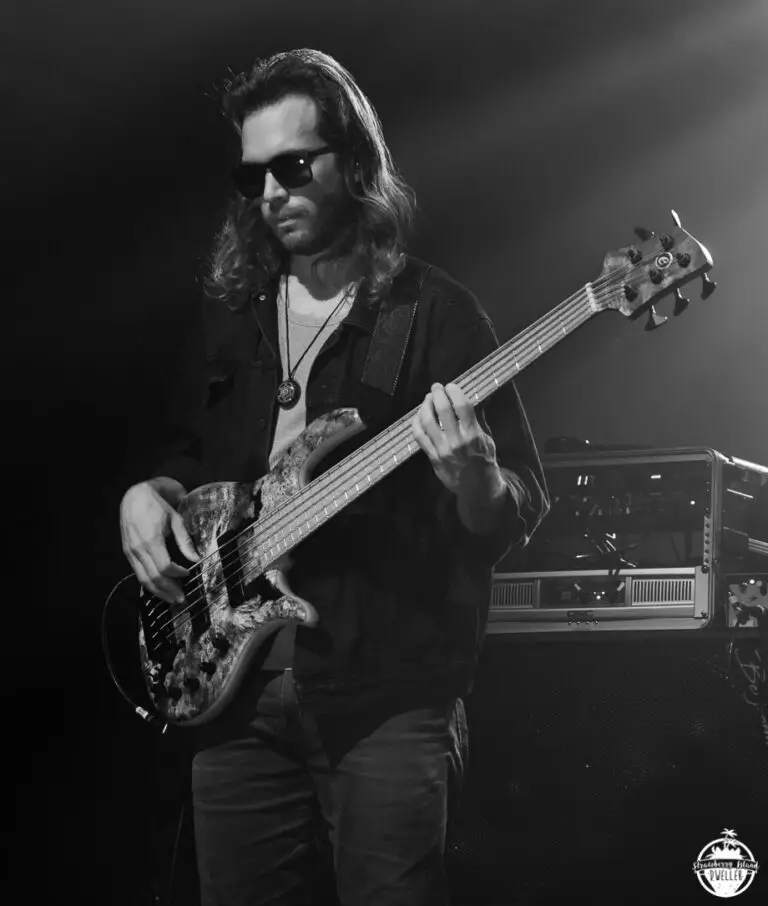 "Wysteria Lane" kicked off the second set with a smile and Peter's earnest vocals, with some help from the Luigi plush on one of his three dazzling double casio keyboards. Unbelievable Goosian-shredding kept the crowd mesmerized cheering with each cadence as both Rick and Peter swiftly moved up and up the neck leaving the audience asking if they came to a hard rock concert. Rick guided us through Seekers on the Ride I and II with ease reminding fans of their versatility as artists. The loudest cheers of the night broke when Rick's eccentric solos pushed to the well known hard twangy intro of "Hot Tea." Ending with "Dragon Fly I & II," Rick eased our anxieties with a smile "Don't worry we have one more set."
"Get The Funk Out of My Face" was not the only cover of set III, but Goose's folk rock cover of Foster the People's "Pumped Up Kicks" made it sound like Goose could've written the song. Just when we thought Trevor Weekz might just be too cool for us, being the backbone of Goose with his 5-string bass and sunglasses, the spotlight shined on him as he read a "Acquainted with the Night" by Robert Frost backed by Ben Atkind (drums) and Rick filling some eerie melodies. The band endurance was unrequited through three full set of nonstop music eventually wrapping with an Encore of "Hot Tea."
Goose – Terminal 5 – Friday, October 8, 2021
Set 1: So Ready, Look Out Cleveland, Honeybee, Indian River, The Whales, All I Need
Set 2: 2021> Old Man's Boat >2021, Rosewood Heart > Into the Myst, Echo of a Rose > 2021
Encore: Flodown
Goose – Terminal 5 – Saturday, October 9, 2021
Set 1: Tumble, Bob Don, Life on a Shelf*, White Lights > Jive 1 > Jive Lee > Rock the Casbah
Set 2: Wysteria Lane > It Burns Within, Seekers on the Ridge [Part I & II], Hot Tea > Dragonfly [I&II] 
Set 3: Get The Funk Out Ma Face, Creatures > Pumped Up Kicks, Madhuvan** > Turn on Your Love Light > Madhuvan 
Encore: Teaprise
* first time played
** Trevor poetry read