A new archival release from the estate of Jerry Garcia highlights a series of Fall 1989 shows taking place in Hartford, CT and Uniondale, NY. Dubbed "The Long Island Sound," the two shows recorded by John Cutler feature one set each night from Bob Weir and Rob Wasserman, along with two-set performances each night from Jerry Garcia Band.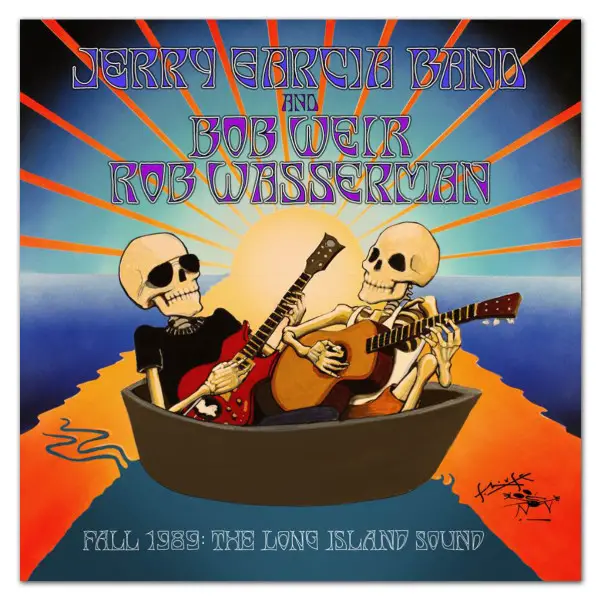 Released on Round Records, Fall 1989: The Long Island Sound features two complete performances with over five and a half hours of previously unreleased music from September 5th, 1989 at the Hartford Civic Center in Hartford, CT and September 6th, 1989 at Nassau Coliseum in Uniondale, NY.
Fall 1989: The Long Island Sound celebrates the storied East Coast 1989 run which featured acoustic duo Bob Weir and Rob Wasserman setting the stage for two nightly sets from the Jerry Garcia Band.
Recorded on a 2-track DAT and mastered by Joe Gastwirt, this collection contains audio with apparent, irremediable sonic imperfections (most notably the distortion on Jerry's vocal during "Cats Under The Stars") heard by all who experienced these performances in person or on tape. Despite the limitations in fidelity, the performances presented showcase timeless, transcendent and often blistering moments of pure magic.
The release features an album package including a liner note essay by Blair Jackson and archival memorabilia from the collection of Steve Parish. Pre-order the box set here.
September 5th, 1989 – Hartford Civic Center – Hartford, CT

Bob Weir & Rob Wasserman: Festival, Fever, K.C. Moan, Desolation Row, Looks Like Rain, The Winners, Victim or the Crime -> Wasserman Bass Improvisation no. 1 -> Throwing Stones

Jerry Garcia Band
Set 1: Cats Under the Stars, They Love Each Other, Waiting for a Miracle, Run for the Roses, Like a Road, My Sisters and Brothers, Deal

Set 2: The Harder They Come, Mission in the Rain, Forever Young, Evangeline, Gomorrah, Don't Let Go -> Lonesome and a Long Way From Home
September 6th, 1989 – Nassau Coliseum – Uniondale, NY

Bob Weir & Rob Wasserman: Walking Blues, City Girls -> Fever, Blackbird -> When I Paint My Masterpiece, Shade of Grey -> The Winners -> Easy to Slip -> Wasserman Bass Improvisation no. 2, Heaven Help The Fool

Jerry Garcia Band
Set 1: How Sweet It Is (To Be Loved By You), Stop That Train, That's What Love Will Make You Do, Mississippi Moon, I Second That Emotion, And It Stoned Me, Deal

Set 2: The Harder They Come, Dear Prudence, I Shall Be Released, Let It Rock, Evangeline, That Lucky Old Sun, Tangled Up in Blue