Alt-rock group Slothrust have announced the first leg of their 2022 headlining tour, adding to their Fall 2021 tourdates with Manchester Orchestra. Fans on the West Coast are in luck, as the first seven dates will span across California, Oregon and Washington. The tour kicks off on March 17th at the Soda Bar in San Diego.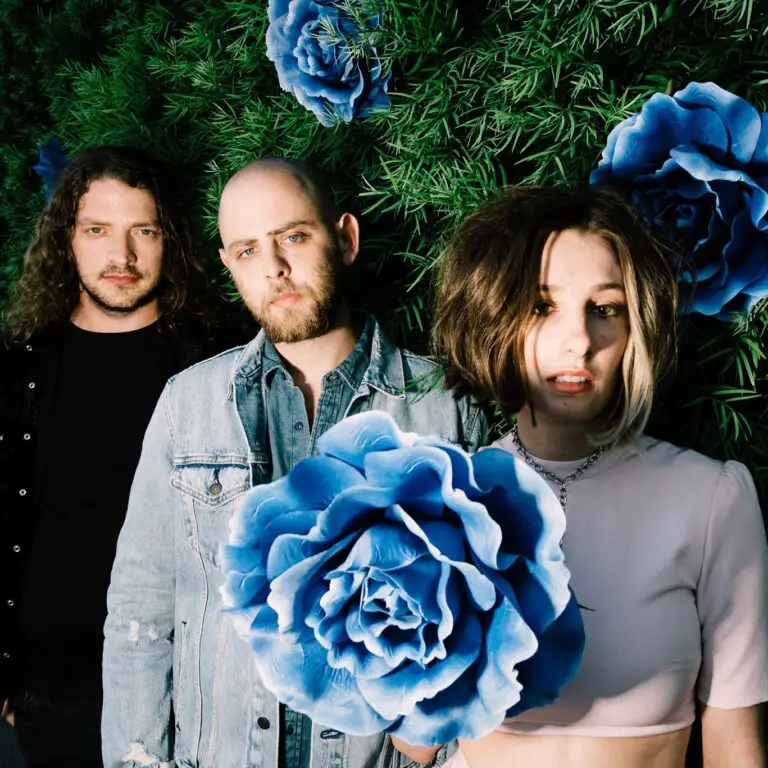 The tour announcement comes on the heels of Slothrust's most recent album Parallel Timeline, released earlier this month through Dangerbird Records. Bandleader Leah Wellbaum's haunting, breathy alto grounds the dreamy record. Wellbaum said she sought to connect with her inner child through the writing process, centering herself in an ethos of freedom and uncensored catharsis. This vision is apparent through her vocal experimentation and the new, expansive production techniques the band uses. Even the records promotional imagery of bright inverted rainbows, reflects "a gateway to exploring the illusory things we see and experience in everyday life." 
Building on the theme of illusion, Slothrust also dropped a surreal new music video for track "Waiting." Using the iconography of mandalas, Wellbaum moves through an uncertain and hazy world. Some of the imagery is notably childlike: clear balloons and bushels of fruit. Wellbaum grounds herself in the environment by brushing against plants or holding tight to her guitar.
The refrain calls out "Set me free/ I've been waiting passively/ I'm not scared/ I've never been so prepared." In other words, Slothrust and Wellbaum are ready to explore their own musical liminal state. After all, Wellbaum characterizes herself as a "strong believer that nothing is quite as it seems, and that a greater reality exists beyond what the human eye can see." 
Fans too eager to wait (or too broke to make it to California) for their headlining tour need not fret. That is to say, Slothrust have many upcoming shows supporting Manchester Orchestra and Foxing. The band will arrive in the New York area on October 21st, playing the Hammerstein Ballroom in New York City. After that, they'll move south for Birmingham and Atlanta shows.
Slothrust 2021 Tour Dates w/Manchester Orchestra:
10/5 – Dallas, TX @ Gas Monkey Bar N' Grill
10/6 – Houston, TX @ White Oak Music Hall
10/8 – Lake Buena Vista, FL @ House of Blues
10/9 – Fort Lauderdale, FL @ Revolution Live
10/10 – St. Petersburg, FL @ Jannus Live
10/12 – Charlotte, NC @ The Fillmore Charlotte
10/13 – Richmond, VA @ The National
10/15 – Philadelphia, PA @ The Fillmore
10/16 – Baltimore, MD @ Rams Head Live!
10/18 – Boston, MA @ House of Blues
10/19 – Portland, ME @ State Theatre
10/21 – New York, NY @ Hammerstein Ballroom
11/16 – Louisville, KY @ Mercury Ballroom
11/17 – Nashville, TN @ Ryman Auditorium
11/18 – Birmingham, AL @ Alabama Theatre
11/19 – Atlanta, GA @ Fox Theatre
Slothrust 2022 Headline Tour Dates:
3/17 – San Diego, CA @ Soda Bar
3/18 – Los Angeles, CA @ Lodge Room
3/19 – San Francisco, CA @ Independent
3/20 – Sacramento, CA @ Holy Diver
3/25 – Portland, OR @ Revolution Hall
3/26 – Seattle, WA @ Crocodile
3/27 – Bend, OR @ Volcanic Theatre Pub