The lead-up to Newport Folk Fests in recent years have generally been shrouded in a bit of mystery. Surprises are the norm, leaving fans with clues to decipher and history-making to anticipate. This year, for all the obvious reasons, the mystery has been deeper, more secretive, and has been unraveling for well over a year. Starting with the most basic and obvious question that fans began to ponder starting as soon as the 2020 festival was cancelled.
Will there be a Newport Folk Festival in 2021?
Yes! But more technically, no. Amid the uncertainty of planning anything during a global pandemic, the producers decided they didn't want whatever they put together in 2021 to be held up to the standard of expectations that the label "Newport Folk Festival" carries with it. This year, things would be different. So instead, they are holding two separate 3-day events titled, Folk On. Still held at Fort Adams State Park in Newport, the fun gets started this weekend, July 23-25 and continues with the second event in the weekdays immediately following on July 26-28. The events will be held somewhere around half-capacity so splitting in two allowed more fans to return to the Newport experience after the unscheduled year off.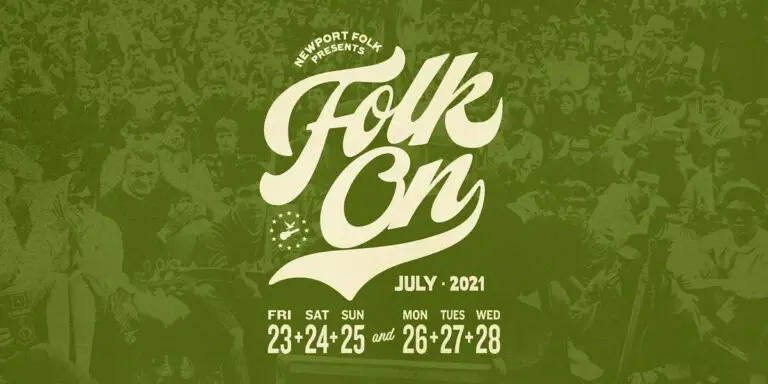 Who is playing?
This is always the biggest question. In a normal year the lineup is released in a slow drip of announcements over months, with many surprises left unannounced. This year the festival left it up to each artist to self-announce. The amount of detail provided by each performer varied greatly. We still don't know what day, what stage, what time, or with whom many of the sets are taking place. Add to that what will certainly include some special one-off sets of collaboration and likely tribute. What we do know is listed below.
Friday, July 23
Margo Price
Marcus King Band
Ida Mae
Grace Potter
Black Joe Lewis
Lucy Dacus
Shakey Graves
Resistance Revival Chorus
Saturday, July 24
Jimbo Matthus & Andrew Bird
Randy Newman
Yasmin Williams
Natalie Hemby
Jason Isbell
Sunday, July 25
Billy Strings
Devon Gilfillian plays "What's Going On"
Tre Burt
Kevin Morby
Caamp
Tommy Prine
Elijah Wolf
Monday, July 26
Billy Strings
Aoife O'Donovan
Sunny War
Hiss Golden Messenger
Fruit Bats
Middle Brother
Courtney Marie Andrews
Erin Rae
Ben Gibbard
Andrew Von Kampen
Tuesday, July 27
Allison Russell
Steve Gunn and William Tyler
Bonny Light Horseman
Langhorne Slim
Vagabon
Sharon Van Etten
Beck
Wednesday, July 28
Deer Tick
Watchhouse
Julien Baker
Katie Pruitt
Artists with no confirmed performance date
Joy Oladokun
Lake Street Dive
Celisse
Dimmer Twins
Early James
Jonathan Russell
S.G. Goodman
Waxahatchee
Yola
Sierra Ferrell
Emma Swift
What else will be different?
For starters, all the music produced by the above will take place on just two stages, down from the usual four. The small indoor Museum Stage will not be active this year, nor will the Harbor Stage, which will alleviate the traffic jam that usually occurs there. The main Fort Stage has been renamed the Lawn Stage and will be reconfigured with a new position and new tent, providing a more intimate atmosphere for the reduced capacity crowd. The Quad Stage inside the Fort will pushed back to allow more space to spread out on the grounds. Additionally a third stage will reside next to the Lawn Stage providing a space for open-mics in the morning and workshops and surprise pop-up performances sprinkled throughout the day.
Surprise will be the name of the game even more than usual this year, the full mystery won't be revealed until the events are in the rear view. Fortunately, NYSMusic will be there covering both events, so check back here for our full report.
Will there be after parties?
Officially, no, there are no festival-produced after parties. But after the Fort goes quiet for the evening, there will still be music to be had in the city of Newport. The Newport Playhouse will play host to a few shows during the Folk On events. Shows start at 8pm and will be held on an outdoor stage with food trucks and a bar.
July 23
Maggie Rose with Dylan Hartigan, Ali McGuirk
July 24
Old Jack's Newport Nights: Will Dailey, Lonely Lisa and the Lost Cowboys, Charlie Marie, Oldjack, Mary-Elaine Jenkins, Senseless Optimism
July 26
What's Up Newport RI Folk Showcase: Dan Blakeslee, Avi Jacob, Allysen Callery, John Fusek, Cardboard Ox, Beth Barron, Jodie Treloar Sampson, and Jen Long w/the Whale Guitar