After a year of silence, Newport Folk returned to Fort Adams this weekend with the first of two three-day events dubbed "Folk On." The first notes to grace a Newport Festival Stage in two years were from the Resistance Revival Choir, appropriately singing Burt Bacharach's "What the World Needs Now." "Arts and culture change minds, joy is an act of resistance!" they announced from the Quad Stage. 80 hours later the weekend closed out with a surprise appearance by Chaka Khan leading almost every female artist still around in "I'm Every Woman" and a raucous and joyful dance party on and off stage. In between, music, reunion and reflection tangled together to lift up all in attendance.
Folk Past and Future
Newport has a keen knack to straddle the dangerous line between nostalgia and tradition. It remains true to it's roots by respecting it's past and adhering to its roots and principles, all the while pushing boundaries and always with an eye on what' next.
Music history was on display throughout the weekend, both Newport's and otherwise. Much of Friday played out like a blues revue, similar to how George Wein used to piece together programs in the early days of the Jazz Fest. British Duo Ida Mae ran through their new album, paying tribute via influence to many of the blues greats who graced Newport's stages, like Son House and Fred McDowell, whom Chris Turpin cribbed solos from in "Click Click Domino."
Celisse, in her bright flowing rainbow-colored dress, blasted some bad-ass blues riffs of her own, her pink-glittered amps just trying to keep up, her cover of Bill Withers "Use Me" highlighting her fiery set. Black Joe Lewis and Marcus King both brought a big band blues filled with horns, soul and funk.
The Busking Stage, a small pop-up tent thrown up on the edge of the lawn, hosted intimate performances buy lesser-known new talent and some surprising larger artists. The close-in space, stripped down performances, with fans sitting attentively in the grass surrounding the stage, harked back to the earliest days of the fest. One of the larger crowds at the stage occurred when Andrew Bird and Jimbo Mathis previewed their Quad Stage set on the smaller stage. Playing their old-timey fiddle and guitar tunes from their 2021 release, These 13, one could almost imagine they were back in 1959.
Easing back from nothing to full-on festival, the 2021 Folk On event, had a half-capacity crowd and a bunch of artists bringing a more stripped down set then their pre-pandemic norm, which provided a mellower vibe that felt more in tune with folk fests of yore. Grace Potter, in a set that spanned two days due to Friday ending early due to impending storms, played a solo set. Just her voice and a guitar or electric piano. Her voice was stunning throughout, but especially on "Stars." Phosphorescent shunned dismissed his usual full band and was accompanied only by piano. Back to closing out the fest Saturday night, Jason Isbell was stripped down to an acoustic trio, with Sadler Vaden on guitar and Amanda Shires on fiddle and vocals. "What Have I Done to Help" pushed the format to it's limit, all three jarring back and forth. Kevin Morby also went without his band, playing in various configurations with Cochemea Gastellum on saxophone and flute, Katie Crutchfield and a drummer. A duet with Cochemea on "Oh My God" was jaw-droppingly good. And in Crutchfield's own set she was accompanied by only a drummer. Lucy Dacus played "Partners in Crime" without the usual Autotune for the first and probably only time ever, which she thought a folk fest "simply couldn't handle."
History was also explored through multiple tributes, as is generally the case at one of these things. Devon Gilfillian brought a full set tribute to Marvin Gaye's "What's Going On" that was surely a Folk On highlight. Multiple guests, including Joy Oladukun, Kam Franklin and Celisse, joined a big band assembled for just this purpose, that may just have been the best this music has sounded in 50 years. Sadly, Gilfillian explained, he covered the album because all these years later the country is still just beginning to get the message through.
Billy Strings also played a tribute set, to festival alum Doc Watson. Strings explained how he loves to think about Newport's rich history, and referenced the large portrait of Watson in the green room. His quartet, seated throughout, blitzed through Watson originals and covers he made his own, like "Way Downtown," "Summertime," and "Shady Grove." What the festival lacked in quantity of bluegrass was made up for in quality in this one hour set.
There were too many amazing covers to count, some highlights include: Grace Potter's playing "White Rabbit" on her Flying V guitar; Phosphorescent boldly covering Randy Neman's "Days of Heaven" hours before Newman took the stage himself; Joy Oladukun taking Prince's "The Cross" for a spin, Waxahatchee working in Jason Molina's "The Dark Don't Hide It" with Kevin Morby; Bird and Mathis inviting Margo Price to sing on "Angels of Montgomery," one of a few tributes paid to the late John Prine.
Pushing through the layers of history, folk's future was also on full display. Yasmin Williams wowed the crowd with her unique lap guitar playing, particularly when she "leveled up" with tap shoe beats, calumbo melodies, a guitar hammer and even a bow. Soothing and exhilarating all at once, she is an extraordinary young guitar talent. Joy Oladukun played deeply personal songs themed around mental health and social justice. She expressed desire to "keep doing this for a long time," and the timeless quality of her songwriting foretells that it is a dream that will likely come true. Tré Burt also showcase his immense songwriting talent with meditations on time, self, and the injustices of the world. "Under the Devil's Knee" poignantly placed today's black struggles in a style of classic protest songs of the 60s. Yola returned to the Fort to preview her forthcoming album that will soon make her a household name, inviting Natalie Hemby and Brandi Carlisle along for the ride.
Folk Family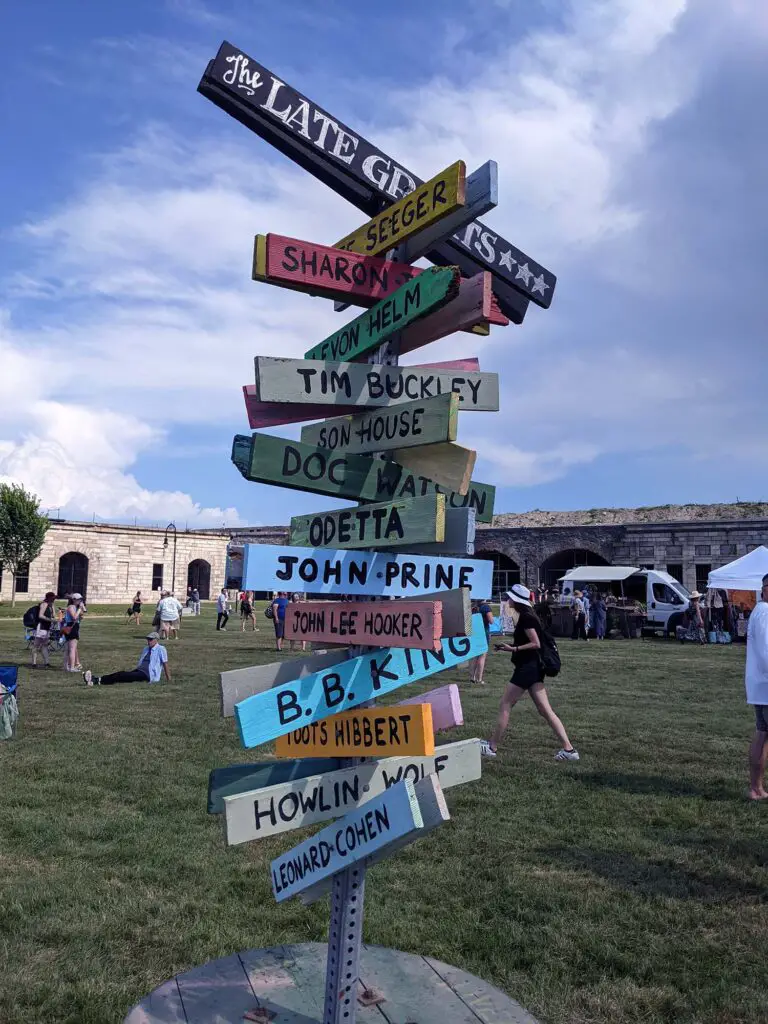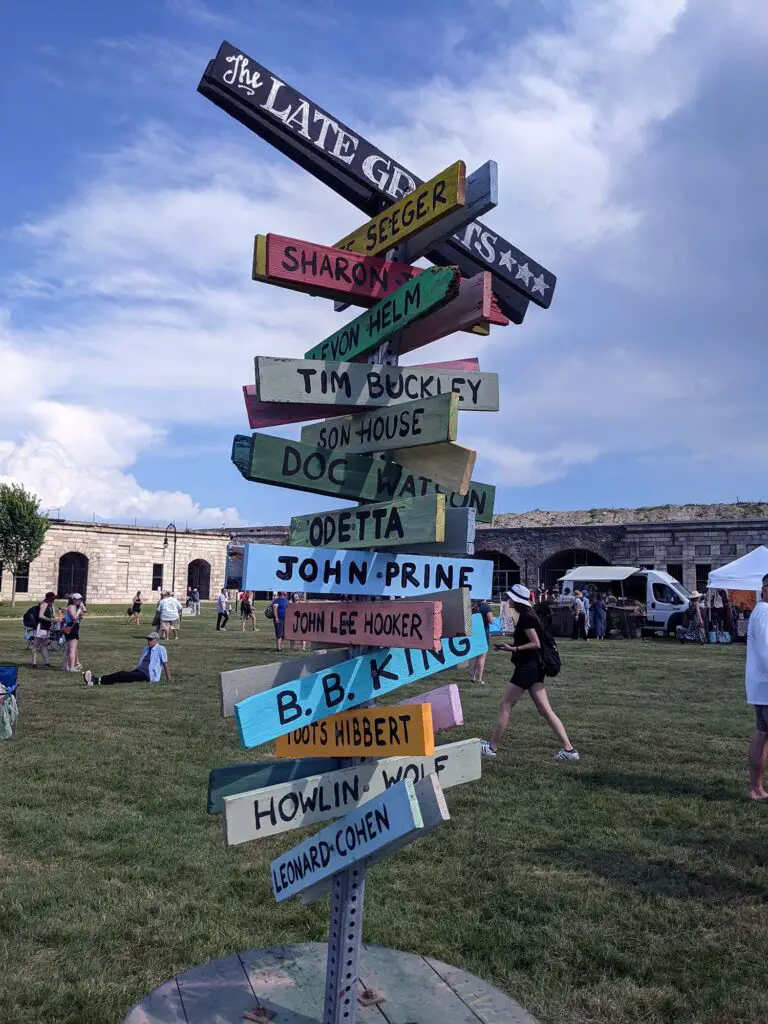 Any time an artist is invited to play at Newport they become a part of the Folk Family. The fans are also members of the family. With the festival on pause in 2020, this year felt like a bit of a family reunion on both sides of the stage. Some groups had matching t-shirts, some matching pins, but everyone wore beaming smiles, just happy to getting back to being amongst music lovers and music makers.
After months and months at home with literal family, artists seemed quite content to keep spending time together. The amount of related artists sharing the stage was prevalent. Ida Mae, Maggie Price and Jeremy Ivy, Jason Isbell and Amanda Shires, Kevin Morby and Katie Crutchfield. Grace Potter had her husband, producer Eric Valentine, as her "over-qualified" guitar tech, whom she also lovingly bantered about between songs.
Stronger Together
As the banner says upon arrival, "We're stronger when we sing together." True to it's patriarch's words, the Newport Folk Festival has been rife with collaborations in recent years. After a slow start to the weekend, by Sunday the normal expectation of sit-ins was back to near full throttle.
Erin Rae hosted a rotating cast of guests for a set dubbed Gentle Times, in what has become a Newport tradition. Langhorn Slim joining to lead the band in Ted Hawkins' "Sorry You're Sick," Taylor Goldsmith up for "For What It's Worth," Nathaniel Rateliff singing on Link Wrays "Falling Rain" and around and around it went. Not too shabby for Rae's first ever set at Newport! They were most definitely stronger together.
Singers Adia Victoria, Haley Heynderickx, Kam Franklin, Margo Price, Joy Oladukun and Nathaniel Rateliff were seemingly always within reach for a sit-in with whoever was asking. Brandi Carlisle even was available for a surprise visit or two. Celisse on the other hand couldn't hide her impending trips to the stage when her sparkling pink amp sat atop the stage.
Caamp graduated to the main stage and fans took advantage creating an impromptu dance floor in the limited view area behind the soundboard that only grew as the set progressed. They were all stronger together.
Once and Future Sounds
The themes of the weekend all came to a head during the Sunday finale set, curated by woman-of-the-moment Allison Russell, named Once and Future Sounds. Most of the aforementioned female artists joined Russell on stage as they were invited to "join the circle."
"We're two crescent moons forming a full moon… our circle is unbroken since 1959 [the year of the festival's founding] … roots, branches, it's our time to rise." Russell explained through an opening monologue. Caroline Randal Williams interspersed the set with performances of her poetry while Yasmin Williams and the house band laid down beautiful backing music. One line in particular connected the dots perfectly to the festival's history, future and to the present theme of the set, "Sister Rosetta Tharpe distorted those strings because there is no man made box that can tell our story."
Celisse joined "the circle" to bend some strings of her own in a stirring performance of "Eyes on the Prize." Many of the women playing the festival were invited into "the circle" to add their voices too: Margo Price, Kam Franklin, Adia Victoria for Tina Turner's take on the Beatles' "Help," Franklin premiering her own song, "Don't Get Caught Sick," Yola, Celisse, Brandi Carlisle, and Franklin paying tribute to Mavis Staples with "I'll Take You There," Carlisle and Russell playing Alicia Keys' "A Beautiful Noise" … it was a soul-stirring set through and through. And just as the set seemed to be wrapping up, the surprise of surprises, as only Newport can bring them, Chaka Kahn arrived on stage to bring that dance-party we mentioned earlier.
After a two-year wait for music at the Fort, Newport Folk provided a perfect blend of past, present and future with the right amount of the expected and unexpected. As always, it just leaves us wanting and waiting for more. For some lucky fans, that's just what they got, with the second three-day event underway. Stay tuned for our coverage from that soon.