Zatchmo Lives Media / Zach Culver
On a steamy Friday night, Lark Hall played host to two of the fastest rising jam bands in New York, Long Island's Baked Shrimp, and Albany's own Glass Pony, as a warm up to the former's LonCon Fest.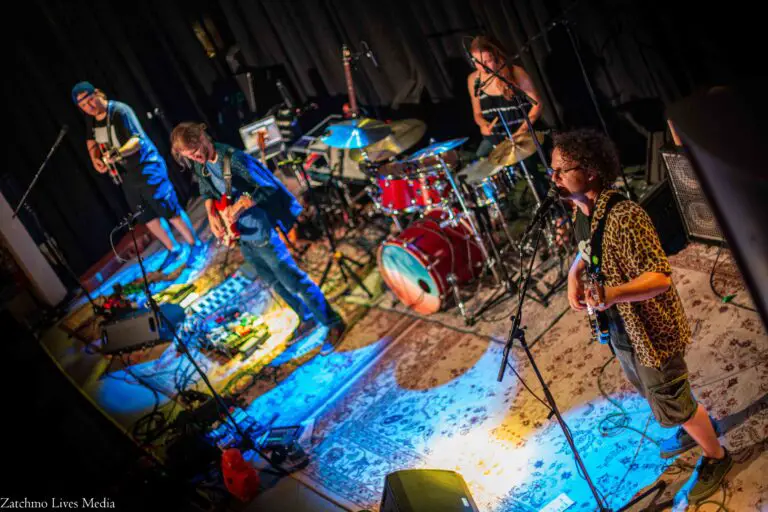 For the opening set of the night, Glass Pony tore in with "Maximus" that segued incredibly into Oasis' "Morning Glory," but so smooth you wondered 'is this a new song inspired by the 90s, or are they deep in a 90s cover?' Sure enough, as guitarist/singer Eddie Hotaling belted out the lyrics, you knew the story. After the high energy and upbeat lyrics of "Something Good," bassist Jeff Picarazzi sang lead on Leo Sayer's "You Make Me Feel Like Dancing." With a new album coming down the road, and a crowd that was getting down from start to finish, Glass Pony has a lot more music in store. 
Setlist: Maximus > Morning Glory, North Bound (unfinished) -> Something Good, Check it Again, You Make Me Feel Like Dancing -> Daydream (unfinished) > House on the Hill, Doppler, Bottom of the Ocean 
Baked Shrimp, a jam power trio from Long Island put on a prog/funk clinic. For their entire 90 minute set the band moved seamlessly through complicated chord progressions and never lost a beat or the attention of the crowd. The young trio has great potential in their three members, bassist Scott Reill, guitarist/singer Jared Cowen, and drummer Jager Soss, a doppelganger for Andy Frasco. Their festival LonCon will be held in Parksville, NY over August 27-28. Find out more details on the festival here. 
Setlist: The Manatee, Numpty, Synth, The Method -> Now's Your Moment -> The Method, Four Corners to Every Side, Orpheus, Down the Drain