The Bronx Music Heritage Center held a percussion discussion on June 16, part two of El Tambor Arabe. The musicians participated in a live discussion on Facebook about what they enjoy the most about Arabic music.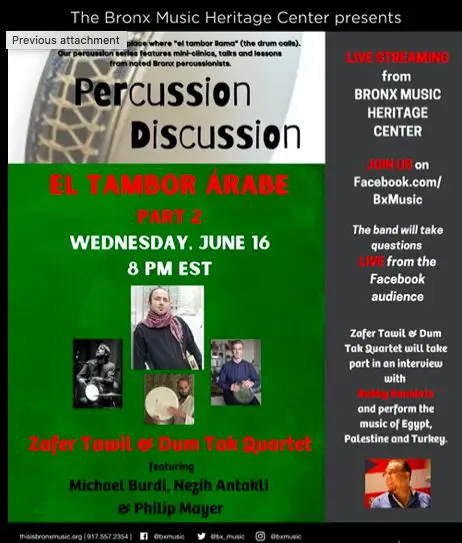 The event started with a performance from the band followed by an interview that was conducted by NY-based drummer Bobby Sanabria. Each of the musicians shared their stories on how they got interested in Arabic music. Zafer Tawil is from Palestine and has worked at many pop records and movie soundtracks. He fell in love with music and instruments at an early age.
Michael Burdi is from Brooklyn and grew up in an Italian and Syrian family. He grew up listening to hip hop and rock music and played guitar. He developed an interest into heritage music and eventually started to play music with Tawil. Philip Mayer grew up in Miami and didn't grow up listening to Arabic music. It wasn't until he was in his 20s when Mayer moved to New York and became interested in Arabic music.
The artists also spoke about the drums that they use and how they are used to play music in many other cultures. They also spoke about the difficul parts in playing the drums.
The Bronx Music Heritage Center provides musicians from other cultures to speak about how music has influenced society. You can check out more information about other events on their website.
You can also watch the discussion at the Bronx Music Heritage's Facebook page.