Prolific singer-songwriter Carly Simon celebrates a very happy 76th birthday today, June 25. The quintessential 70s songwriter now lives in Martha's Vineyard, but has many ties to the state of New York throughout her career.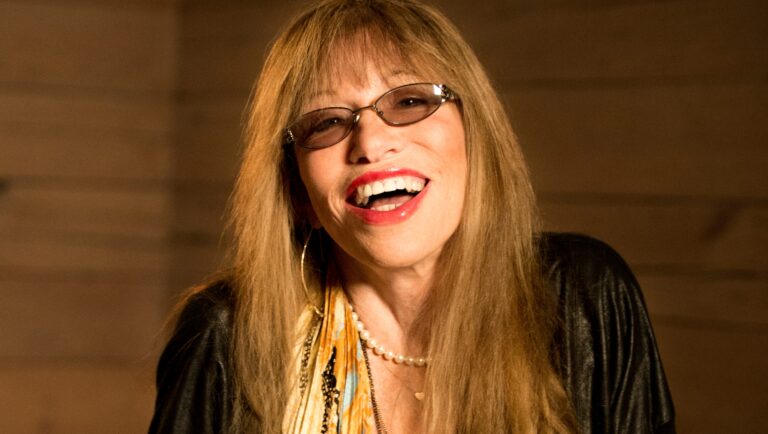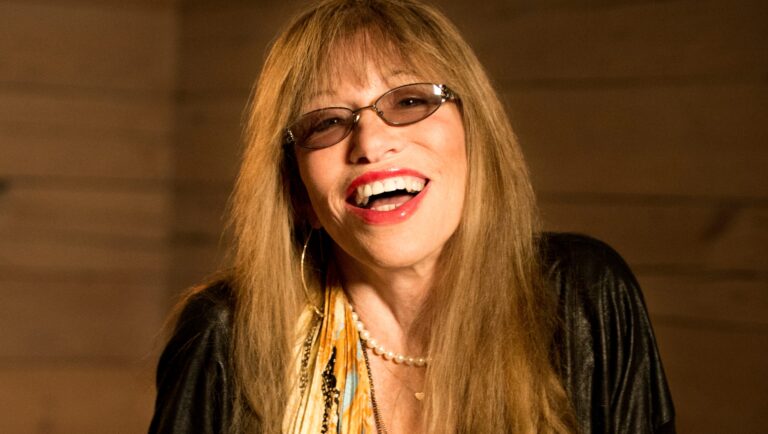 Born in the Bronx in 1943, Simon was raised surrounded by music. Her father, Richard, was the founder of publishing company Simon & Schuster and an avid classical pianist. Her mother, Andrea, was a singer and civil rights activist.
Music and arts talent definitely runs through the Simon family. Carly Simon has two sisters and a brother. Both sisters, Joanna and Lucy, spent time in the music industry. Joanna had a brief stint as an opera singer in the New York City Opera, while Lucy had her own folk-rock career and became a Tony Award-winning Broadway score writer. Her brother, Peter, is a photojournalist.
Simon entered the music scene in the mid-1960s as a duo act with her older sister Lucy Simon. The pair released three albums, including popular songs "It Rains in My Heart" and "Wynkin', Blynkin', and Nod," and toured until Lucy took a break from the music scene in 1967.
"Older Sister," a song released in her 1974 album Hotcakes, is about Lucy and their sibling relationship.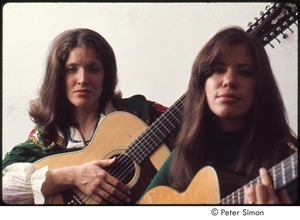 Simon's self-titled debut album was shared in 1971 and found immediate success. From Carly Simon, she won her first Grammy Award for "Best New Artist" and a Top-10 Single from the song "That's the Way I Always Heard it Should Be."
Simon married folk-rocker James Taylor in 1972, shortly after her solo career began. The pair moved into a New York City apartment on the Upper West Side and had two children.
Taylor and Simon often performed duets during their marriage and released multiple tracks together. "Devoted to You" and "Mockingbird" were two popular duets of theirs on Simon's albums Boys in the Trees and Hotcakes, respectively. The pair got divorced in 1981.
Simon reached peak success in 1973 with her breakthrough album No Secrets. Standout single "You're so Vain" is on this release, which propelled Simon into the #1 spot on American, Australian, Canadian, and New Zealand charts. "You're so Vain" is #92 on Billboard's "Greatest Songs of All Time" and even includes lyrics connected to her New York roots, mentioning upstate staple Saratoga Race Course.
Well I hear you went up to Saratoga… And your horse naturally won

"You're so Vain" – Carly Simon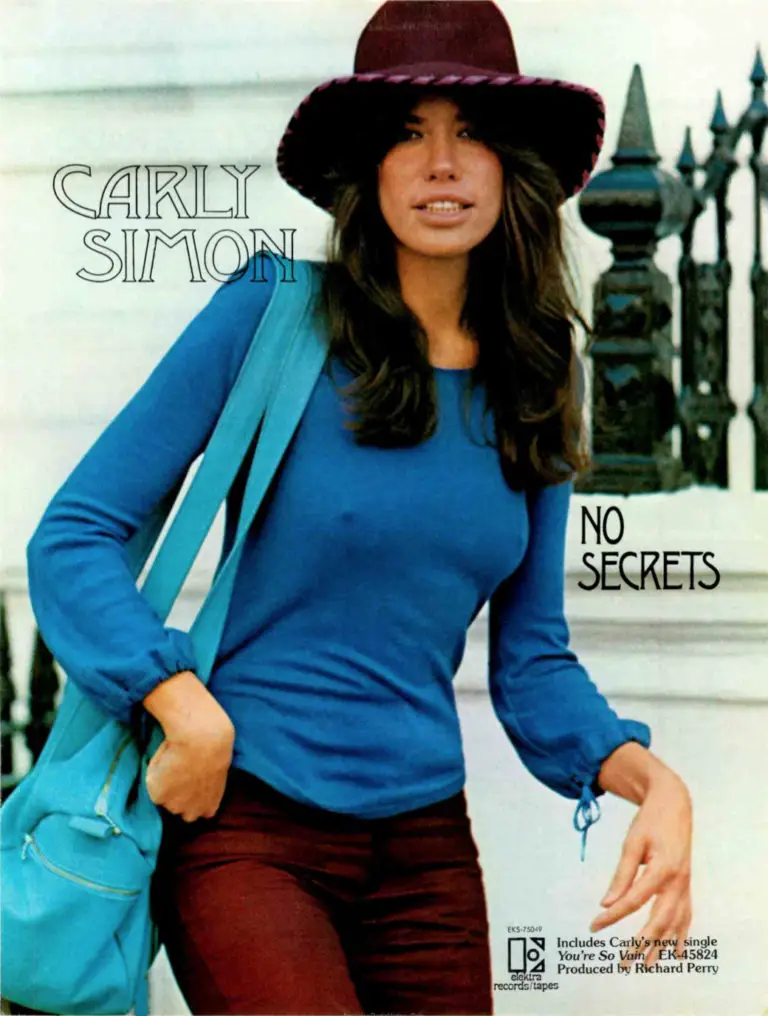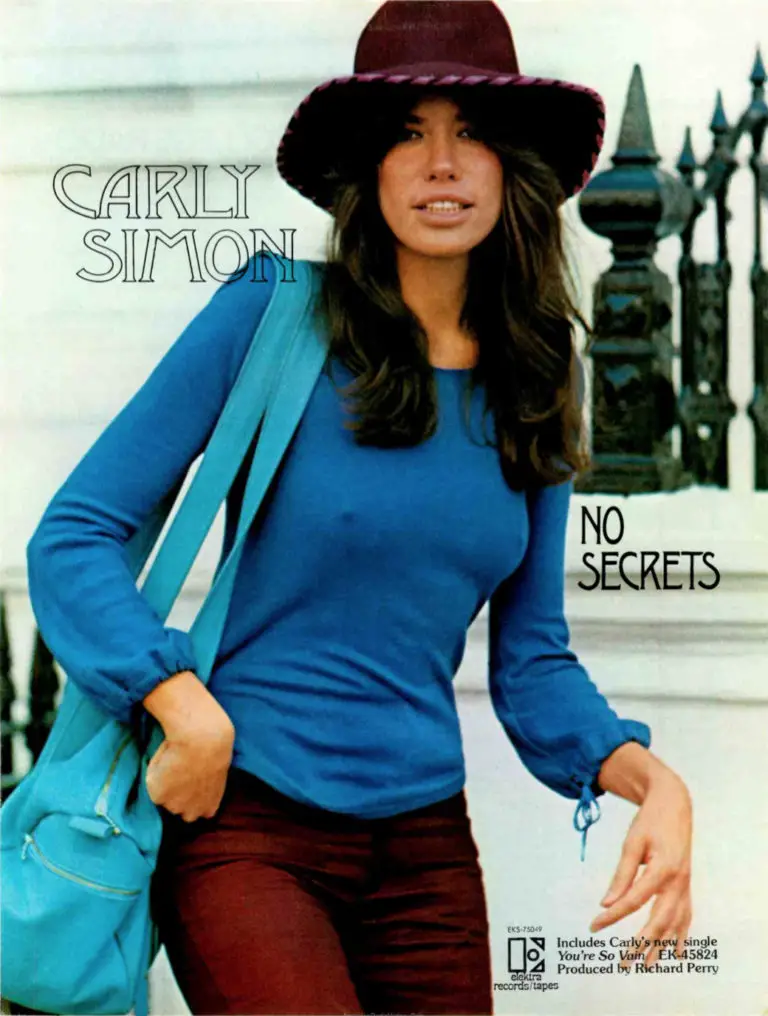 With all of its popularity, "You're so Vain" had peak media interest. The public buzzed with rumors about who the exposé-like song was about. Simon revealed one inspiration for the hit was actor and notorious womanizer Warren Beatty, but won't tell who the others are. To Simon, her songs are all too true to life to share all the details – so much for No Secrets!
I wanted to be discreet to a certain level…I ended up not being terribly discreet.

Carly Simon on USA Today
Besides being a 70's pop-folk icon, Simon is responsible for many television and film scores, including 2003's Piglet's Big Movie, 1977 James Bond film The Spy Who Loved Me, as well as Working Girl in 1988, which she won a Grammy, Golden Globe, and an Oscar Award for.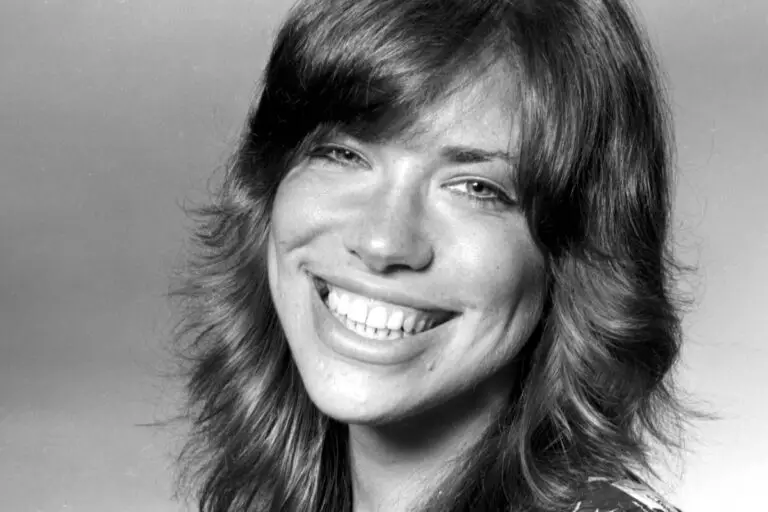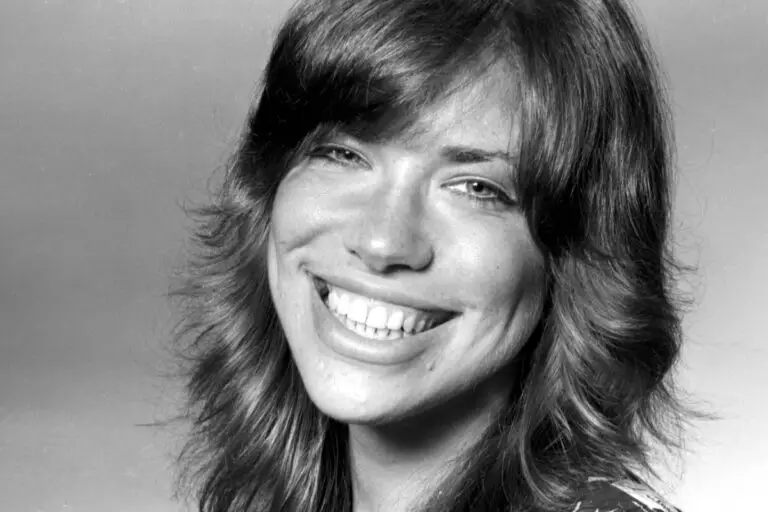 Simon's voice has matured beautifully over the decades, always having a soulful and deep register, but now holding a jazzy, raspier tone. Her most recent album, 2015's Songs from the Trees, is a "musical memoir" of sorts. The album shares remasters of fifteen songs, including "You're so Vain," "Boys in the Trees" and "Mockingbird."
More recently, Simon shared on Billboard Magazine that she is preparing to release a remastered version of her iconic 1995 concert at Grand Central Station. She also had a digital performance at the Rock 'n' Relief Concert, supporting Coronavirus pandemic recovery this past March.
Happy birthday and here's to another fruitful year of music, Carly Simon! "Nobody Does It Better" than you.