When you search the words "Senior Living," the very last thing you'd expect is a bunch of 20-somethings moshing in a damp basement. New Yorkers Zac Geddies, Gino Lopez and Brendan Snell intend to change that. The Albany-native band has announced that their debut LP album, Anniversaries, will be available starting June 25.
Formed in 2016, Senior Living was a passion project for Zackery Geddies (guitar/vocals) and Jeremy "Gino" Lopez (drums). Geddies and Lopez began booking local tours during semester breaks from college, making a name for themselves across the Northeast DIY music circuit. Brendan Snell (bassist) is a recent addition to the band and assisted on recording Anniversaries.
Senior Living's music is best served cranked up loud, with a side of even louder. They have been described as a band that weaves together genres from ethereal shoegaze to punk with a tinge of modern dream-pop. The band's chemistry, stage antics, and not to mention the blasting Roland Jazz Chorus amp, is guaranteed to fill the room with an immense pool of sound. They have a budding reputation as Albany's loudest band, so be sure to bring earplugs!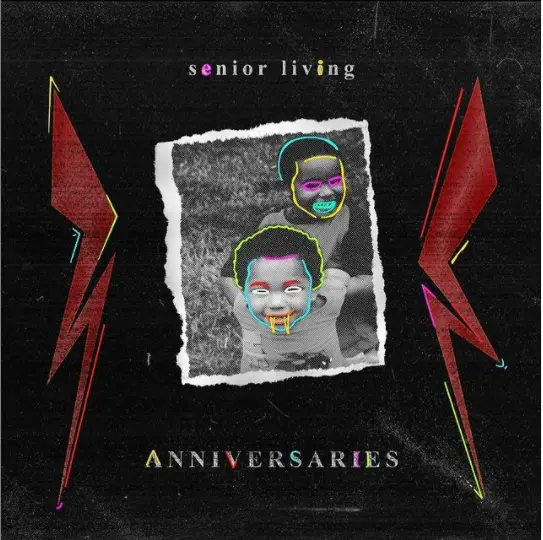 Anniversaries, the bands debut full-length, tells the story of Geddies's upbringing and how he experienced maneuvering through childhood with anxiety. The album explores the manic side of depression, the crippling feelings of stress, self-loathing, experiences in interracial relationships, and growing up a person of color in America.
It's kind of a challenge to pinpoint exactly what led me down a path to music. I'd like to say that the music I've made is just my own attempt at coping with my mental health and the societal issues that affect me and the ones I love. Whatever it was that led me to the point where I want to pursue music, I'm glad I've found it, and I won't be ready to give it up anytime soon.

Zac Geddies, founding member and guitarist
Geddies's raw vocals tackles the serious themes with pure emotion. Two of the tracks are only about a minute long, just enough time for a short poetry excerpt. The LP has an eerie closer with back to back songs "Sourir" and "Everybody Dreams About Dying," adding an element of the feelings of depression. Except, at the very end, Senior Living picks it back up with a guitar riff – a cliffhanger.
It seems Anniversaries is meant to be listened to in order, showing the progressions of emotion from elation, to self-doubt, to sadness, and back again.
Senior Living previously released "Dominick," track seven on Anniversaries, as a demo on Bandcamp in March 2020. All proceeds from the single were donated to United Way COVID-19 relief and Meals on Wheels. As a teaser for the album drop, the band shared opening track "Carousel" with an accompanying video on June 21.
According to the band, all nine tracks were recorded in one day at a secret studio location in Oneonta. Each single is unique and can't be contained under one genre, some songs are hardcore rebellion garage rock while others have a grungy get-in-your-feels type vibe. Though the tracklist is diverse, the album meshes really well.
Prior to Anniversaries, the band has dropped two short albums, two songs on The Paintbox Lace and three on 35mm.
The experience of writing and recording a whole album with close friends and collaborators in the studio led to a concentrated and compact album, and that chemistry can be felt throughout the tracklisting.

Zac Geddies
Anniversaries will be available to stream on Apple Music, Bandcamp, and Spotify on June 25. Keep up with all things Senior Living on their social media.