The Levitt AMP Utica Music Series announced this year's concerts will take place on Monday nights from 6 to 9 pm, July 5 – Aug 30 with a final tenth concert taking place on Friday, Sept 3 to Kick Off Labor Day Weekend. With a lineup of New York State-based artists, they'll perform at Kopernik Park in Downtown Utica this summer. Ten weeks of free, family-friendly outdoor concerts will return this summer!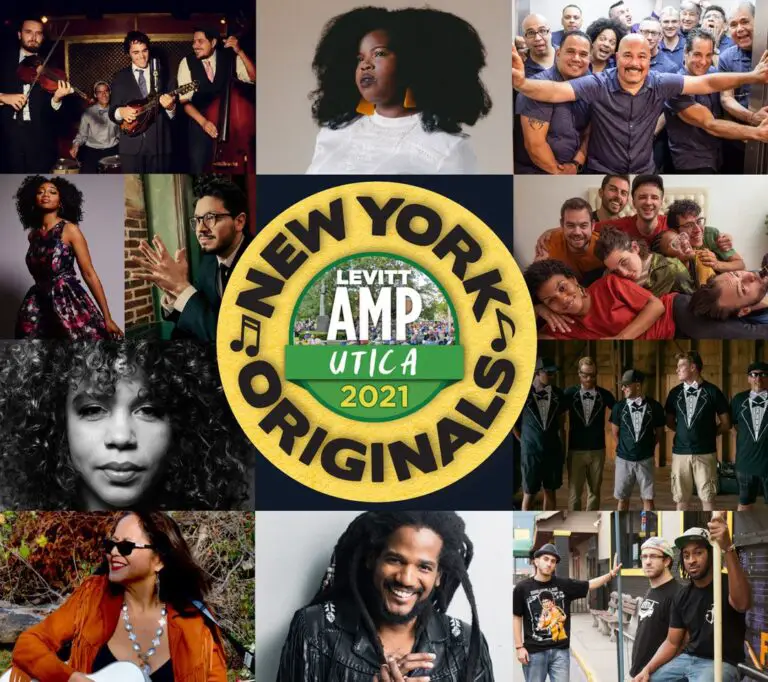 The 2021 season is themed "New York State Originals" and will feature headlining artists from all over the state, along with local and regional opening acts and youth intermission acts, all performing original music. The diverse lineup of high-caliber talent spans genres like jazz, pop, soul, country, R&B, hip hop and more. 
The public is invited to bring their own blankets and lawn chairs to the concerts. The park will have physically distanced rectangular "pods" sprayed in the grass that will hold up to six people each. 
Pods will be spaced 6' apart and will help guide guests for seating as we work together bringing back community events. The series will also offer art activities for young concert-goers and food trucks will be on site.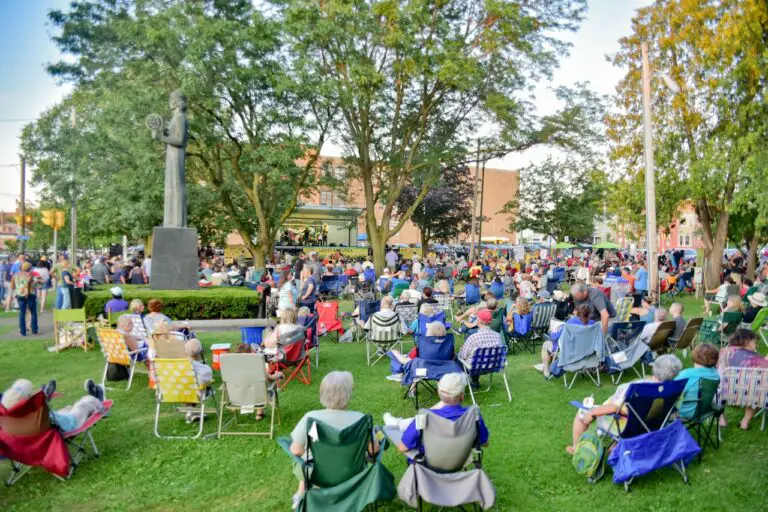 "As we begin to transition back to normal, we are excited to enjoy local venues and great entertainment such as the Levitt AMP series," Mayor Robert Palmieri shared, "This concert series is a tremendous quality of life asset that we have been able to secure for our residents due to the generosity of the Levitt Foundation, local businesses and community organizations, as well as through the hard work and coordination of Michelle Truett and the Utica Monday Nite board.."
"We are so thrilled to have the Levitt AMP Utica series back for the 2021 season," said Alicia Dicks, president/CEO of the Community Foundation. "This event brings our community together in so many ways and after the long-awaited return of live music and gatherings, this season is sure to be one of the best yet!"
The Utica Music Series are sponsored in part by the Mortimer & Mimi Levitt Foundation, a national funder of creative placemaking that empowers communities to inject new life into underused public spaces through free, outdoor concerts. The Community Foundation of Herkimer and Oneida Counties is a presenting sponsor for the fifth season of concerts. Partners in the series include Rust 2 Green Utica, DeSales Center, the City of Utica and Munson-Williams-Proctor Arts Institute. Season sponsors include Empire Recycling and the M&T Bank/Partners Trust Bank Charitable Fund.
In December of 2019, Utica was named one of 20 small to mid-sized towns and cities across America to win a Levitt AMP [Your City] Grant Award of $25K in matching funds to present a free concert series at Kopernik Park in 2020. Due to the COVID-19 pandemic, the 2020 series was postponed and the funding applied to the 2021 season. A 2-hour "AMP the House" TV special was produced in 2020 with a Bridge Grant from the Levitt Foundation to bring our community together when we had to be apart. 
Utica Monday Nite submitted the Levitt AMP proposal and is presenting the Utica Music Series. In an effort to inspire and engage communities across the country around the power of creative placemaking, the Levitt Foundation invited the public to choose the Top 25 finalists through online voting. Learn more about the winners and the 180 free Levitt AMP concerts across America at Levitt AMP's wesite.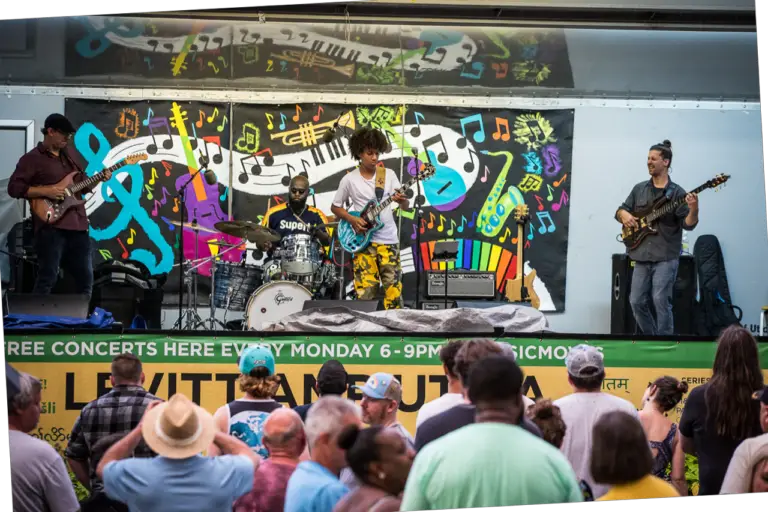 Kopernik Park is located at 317 Genesee Street at the corner of Eagle Street and Park Avenue near DeSales. Admission is free and all are welcome. Seating will be limited due to state guidelines, so getting to the park early is encouraged. 
For anyone who is not quite ready for crowds and events, the Utica music series concerts will also be streamed via multiple platforms to be enjoyed at home/offsite. 
THE 2021 LEVITT AMP UTICA MUSIC SERIES LINE UP
July 5 – Carolina Gents from Brooklyn, NY
Bluegrass, Americana, and country musicians in the New York area, pure, sweet sounds of Appalachia, then southern twang and effortless production. The band sets itself apart with their stylistic versatility, classy-vintage dress.
Opener: Isaac French – singer/songwriter and multi-instrumentalist. He is originally from Vermont and now calls Rome, NY home. His debut album, "Human Being" has been received with acclaim throughout the region and beyond.
July 12 – Danielle Ponder from Rochester, NY
Deep, powerful soul. In addition, she has also been awarded Teen Empowerment's PeaceMaker in Action Award. Beyond Danielle's musical talent, she is a former Public Defender and Tedx speaker.
Opener: Count Blastula – Founded by Adam Fisher in Central New York, CB features eclectic music combined with visual expression. CB has been compared to classic artists such as Phish, The Allman Brothers and The Grateful Dead.
July 19 – Alex Torres & His Latin Orchestra from Amsterdam, NY 
This 12 piece orchestra has been the recipient of numerous awards including the New England Cultural Arts Preservation Award, the New York State Music Achievement Award and The Governor's Excellence in Arts Award.
Opener: Grupo Pagan –a SAMMY Award winning Latin-American band based in Syracuse, NY. Their diverse backgrounds combine into a high energy brew of sound, with influences including Santana, Shakira and Enrique Iglesias.
July 26 – Samara Joy & Pasquale Grasso Duo from Bronx, NY
Following her winning the 2019 Sarah Vaughan International Jazz Vocal Competition, Samara is currently recording her debut recording, featuring one of the most strikingly unique artists of his generation, Pasquale Grasso. 
Opener: Sydney Irving – Syracuse, NY rising star has already been nominated for three major regional songwriting awards. Irving juggles attendance at high school with gigs at high profile spots like Binghamton's Spiedie Fest (supporting Starship featuring Mickey Thomas) and Turning Stone Resort & Casino on evenings and weekends.
Aug 2 – Sammy Rae & The Friends from Brooklyn, NY
Sammy Rae & The Friends was born from a collection of talented musicians and peers. The band rocks a jazz-pop sound and sold-out every show in NYC in 2019, enjoyed several tours in the USA and South America and acquired over 10 million streams on Spotify and Apple Music.
Opener: The Reuben James – Utica, NY based folk-rock outfit that was a staple of the regional live music scene for almost a decade. During that time, the group released 3 full-length albums. Their original sound draws from influences such as Wilco, Dylan, Tom Waits, Ani DiFranco, Springsteen, and Counting Crows. The group is incredibly excited to reunite at Levitt AMP after a decade-long hiatus.
Aug 9 – Shayna Steele from New York City
Shayna has supremely soulful energy, as well as mind blowing vocal artistry and songwriting skills. She has performed with the likes of Rihanna, Kelly Clarkson, Bette Midler and Steely Dan as a sought after background vocalist. It was the release of Shayna's first full-length album I'll Be Anything that put her on the map as a legitimate solo artist.
Opener: Haynesville Road – This Rock Band with Earth Lyrics consists of Bob ''BD'' Dziedzic, from New York Mills, NY, Stan ''Stik'' Slabicki,from Whitesboro, NY and Rob Aguilera, originally from Chicago, now living in Oneida, NY.
Aug 16 – Tom Nitti from Utica, NY
Born and raised in Central New York, Tom Nitti, your traditional country music artist, will be performing Levitt AMP with his full band. Tom joined the United States Army as a 19D Airborne Cavalry Scout. While deployed in Afghanistan, Tom earned the Purple Heart Award for sustaining a traumatic brain injury while taking mortar fire. 
Opener: Jess Novak Band – With a fiddle on fire, powerful vocals and a fierce band behind her, this pop, rock, soul-pumped group is from Syracuse, New York. Known for their energy, superb musicianship, engaging songwriting and ability to win any crowd, this is a band on the rise.
Aug 23 – Joanne Shenandoah in Oneida, NY
GRAMMY award-winning, cross-cultural singer-songwriter with 24 albums, singles, collaborations and film soundtracks earning her more than 40 music awards, including a GRAMMY and 14 Native American Music Awards, an induction into the NAMMY Hall of Fame, and an EMMY nomination. 
Opener: Fritz's Polka Band – everything from modern-style polka to country to rock and even blues. They are not the stereotypical "polka" band –they were the first polka band to perform at a Woodstock Festival (Woodstock '99)! In 2010, FPB was inducted into the Syracuse Area Music Hall of Fame.
Aug 30 – Paul Beaubrun from New York City
A Haitian singer and multi-instrumentalist, Paul weaves together Haitian roots music with rock and roll and reggae, delivering lyrics in English, French and Creole.
Opener: Tree of Life – A band that debuted at 2020's AMP the House TV Show, they will now grace the Levitt AMP stage live this summer. Decades of experience in funk, rock, blues, metal and more.
Sept 3 – Sophistafunk from Syracuse, NY
Sophistafunk has gained international notoriety with their unique, positive blend of hip hop, funk, and jam music that boasts a touch of spoken word and an overflow of energy. Sophistafunk played the Levitt AMP Utica stage in 2017 and 2018 and they're back to round out our 2021 season with our first ever Friday night concert to close out the series and kick off Labor Day weekend.
Opener: Leeky XIV – Malik Johnson, better known as Leeky XIV, is an independent rapper and entertainer who uses his art to promote the importance of living a positive lifestyle.