A Lovely Time Festival announced their 2021 dates and lineup for the upcoming festivities. The festival will take place on July 9th and 10th and will be hosted in Snow Ridge Ski Resort in Turin, New York.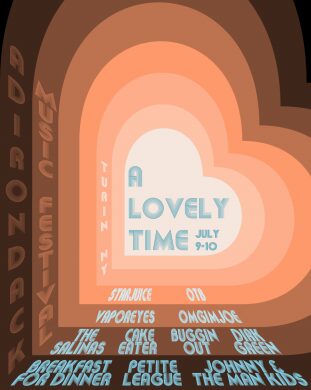 This will be the third annual rendition of this festival and as always the festival's mission is focused on creating an accessible and inclusive environment. This environment is meant to cultivate community through an Adirondack adventure filled with music and diverse activities – where any and everyone can have A Lovely Time. The festival first took place back in 2018 and was founded by Nick Feeley, Charlie Giancola, and Drew Shoup. 
The festival hosts everything from vendors to live music to a DIY skatepark built in the woods. It also features art, disc golf competitions, workshops and escape rooms. There will be live music across two stages The addition of  a mountain bike trail, and finishing construction on a new 18 hole disc golf course (Ridge Runner,) are also being added to the list of available activities. The 18 hole disc golf course is being done in collaboration with Snow Ridge Ski Resort and will be the only one in the Western Adirondack area. Crowd-funding for the course is currently underway for those looking to support its completion. In celebration a disc golf tournament, The Lovely Open, will be held the Saturday morning of the event (registration required). 
The line up includes Petite League, Vaporeyes, Buggin Out, Johnny & The Man Kids, Dirk Green, CAKE EATER, Breakfast for Dinner, The Salinas, OTB, Omgimjoe, and Starjuice on the main stage. There will also be artists performing on the Acoustic Lounge Stage. There will be  local vendors like Gannon's Ice Cream, Cup of Rahman, Mangata Candle Co, Flower Skate Shop, Humble Glass, Boho Hobo, Forum Barber Shop and more at the festivities. Some of the workshops include rare tea brewing, yoga, guided meditation, photo composition, mystery rooms, and even ninja training.
At the heart of the festival's mission is to be accessible and inclusive and that aligns with how the festival structures  its ticket pricing. Due to current restrictions on live music events due to COVID-19 , there is a 500 guest limit. The first round of $40 blind-faith tickets have sold out. Without inflating the price and in order to break down barriers to entry, Friday/Saturday two-day tickets start at just $50 for an Early Bird special, prices then incrementally increase by $10 as capacities are reached. Tickets will be $80 at the door. All music, parking, and camping are included in ticket purchase. To open the doors even wider to all those looking to attend, A Lovely Time offers the ability to "Earn Your Ticket" to volunteers helping out during the event and leading up to the festival weekend. 
For additional information about A Lovely Time or to purchase a ticket visit their website.