An iconic location in mid-town Manhattan is closing its doors for good. The Hotel Pennsylvania will not reopen, succumbing to this past year's lack of business and years of narrowly avoiding the chopping block. The fourth largest hotel in New York City was well situated, right across from Madison Square Garden and Penn Station, making it a natural and affordable stop for travelers and concert goers alike.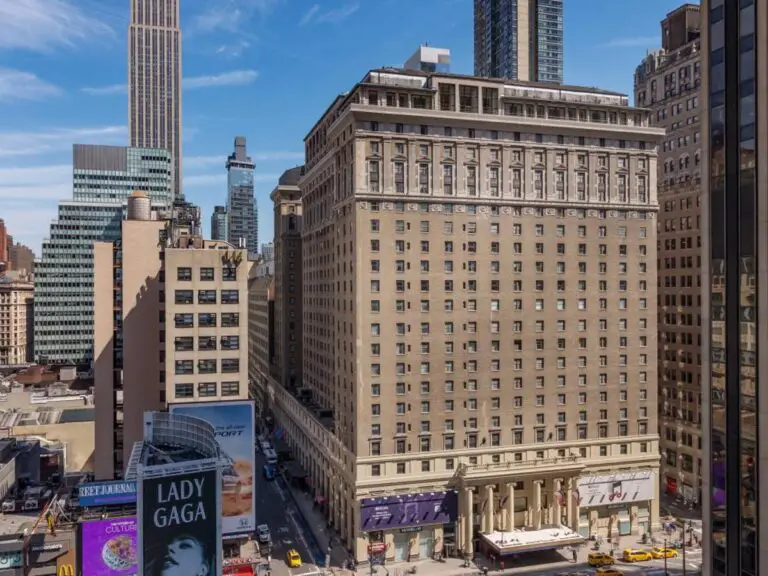 Located on 7th Avenue between 32nd and 33rd, and built by the Pennsylvania Railroad under the operatation of Ellsworth Statler, The Hotel Pennsylvania first opened on January 25, 1919. Original Pennsylvania Station designer William Symmes Richardson was the architect of the well-situated hotel. The hotel would undergo a few name changes, including Hotel Statler (1949), The Statler Hilton (1958), New York Statler (1979) New York Penta (1983) and finally Hotel Pennsylvania, beginning in 1991. If there was a centennial celebration, it was muted, but earned.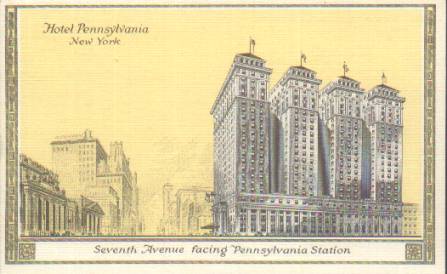 Hotel Penn has had its share of criticisms in recent years, being perpetually under renovation in the last decade, and not living up to the glory years of the mid-20th century. There were rumors it was haunted, the elevators would sometimes not open entirely on your floor, or need a moment before ascending from the lobby. But amid any issue with Hotel Pennsylvania, the location and history could not be beat.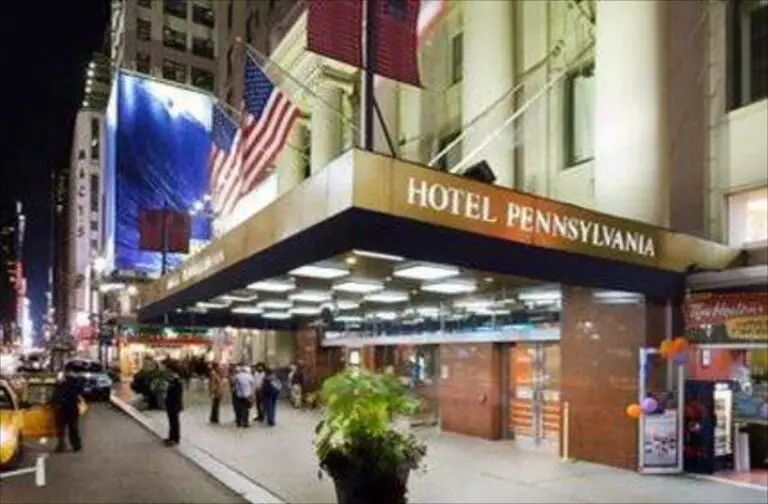 Full disclosure: I've stayed at Hotel Penn at least 40 nights, dating back to December 2005. I've heard all the complaints of Hotel Penn, and while some are justified, it always felt like this Grand Hotel got a bad rap. I never had a bad stay, or encountered the issues that people complain about. You look for a 3-star hotel in mid-town, you have to accept what a 3-star hotel brings to the table.
The Music
There is a fair amount of history in this huge hotel, most notably The Glenn Miller Orchestra's "Pennsylvania 6-5000." Until early May 2021, you could call 212-PE6-5000, and hear the refrain from "Pennsylvania 6-5000" before connecting to an operator. It was, until this month, the longest continuous use of a phone number in New York. From the moment you called the hotel, music and history was inviting you in.
Jack Albin Orchestra held a long term engagement at Hotel Pennsylvania in the early 1930s, often led by vocalist Bill Coty. Despite being popular in his day, little is known of Albin, although he did record for many labels, including Hotel Pennsylvania Music. "You're The One," recorded in 1930 features vocalist Paul Hagan. Hagen recorded with several bands including Ben Bernie's groups, Bill Moore's Syncopators, and Fred Culley and his Royal York Hotel Orchestra.
In 1930's and 40's, the Café Rouge at Hotel Pennsylvania was one of the most popular nightclubs in New York City. Home to Big Bands at the height of their heyday, including Glenn Miller Orchestra, Duke Ellington, The Dorsey Brothers, Woody Herman, Count Basie, and The Andrews Sisters, among others. The Café Rouge was connected to the NBC Red Network (the NBC Radio Network after 1942) which brought the music from the hotel and Café to captive audiences across the country.
In November 1939, bandleader Artie Shaw, who had a long-term engagement at Café Rouge left the bandstand between sets. Shaw decided he had had his share of the band business amid his success over the past two years, and quit his band on the spot. Shaw's principal orchestrator from 1937–39, Jerry Gray, was hired by Glenn Miller as a staff arranger when Shaw deserted the band.
In the pre-war 1940s, the Glenn Miller Orchestra had multiple long-term bookings in the room, corresponding with the time of Miller's highest profile as a bandleader. Broadcasting from The Café Rouge, some performances were recorded by RCA Victor. During the time of Miller's residency at Hotel Pennsylvania, Gray wrote "Pennsylvania 6-5000," with lyrics by Carl Sigman, a song that would become iconic alongside the hotel.
Other notable musicians to perform at Hotel Pennsylvania include Benny Goodman's famous orchestra including Harry James, Ziggy Elman and Gene Krupa, who broadcast from the hotel's Madhattan Room in 1937. Les Brown's band, with vocalist Doris Day, would introduce "Sentimental Journey" at The Café Rouge in November 1944.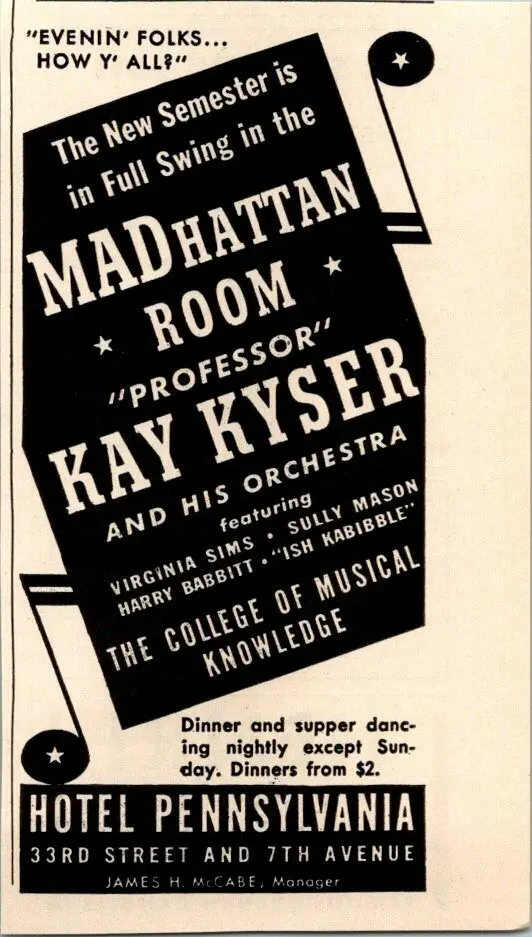 Present Day
The era of music at Hotel Pennsylvania would seemingly cease by the 1950s, with limited evidence of music performances at the hotel. The Café Rouge would be severed from the hotel at an unknown time, having a standalone address on 32nd street. By 2014, The Café Rouge was converted into an indoor basketball court known as Terminal 23. The original interior decor remains intact, with a fountain, beamed ceiling and other architectural details remain.
As for the hotel itself, Vornado CEO Steven Roth, who owns the property, said of the hotel in a letter to shareholders, "while it may have been a grande dame in its time, it is decades past its glory and sell-by date." In an effort to revitalize the area as the Empire Station Complex, meaning that more than a city block, including Hotel Penn, will soon be razed to make way for PENN15.
With no protection that comes with Historic Landmark status, beginning with a denial in 2010 by the New York City Landmarks Preservation Commission to designate Café Rouge as a landmark, the Hotel Penn as a whole has likewise not been saved by the status that prevents facing the wrecking ball.
Architect Richard Cameron, contests the grounds on which developers seek to demolish what was at one time the largest hotel in the world. Using the history of old Penn Station, which met a similar fate, Cameron said:
We used to have the greatest train station in the world right across the street, literally right across the street, and sadly for me I was too young – when I got to New York it was already gone. The language that was used to destroy that station is the exact same language Steve Roth is using today to argue to destroy this; it's tired, it's old, it's dirty, can't be reused. We need something new. Everybody admits that what happened across the street was one of the worst crimes in terms of architectural legacy that ever happened in this country. We're about to commit the exact same crime right here with the Hotel Pennsylvania.

Richard Cameron, as reported by AMNY.com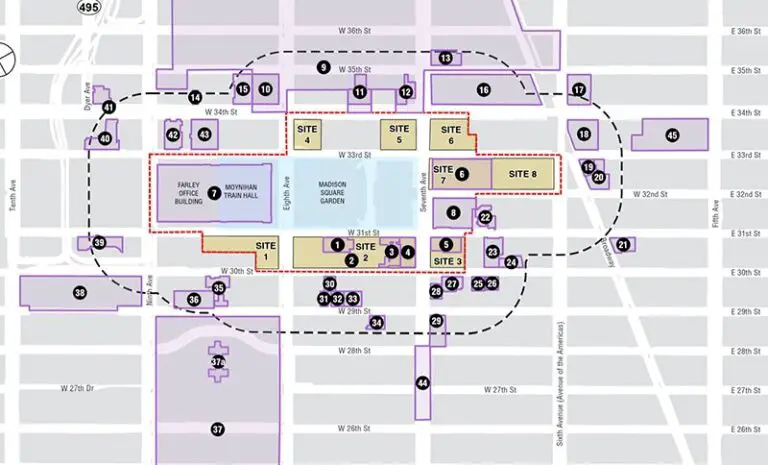 Staying at Hotel Pennsylvania
While there was music ingrained within Hotel Pennsylvania, there was of course music across the street at Madison Square Garden, making the location prime for crowds arriving for concerts and events, while looking for the easiest location to stumble back to afterwards. Bands that thrived on multi-night runs – the Grateful Dead and Phish, among others – meant Hotel Penn was often fully booked, offering a proximate and affordable rate for travelers and fans on a budget. This is precisely how I ended up staying there over December 30, 2004 through January 1, 2005. The Hammerstein Ballroom was a short walk for the Disco Biscuits' New Years Eve show that year, and made for great late night revelry with many fans staying there or just popping by to celebrate the New Year as so many had in decades prior.
Upon arrival, check-in could be the longest line in the world at any time of day, or the shortest. Your keys would work when you got to the room, then not when you returned from a show. The valet doors, well outdated, were a nice historical touch. Rooms varied in size – people were much shorter and smaller when the hotel was built – so you might find the confines of a two-bed room tighter than modern hotels.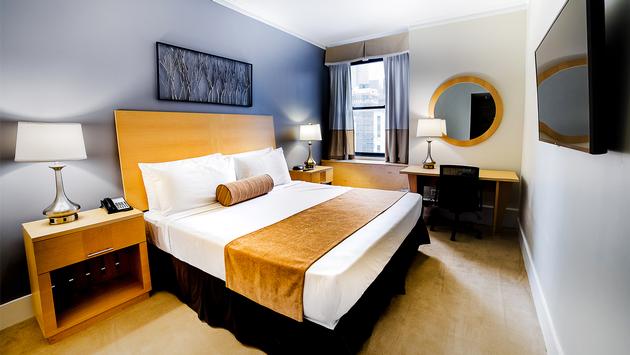 Hotel Pennsylvania was dog friendly too, serving as the official hotel for Westminster Kennel Club Dog Show, held annually at Madison Square Garden. Being able to bring a dog to the hotel can be helpful to some travelers, and the courtesy extended by the staff with regards to pets was top notch. The support for Westminster in providing the closest location possible for pets in New York City is noteworthy in itself.
A Personal Story
Having stayed there and willingly accepted the 3-star-ness of the hotel, I looked to Hotel Penn as the perfect location for a PhanArt show. Despite New York City being one of the most expensive cities in the country, Hotel Penn was able to provide an affordable location for these event, the only option beyond venues such as the now closed American Beauty on 30th street. The Gold Room provided well for five PhanArt shows beginning in January 2016, a rare find in a town where the cost to rent out a space for an art exhibit is cost prohibitive without major financial backing. For a group of Phish-inspired artists, Hotel Penn provided a home that the streets and lack of vacant lots in Manhattan could not.
In 2019, after much encouragement from past successes, the hotel brought the event to the 18th floor, which allowed for even more artists to take part, in addition to yoga sessions and providing a meeting place for fans, friends and groups. The staff worked with the artists as professionally as any other, and gave me more reason to look at Hotel Penn as having no more than a faded glory in need of a polishing.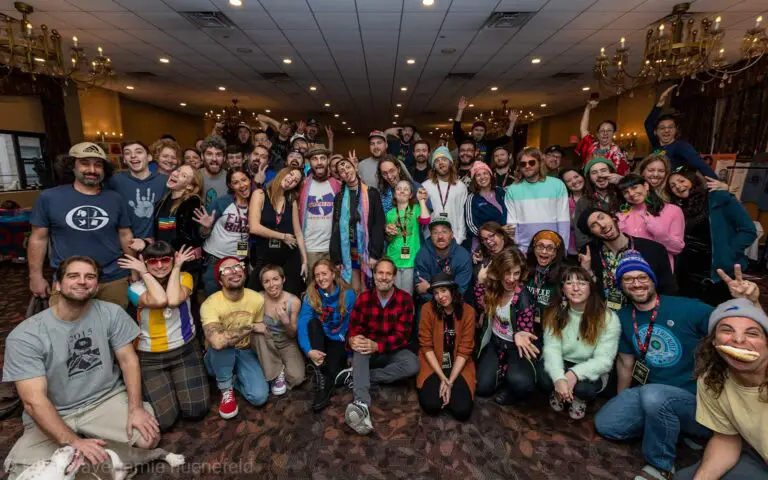 The history of Hotel Pennsylvania may be overshadowed by the past few decades where it fell farther from its glory days, but the history from within should not fade away as the hotel meets its doom.
Maybe it sounds a bit funny
When I'm away from my honey
Here's what I do with my money
Pennsylvania Six, Five Thousand