When terms like the Grateful Dead and Barton Hall come up in conversation, there's a good chance the show being discussed is the band's venerable May 9, 1977 performance. But there were two other shows played at this field house on the campus of Cornell University in Ithaca, NY. The final one occurred 40 years ago today. Pound for pound, it can certainly hold its own with the legendary '77 show. And it's certainly one of finer shows from 1981. So much so that the band recently included it on their massive 30 Trips Around The Sun box set that was released in 2015, 80 CDs worth of previously archived Dead shows celebrating the band's lifespan. One listen shows why this was an easy choice for inclusion.
This year, the Dead take off from the starting blocks with "Feel Like A Stranger," and Brent Mydland making his presence felt early with his electronic keyboards that are turned up way high in the mix. As the opener progresses, Jerry Garcia and the effects his guitar bring to the table rise to the top, giving it an injection of funk. For a song that had only been debuted weeks earlier at the Capitol Theater in Passaic, NJ, the groove is easy and seamless already, serving as the perfect opening salvo for this powerhouse show. Almost surprisingly, they decide to ease up immediately afterwards with a slowed down and soulful take of "Friend Of The Devil." Mydland's keyboard tone takes a turn for the heavens, lacing the Dead classic with an ethereal tone throughout. His efforts are rewarded with a spot for a solo and he produces a phenomenal one before handing the reigns back to Garcia.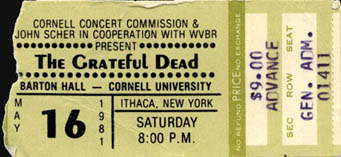 The "Me And My Uncle" that follows finally gives Bob Weir a chance to take center stage and he navigates through the longtime Dead staple effortlessly. Mydland, still turned up plenty high in the mix, and Garcia go back and forth supplying the instrumental harmony for a band that sounds completely locked in. As was now Grateful Dead custom, once "Uncle" wraps up the drumbeat doesn't stop and carries right over into a smoking "Big River," highlighted by a jaw dropping run on the fretboard from Garcia. For gigs going as far back as 1978 and until 1982, these two songs would be joined at the hip just like this.
One of the real high points of the first set is the "Althea" that follows. It's Garcia at his peak, delivering both soulful lyrics and another poignant guitar solo. Bassist Phil Lesh adds some nice extra layering on a somewhat slower but certainly potent version.
Weir then takes over again for "C.C. Rider." But the Dead's take on this blues standard is really fueled by another Garcia solo and the wailing rhythms emanating from Mydland's Hammond organ. The two go back and forth once again, building the onstage chemistry that would be a mainstay of the '80s.
The first extend inter-song break gives the Barton Hall crowd a chance to catch their breath and then it's back to business with "Brown Eyed Women." Garcia's mid-song solo seems to go on a little longer than usual, only serving to ramp up the emotions even more. The band then shifts gears from old school to new with "Passenger," with Mydland filling in the vocal part vacated by Donna Jean Godchaux. His raspy overtones don't quite carry the same effect and, sadly, this song would be shelved for good at the end of the year. Though certainly not due to lack of effort.
A slow shuffle beat then signifies the start of "High Time," and it never lets up. Garcia and company nail the harmonized vocals and delightfully toy around with this crowd favorite. The Dead then shift gears in the blink of an eye, with Weir quickly strumming and Garcia moving in rapid fire up and down the fretboard as they launch into "Let It Grow." This one means business from the get-go as the rest band follows in pursuit, led in earnest by Lesh on bass. There's a four-minute span before the song's breakdown that's a pure whirlwind, with each band member almost chasing one another, creating a rich texture of sound. It's another one of the true first set highlights. A quick run through "Don't Ease Me In" then caps off another stellar first set of Dead at Barton Hall.
The second set starts off with a "Shakedown Street" that seems to live up to its title early with some shaky lyrics from Garcia. As it progresses though, the kinks get ironed out and the funk increases, albeit at a somewhat slower pace. Weir's rhythm guitar and Mydland's keyboard fills mesh perfectly, and before long, a bluesy three-part vocal harmony is in full gear. But the real action takes place once this breaks down, with Garcia and Mydland soon engaging in a call and response-type jam. In keeping with tradition, "Shakedown" is immediately answered with "Bertha," just like the Dead opened last year's second set at Barton Hall.
Afterwards it's another vintage Dead 1-2 tandem with "Lost Sailor" once again spearheaded by Weir. It proves as a more than worthy respite until the familiar chimes of "Saint Of Circumstance" kicks in. Weir navigates seamlessly between the two, with emotions respectively aligned with the respective moods of each. Almost abruptly, "Saint" comes to a halt and another immersive jam begins to develop. This one manages to work itself into a full fledged "Spanish Jam," with influences from Miles Davis and his Sketches Of Spain album in full bloom.
As the "Spanish" element of the jam recedes, "Drums" begin to kick in and takes its usual assignment in the latter portion of the second set. The last Dead show at Barton Hall show has a lot to offer still , and the drumming tandem of Kreutzmann and Hart plays a major part. A particularly rowdy last movement of percussion soon finds its way into the familiar overtones of the beginning of "Truckin'." As to be expected, the State that's got the "ways and means" gets an appropriate response in Ithaca,
The ensuing jam soon sparks another one of the show's highlights, as it devolves into a bluesy, funky " Nobody's Fault But Mine" jam that would make Led Zeppelin proud. Although no lyrics are sung, the sentiment is made clear and creates one of the better, off-the-cuff moments that make this last show at Barton Hall a special one.
"Stella Blue" then emerges from this, winding things down and allowing one last chance to get sentimental. Garcia delivers the lyrics, and another staggering guitar solo, with raw emotion and just a bit of flare. The music slows a near crawl at one point, with the Cornell crowd so rapt and quiet one can hear a pin drop. Before long, the energy skyrockets back, with "Blue" turning into more of a rocker, a true testament to the Dead's versatility.
This gives "Going Down The Road Feeling Bad" an opportunity to make an appearance and the Dead run with it. Afterwards, Bob Weir gets the last laugh, closing out the second set by leading the band through a peppy and near raucous "One More Saturday Night." Barton Hall rings out in a roar of applause at its completion, leaving no doubt about their feelings on this one. The Dead then grace the crowd with a bit of an atypical encore selection. Instead of a cover or a quick song, it's an "Uncle John's Band" that produces one last patient and inspired jam – more than a fitting choice for the final song they would ever play at Barton Hall.
Grateful Dead Barton Hall – Ithaca, NY 5/16/81
Set 1: Feel Like A Stranger-> Friend Of The Devil-> Me & My Uncle-> Big River, Althea-> CC Rider, Brown Eyed Women, Passenger, High Time-> Let It Grow-> Don't Ease Me In
Set 2: Shakedown Street-> Bertha-> Lost Sailor-> Saint Of Circumstance-> Spanish Jam-> Drums-> Truckin'-> Nobody's Fault But Mine-> Stella Blue-> Goin' Down The Road Feelin' Bad-> One More Saturday Night
E: Uncle John's Band