The Grateful Dead have always been able to find shelter in Syracuse. Much like the band's much lauded previous year, 1978 would feature an extensive spring tour up and down the East Coast. 43 years ago, two nights after playing a show at RPI in Troy, NY, the Dead returned back to Syracuse and the Onondaga War Memorial. This would be the fourth of six times they would ever grace this venue, before moving on to a bigger room..er..Dome.
The Syracuse show starts off in interesting fashion with a "Franklin's Tower" opener. The crowd is instantly engaged, clapping along in unison at the outset. Jerry Garcia's lead vocals are backed up nicely by fellow guitarist Bob Weir and Donna Jean Godchaux. For an opener, it develops a surprisingly intense little jam that peaks nicely, setting a wonderful tone for the rest of the night. The set then proceeds in a little more customary fashion with Weir next belting out "New Minglewood Blues." He even throws in a "And I'll do it again" when singing about stealing women from their men. "Row Jimmy" then slows things down a bit and features a few delicate Garcia guitar solos and more Gochaux-supplied harmonies. Donna Jean and Weir then team up for a beautiful "Looks Like Rain" that has the Syracuse crowd enraptured.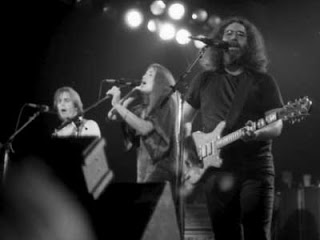 With the exception of the rousing finish to "Looks Like Rain," the generally relaxed, current vibes carry right over into "Friend Of The Devil," played ever so slowly and deliberately around another dazzling Garcia guitar run. After some deliberation, "El Paso" is selected, with Weir regaining lead on the classic country-western first set staple. Then it's Jerry's turn to sing about "pretty women" as he leads the band through "Candyman." The Dead finally rev it up a little for the ending of this Syracuse first set, starting with "Passenger." The harmonies from Weir and Godchaux drive this one as Garcia delivers run after run of pedal steel-sounding guitar licks behind them. This gets a well deserved roar of applause from the War Memorial crowd that soon transitions to the beginning of "Deal," with more audience clapping in tow. The ending peaks with some absurd harmonies from all singers on stage and a flurry of guitar notes, ending the first set in grandiose fashion while setting hopes high for the second one.
The second set begins with everyone's favorite crowd management game, "Take A Step Back," directed, as usual, by Bob Weir, in an effort to keep the people at the front of the stage from getting squished entirely. After some requisite tuning, the percussive intro of "Samson And Delilah" starts up, soon followed by some melodic riffs from Garcia on guitar. This produces a mild jam, with Garcia continuing to riff over the drumming tandem of Bill Kreutzmann and Mickey Hart.
"Ship Of Fools" fills in the two-spot in the second set, much to the Syracuse crowd's delight. This allows Garcia another chance to drop a poignant guitar solo in the midway through a version that's rife with energy and emotion. But the highlight of the set may be the extended "Dancin' In The Street" that comes next, the Dead's own take on this Martha & The Vandellas number. It's a funk-laden version, with Garcia relying heavily on his favored Mu-Tron guitar effect early, that later evolves into a full group effort that escalates nicely. It winds up producing one of the longer stretches of pure improvisation and jamming this evening before rounding back into form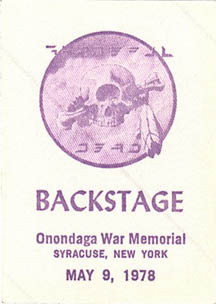 This energy carries right over into the "Drums" portion of the evening. And what a portion it is – well more than 15 minutes worth of pure percussive madness. At multiple points, at least one Caribbean-esque steel drum can be heard. After the requisite "Space" chaser, the latter part of this Syracuse show begins to wrap up with another vintage Dead cover selection, "Not Fade Away." This seems to reenergize the crowd as they once again begin clapping along in time earnestly. A surprisingly intense jam develops between verses, giving this NFA a little extra kick.
Instead of taking things even further, the Dead then slow things down one last time and turn left into "Black Peter." Another soulful Garcia solo serves as the foundation for this one, with each note, both sung and played, piercing through the sound with ease. Yet another cover closes out the second set, with Weir leading the charge on a wild romp through Chuck Berry's "Around & Around." They do a fun little vocal breakdown on this one, with Donna Jean getting in on the act. They bring the volume to near whisper-level, with the Syracuse crowd and their applause overpowering them towards the end. For an encore, the Dead donned Halloween masks and treated everyone to "Werewolves of London," wrapping up just another ho-hum Syracuse gig.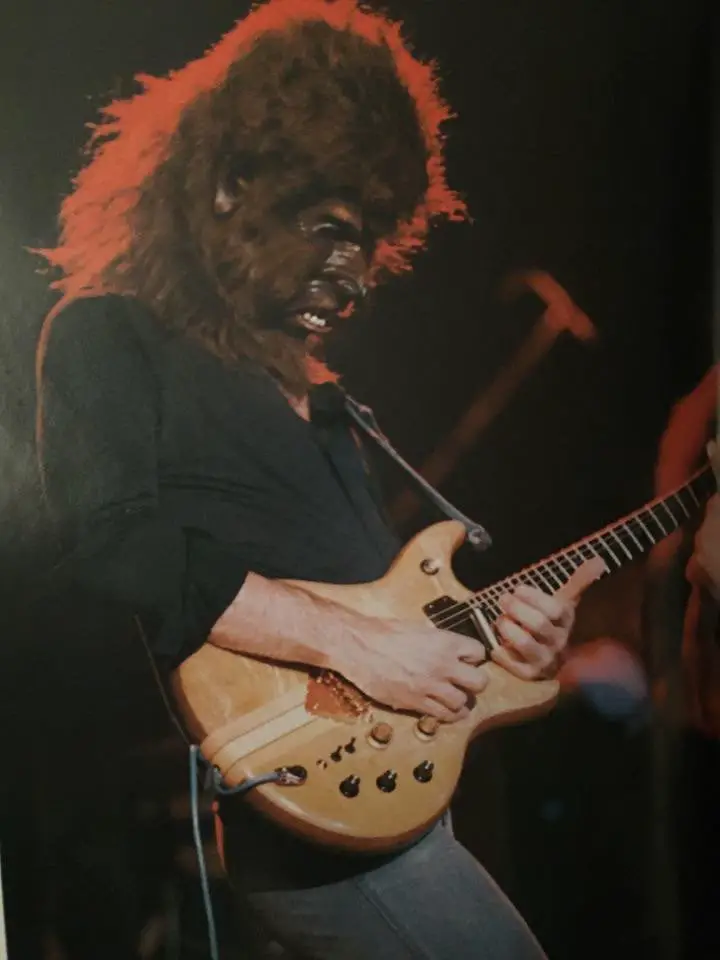 Grateful Dead Onondaga County War Memorial Syracuse, NY 5/9/78
Set 1: Franklin's Tower, New Minglewood Blues, Row Jimmy, Looks Like Rain, Friend Of The Devil, El Paso, Candyman, Passenger, Deal 
Set 2: Samson & Delilah, Ship of Fools, Dancin' In The Streets-> Drums-> Not Fade Away-> Black Peter-> Around & Around
Encore: Werewolves of London