When you think of great funk soul bands that have come out of Buffalo, New York only two names come to mind, Rick James and Soulive. Alan Evans, drummer and founding member of Soulive took time to talk about his musical journey that started in Western New York to around the world with the best.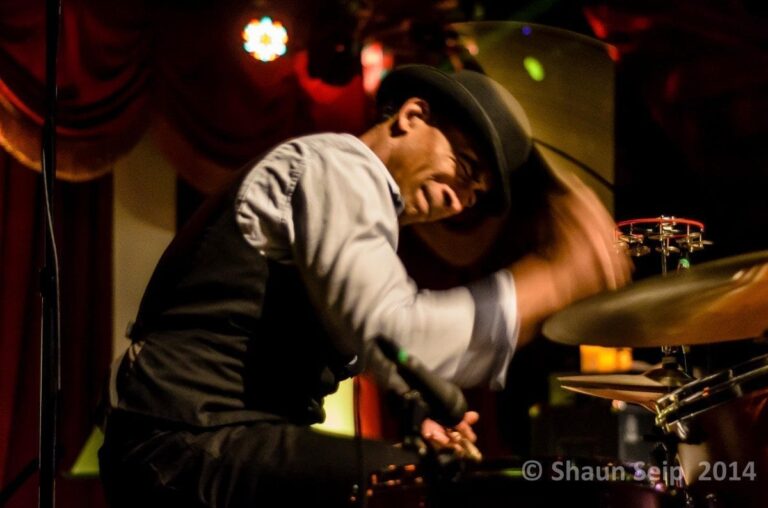 "It just kind of happened, To be honest I'm surprised I'm actually doing this, some people can point to… " Oh I saw this, I heard this" Then all of a sudden I wanted to play music , but man music for me is like breathing, like literally ya know?, " Its always been ingrained"
He has been playing gigs in Buffalo since he was eleven years old." "For Neal and I it started like one day we were playing music, the next day basketball, then football, maybe skateboarding, then some times all that in the same day" Alan first started out with a band called The Groove and then Moonboot Lover that prompted him to touchdown outside Buffalo in Brooklyn's pre-developed 1992 Park Slope. "At 7th between 8th and Prospect right at the park " "Park Slope was a completely different world then ".
He went on to form Soulive with his brother Neal Evans and Eric Krasno in 1999 that has gone through the past two decades culminating in their own Seven time residency at the historic Brooklyn Bowl in Williamsburg. Dubbed as "Bowlive", it brings all of the best musicians on the scene today to collaborate with Alan and his Buddy Miles like vocals and drumming on "Them Changes" for each one over the years.

NYS Music had some time to talk with Alan Evans about his musical experiences over the career, Here is the Conversation:

Matthew Romano: Where was your first collaboration with Sam Kininger who became an instrumental part of Soulive?

Alan Evans: So… Soulive started in 1999 and Sam came and was part of the Lettuce crew at Berklee at the time, So literally all of our early gigs were with Sam, I remember the first time we played with Sam was at House of Blues in Cambridge, Mass in 99' and Kraz was like "Oh my boy Sam is gonna come through and play" "and we were like all right cool whatever" Then we recorded on from there with two great records in Woodstock with him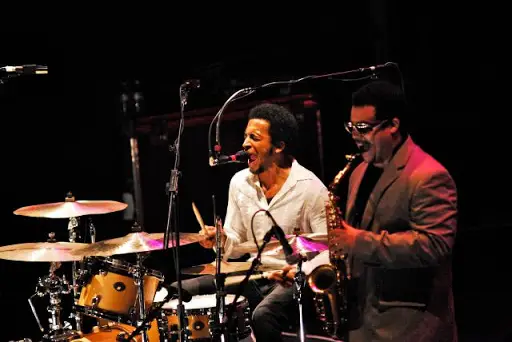 MR: Jumping from House of Blues on the East Coast with Sam K to the House of Blues in Los Angeles on the West Coast in 2005 where Stevie Wonder was in the crowd for your set and then joined for the encore on "Jesus Children of America" Did you know he was in attendance and was gonna close the show out with you?

AE: We had no idea he was there that night, we finished our last song and left the stage he was there and wanted to sit in with us, so um when we went to play as usual, the funny thing is at that point and time we played Jesus Children a lot. Especially for an encore ,we played it to get into a groove in the set list on tour so we were probably gonna do that any way. They said his driver had to get his harmonica out of the car, so basically we went on and were just stalling and started playing and I look over and saw him on the side stage and the people gave me the thumbs up and I introduced him, and he came out so yea it was pretty wild.
The funny thing it was the first time I ever saw Stevie Wonder live and they set him up right next to me. I thought he was gonna come on and play harmonica and leave , he's not gonna sing and split, he comes out and the first thing he does is start to blow the harp, ok just as expected and then we got in to it and were grooving pretty hard, his solo came to and end and then started singing!

MR: In 1972 Stevie Wonder opened for the Rolling Stones, Soulive opened for the Stones on a couple different occasions, In Philadelphia you did for an intimate Tower Theater performance at a three thousand capacity venue . Any cool takeaways from that infamous backstage scene with them?
AE: A lot of funny stuff happened with the Philly show, like some Planes, Trains and Automobiles kind of stuff, So this is pre uber days and we landed at the airport and were cutting it close for soundcheck, a car pulls up that can finally brings us but we had gear and needed a van but couldn't get one…the catch is that he has like a bag of trash that he ended up strapping to to the hood so we can all fit in and brings us to the venue where we tried to keep a low profile to get dropped off away from the Stones tailgate around the corner

So we got inside and did a soundcheck and hung out downstairs and was used to the typical go back to the hotel to chill before playing, that wasn't the case the with Stones since it was such a mob scene they couldn't leave either so we were all just hanging out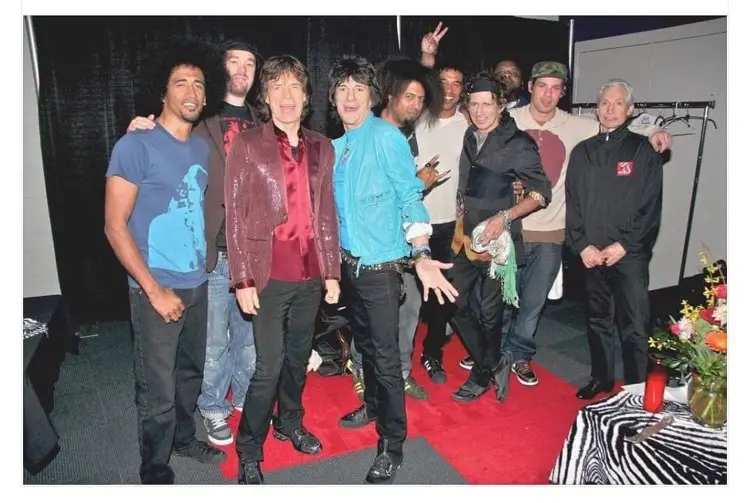 We couldn't leave, we were just there hanging out in our green room which had catering and a cavernous hallway leading to it. I remember Kraz and I were sitting by the door and ah Neal and I were on the couch too. But anyway Kraz is in this other chair by the door , all of a sudden someone kicks in the door , and the it flies open and BAM! I mean it was loud as hell , I mean what the fuck is going on? And in comes Keith Richards who just kicks the door down and walks in and goes I heard one of you is from Connecticut ?! So Kraz was from CT and Keith lives in Connecticut and they talked for a while and then Keith just splits

So we opened and were just up there doing our thing , some people in the crowd were checking it out, the other were just rolling their eyes and the thing is I looked to my right and all of them were hanging out like listening. All the Stones were posted up the whole set, they were digging the shit out of it, so um that was fine, we came off on time and they were like just like damn we got to work tonight, and i'm like OK cool
MR: After seven Brooklyn Bowl Residencies, is it even possible to pick a stand out moment with all those collaborations with every great artist over the years ?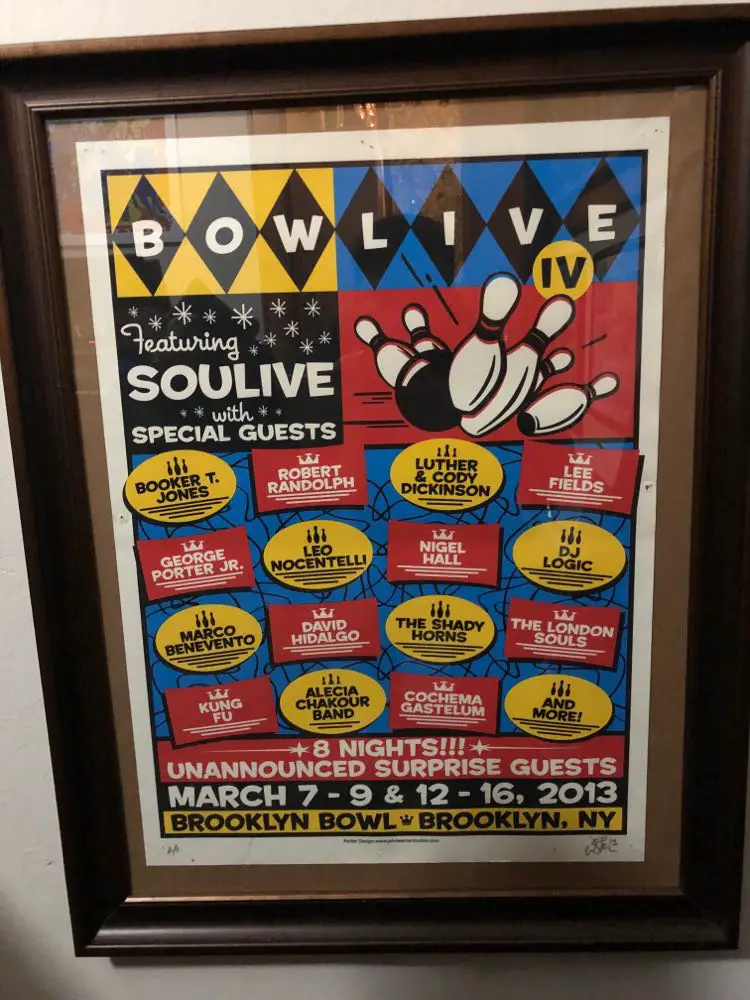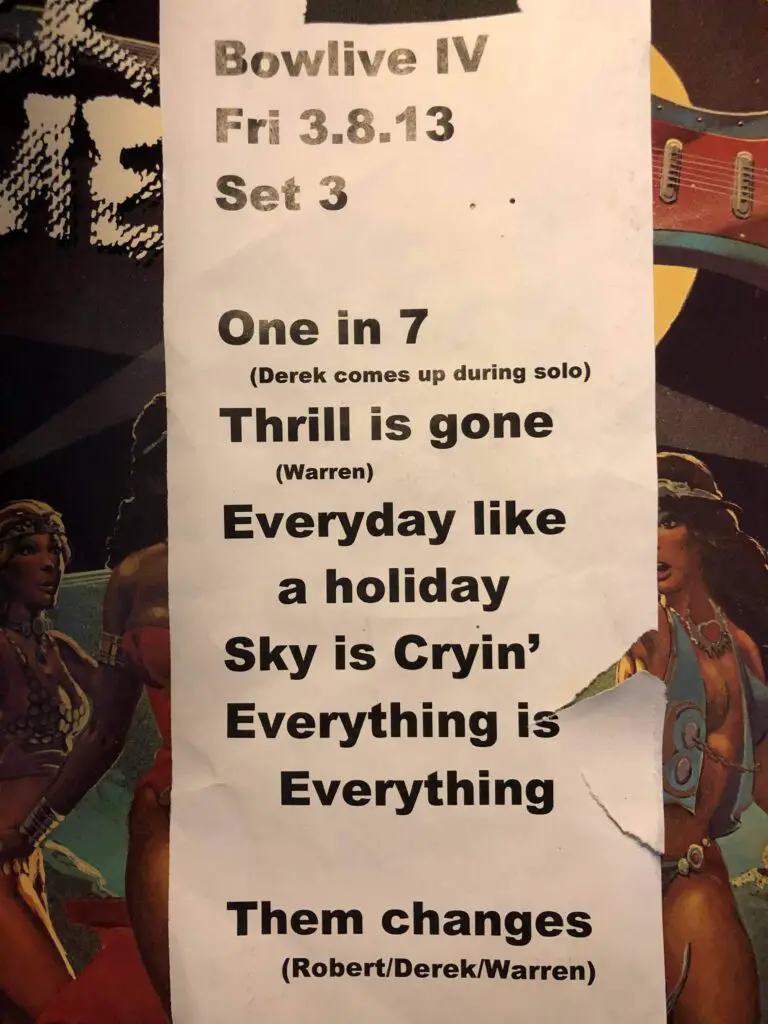 AE: Man that's a really good question, so much of it is , it seems like every year there is a moment like wow I can't believe this is happening

I remember the set with Bernie Worrell and we did a like whole P Funk thing, I wasn't even playing drums on that, it was me Kraz and Shmeeans playing guitar, I remember soundcheck and were running through the tunes with him, and were like damn this is Bernie, and we knew him for years but this is the first time we've played him, but it the was also the ideal time to realize this dude is a living legend, that was one experience I remember being insane

I grew up listening to P Funk, our older brother was way in to to them , hes 65, so he literally experienced them in 1977 when they were touring and saw them live landing the Mother Ship
MR: I've seen you play at Madison Square Garden, that being every artist's dream venue in the State to play, are there any other venues in New York you have fond memories of?

AE: Its tough to beat the Garden, but ya know SPAC right? Yea man i have a sweet spot in my heart for that place man, Peter Prince my band mate in Moon Boot Lover back in the day is from from Saratoga Springs, His father is a really great artist, so for Jazz Fest we'd always get his dad's vendors pass there. I saw some great shows and actually Soulive got to play there one year for the festival. There's definitely something special about that place and I'd love to perform there again actually

MR: It was last Valentines Day at the Tralf in Buffalo seeing you perform with Soulive, it's been almost a year since you were able to play live in front of sold out crowds pre pandemic, what is the expectation on live music for yourself in 2021 during these new times?

AE: That was my last run. We did the The Tralf, Pittsburgh ,The Capitol Theater and Boston. We had the most Soulive shows lined up till August for the first time in years. People have hit me up since, but I'm in no rush. I have been doing a lot of recording at my studio in the meantime. But I reflected in the beginning of the pandemic while my wife and I were out for a walk. I thought this would be a thing possibly for a while. I remember saying I don't know how long this would last but at the end of it when things open back up that I didn't want to not do anything or wish I did more. During this time I've looked at my life if I never would do a live show again. I'm not gonna sit around and be bummed out' about it

MR: My final question to Alan was drummer to drummer, relating to the same concept , that there is a silver lining to be had during these times, for me I was able to collaborate with musicians that would normally be on the road or with other projects who are now available to jam and Alan's reply was much obliged.

AE: Exactly man, yea for me you're so right, it's just how you look at it. My Father said it the best, its simple there's two ways to looking at things, you can be positive or be negative, and so of course we all know the negative of the pandemic so we don't have to talk about it, but its like with in that though I think good. I've been really positive. I've been making music and can spend time with my family. For me its like a cleanse, to really look at my life, I can't just do any old gig , I just take everything away and have time to step back and feel what's really important. What do i want my life to be about? Thats what been a positive for me and I hope it's like that for a lot of people.
MR: I just scooped Rick James and Stone City Band "Bustin out of L Seven" on Vinyl, are there any recordings from your fellow Buffalo native that stick out?
AE: Man…that's a really tough one. I mean this really does, you kinda cant go wrong. That's a dope record
Check Out Soulive's last home show on Valentines Day in Buffalo, New York on February 14, 2020.