Lonnie Jordan is a singer-songwriter and a founding member of the American funk band WAR. The band is best known for hits such as "Spill the Wine," "The World Is a Ghetto," "The Cisco Kid," "Why Can't We Be Friends" and "Lowrider."
Over the years Lonnie had a number of roles in the band. Not only was he a vocalist, but also played guitar, piano, synthesizer and percussion. Jordan was one of the first three people to form the group even when they were known at the time as the Creators and Nightshift. Currently he is the only remaining original member.
On July 21 2019, NYS Music had an opportunity to ask the rock legend a few questions about his life and his 50-plus year career in the music industry at The Great South Bay Music Festival in Patchogue, Long Island. Lonnie Jordan was 70 years old at the time and looked great; he couldn't have been nicer or more humble. With only minutes to spare for an interview, I dove right in.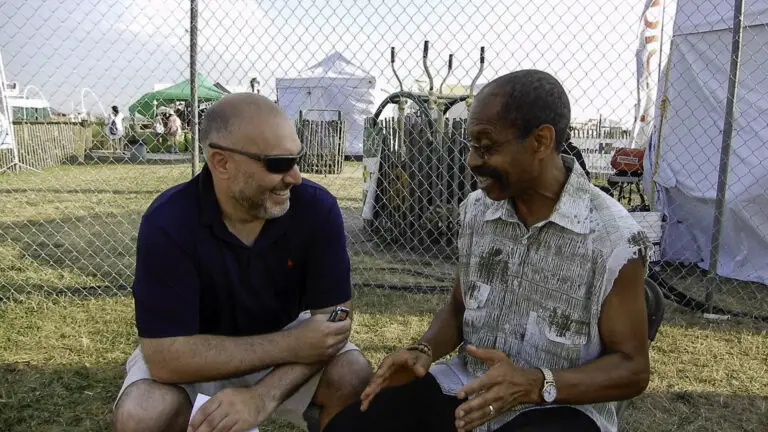 Rob Tellerman: What drew you to the music industry?
Lonnie Jordan: Being young and watching other artists perform and saying "Aw man! That looks like fun! That's what I want to do when I grow up!"
RT: Who were some of your influences?
LJ: You have to understand, I'm almost 71 years old so back in my time it was Ray Charles, Jimmy Smith, The Everly Brothers, of course Elvis, Wilson Pickett, James Brown and the list goes on. A lot of gospel, a lot of Latin. Later on, in my life Fania All-Stars came in with the soulful boogaloo and Latin boogaloo.
RT: Before it was WAR, it was The Creators? Am I correct?
LJ: Yes. We were called The Creators and then we changed it to Nightshift. Then when we were Nightshift, playing with Deacon Jones for a minute, I believe he was #49 on The Rams, Eric Burdon and Lee Oskar, by now producer, manager and engineer, came down to hear us play and the rest was history.
RT: Are you still friendly with Eric Burdon?
LJ: Yes of course. He's busy and at his age and he has to stay busy otherwise he will get tired or as some people say "retired" (Laughs).
RT: Is it true Jimi Hendrix joined WAR on stage in London 1970 for what was to become his last performance?
LJ: Yea Jimmy and Eric (Burdon) were very good friends. A lot of people don't know that Eric's old band The Animals' bass player Chas Chandler was the one who introduced Jimmy to his first album deal. He produced his first album so he introduced Jimmy to the music industry. Being that Eric, Jimmy and Chas were good friends, Eric got this weird band together, which happened to be us. But Jimmy was supporting Eric's new journey.
RT: Was he ok at the show?
LJ: Well he came down Tuesday night and he was fine, but he didn't bring his guitar. We said "Man you gotta bring your guitar tomorrow". So, he brought his guitar and we were backstage talking. I believe the band Osibisa was playing downstairs, but all the smoke was coming up. So, he (Jimmy) jumped on stage. We gave him an amplifier. There were no gimmicks. We all played like we did back in the early days when we were playing holes' in the wall. Ironically, we played "Mother Earth" by Memphis Slim and he wound up going back to "Mother Earth" the next morning.
RT: Is touring as fun now as it was in the 60's and 70's?
LJ: Well I wasn't drinking coffee back then. It's more fun because I have more knowledge now of my surroundings. I'm a vegan and my wife is a raw vegan chef so that helps me stay active at my old age. Also, my Rock and Roll Hall of Fans supports me and makes it more fun. My mind and heart are open and I'm not being swallowed by a cloud of smoke.
RT: Have you ever had performance anxiety?
LJ: Not yet.
RT: If you had 1 message to give your fans what would it be?
LJ: Come here us play! Every chance you get because our stage is always smokin'!
RT: Do you think it's ridiculous that WAR is not in the Rock and Roll Hall of Fame?
LJ: We've been nominated but you have to understand, there is no category for us. That's why we haven't won anything. I would say that may be a bad thing for people who think materialistically, but for me, my Rock and Roll Hall of Fame is my Rock and Roll Hall of Fans! I'm so honored that the people still have us here working. Our music has so many different genres. I never thought our music was even going to be played on the radio so I'm honored and blessed the people still support us.