It's been a year without live music, but there are signs of life coming this spring. Looking to the South as the weather breaks, socially distanced shows and festivals are starting to pop up. Suwannee Rising will welcome Umphrey's McGee, Lettuce, Goose, Eric Krasno's Chapter 2, Andy Frasco and the U.N., Big Something and many more to the Spirit of the Suwannee Music Park (SOSMP) in Live Oak, FL – April 8 – 10, 2021.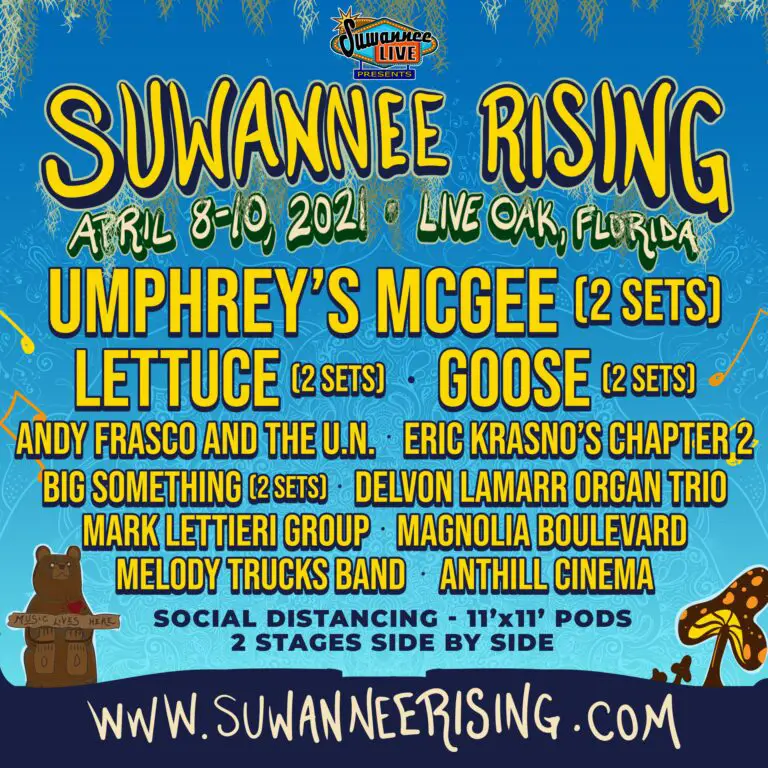 Suwannee Live produced two drive-in podded events earlier this year – Larry Keel/Grass Is Dead and the Funky Mardi Gras Masquerade – serving as successful test runs for the return of Suwannee Rising, which is set to be one of the first multi-day music festivals in the US since the pandemic. 
For this event, they will offer P.O.D.S. (Personal Outdoor Dance Space), providing a safe and socially distanced setting for fans to enjoy live performances, including Delvon Lamarr Organ Trio, Mark Lettieri Group, Magnolia Boulevard, Melody Trucks Band, and Anthill Cinema.
When we cancelled Suwannee Rising 2020, we never imagined the challenges it would present to society and especially the live music industry. We viewed the situation with a glass half-full attitude, realistic but hopeful. No one wanted to accept a world without the live music experience.

After producing two intimate post-Covid shows at the park and attending other drive-in events, we learned that while no one can eliminate 100% of risk from their lives, it is possible to produce a great show that fans, staff, and artists can attend and still dance and feel safe. We thank you from the bottom of our hearts for supporting our musical community over the last year through the twists and turns of the Covid-19 pandemic.

Suwannee Live's Paul Levine
Although the 800-acre park is home to multiple permanent stages including its famous amphitheater, Suwannee Rising will feature two stages side by side that are located in one of their vast fields, allowing plenty of space for socially distanced P.O.D.S. When one stage ends, the other will start. Large video screens allow every guest to easily view the performances from any of the spacious P.O.D.S., which offer a safely spaced area for family and friends to enjoy the live music, with each including four weekend tickets and primitive camping. P.O.D.S. owners can add up to two extra tickets for a maximum of six people per P.O.D.S. Guests are also allowed to bring their own food and drinks to the show. 
And yes, there are still safety measures in place. Masks are required when festival goers aren't in their P.O.D.S. and additional safety measures will be in place giving fans peace of mind to relax, let go, and soak in the healing power of live music. To learn more about these initiatives and the safety squad please visit the FAQ page. 
Tickets and P.O.D.S. go on sale Wednesday, March 3 at 10am EST on Suwannee Live, with Suwannee Rising 2020/21 ticket holders having the first access to the P.O.D.S. starting March 2. For cabins, RV hook ups and golf cart rentals please visit MusicLivesHere.