For their first live performances of 2021, the Disco Biscuits have announced a live, two-night run that will be livestreamed from Ardmore Music Hall.
Friday, February 5 and Saturday, February 6 will be the first live performances from the Philadelphia jam titans in 2021, and the first time the Disco Biscuits play the independent venue in Ardmore, PA.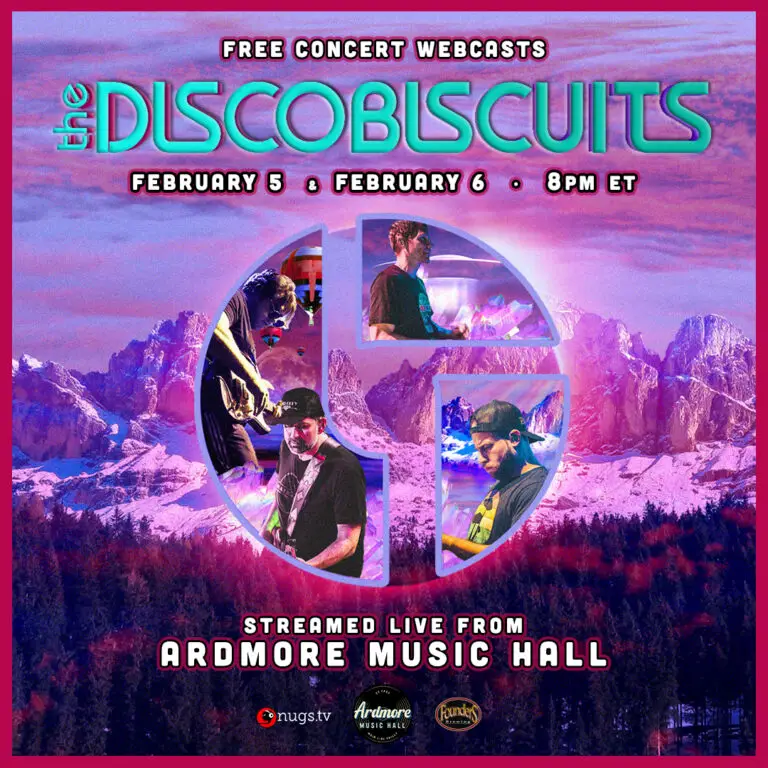 Both live shows will be broadcast for free via ​Ardmore Music Hall's YouTube channel​ & streaming partners ​nugs.tv. Tips for the band & venue staff are encouraged. Event merchandise and VIP ticketing are also available, which includes a signed custom foil poster, virtual soundcheck access, & both nights of audio recordings. 
Ardmore Music Hall will welcome a very limited, socially-distanced & masked audience of 20 guests per night. Fans can enter ​the "Golden Ticket" Raffles & Silent Auctions for a chance to win tickets to each respective show. At the conclusion of each of the raffle drawings, a handful of winners will receive a pair of tickets per show, and an online silent auction for additional pairs of tickets will go live. 
All guests will be required to produce negative COVID-19 test results before confirming their attendance. Additionally, the venue will uphold all safety guidelines and protocols mandated by local governance, the Commonwealth of Pennsylvania and the CDC. More details can be found on the event page below.
February 5 – The Disco Biscuits: Tickets for Friday Show