On January 14th, 2021, The String Cheese Incident released a heartwarming cover of the Tony Rice classic "Old Train," paying homage to the bluegrass legend and his untimely death. The tribute begins with a short and sweet message thanking Tony Rice for his "incredible gift of music," and acts as a promise to carry Rice's legacy onwards.
David Anthony Rice was born in Danville, Virginia, on June 8th, 1951, before moving across the country to Los Angelos, first introducing Rice to the concept of bluegrass. Through this move, he discovered his first big influences, guitarists Clarence White and the Kentucky Colonels, and his immense passion for music only grew stronger throughout his upbringing.
Tony Rice's guitar playing shaped a generation of musicians. His impeccable tone, taste and timing were unmatched and highly regarded by players and listeners alike. We are very fortunate to have so many great recordings of his life's work. If you haven't had the pleasure of hearing him perform, check out the Tony Rice Unit and David Grisman Quintet albums. I recommend you start with the album "Manzanita." We'll never forget you, Tony!

Bill Nershi
He experienced his first big break when he moved back East to pursue playing professionally, joining iconic banjo player J.D. Crowe's band, the New South, and releasing an album together in 1975; J.D. Crowe and the New South. This album was endlessly praised for its progressive sound in the bluegrass era, becoming so well-known among fans to where it was lovingly referred to as Rounder 0044, its record label catalogue number.
The young guitarist seemed to only get bigger and better, breaking boundaries in the music business. Joining Grisman's Quintet in San Francisco allowed him to embrace experimentalism within his music, and establish himself as an iconic household name and a legendary guitarist.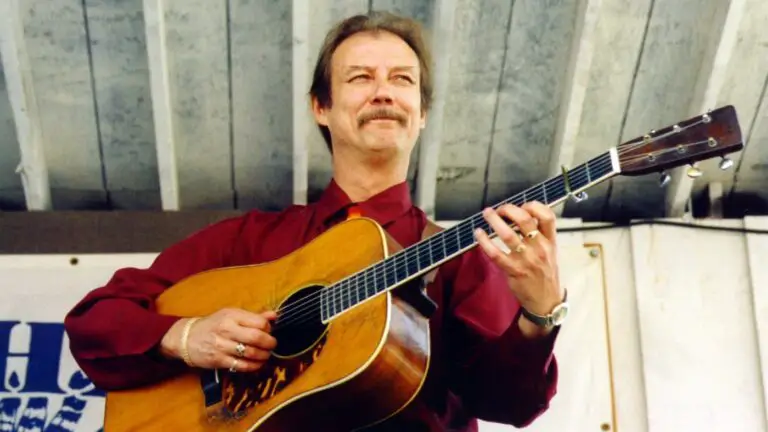 New opportunities of collaborating with John Carlini, Ricky Skaggs, Norman Blake, and Bela Fleck ensured his growing success and recognition, tackling all sorts of musical boundaries before he was unfortunately required to stop singing in the mid-1990s due to muscle tension dysphonia, a condition which constricted the muscles around his voice box. Rice continued to play the guitar with unbridled passion and energy until 2013, when he developed lateral epicondylitis and played his iconic Martin D-28 for the last time to a public audience at the International Bluegrass Music Hall of Fame.
Tony Rice passed away on Christmas morning at the age of 69, his death first being announced by the International Bluegrass Music Association. The String Cheese Incident shortly followed up with a cover of his song, "Old Train" as a heartfelt goodbye to an inspiring guitarist.
It is with a heavy heart we say goodbye to one of the most iconic voices and musicians in bluegrass. David Anthony "Tony" Rice passed away, Dec. 25, at his home in Reidsville, NC. Few will ever match his skill and influence. Rest in Peace, Tony.

@IntlBluegrass on Twitter, 12/26/20