Three Capital Region performing arts venues banded together to donate a virtual Black Violin concert to students of all grade levels.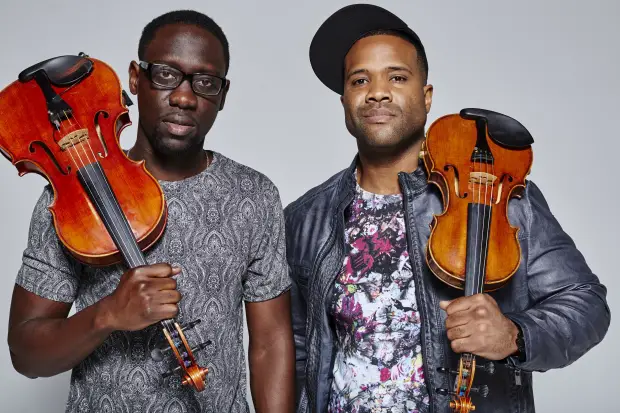 Proctors Collaborative, Saratoga Performing Arts Center and Troy Savings Bank Music Hall are the three venues that will provide the virtual concert to classrooms from Feb. 22 to April 2. Between those days, students can experience an explosion of classical and hip-hop music from the duo, Black Violin.
Teachers have been given the enormous and challenging task of teaching their students in person and, or virtually at the ready. Arts education has suffered during the pandemic. Tens of thousands of students would have visited any one of our venues for educational programming during this school year. Opportunities such Black Violin can straddle the disconnect of social distancing, support wellness and foster creative development and critical thinking.

Christine Sheehan, Director of Education at Proctors Collaborative
Black Violin normally consists of Wil Baptiste on viola and Kev Marcus on violin, but for the show DJ SPS and drummer Nat Stokes will join them. Together, the group describes themselves as a "classical Boom" because of their distinctive sounds of both classical and hip-hop.
Black violin has held strong for 16 years in the music industry. The pair gained notoriety for their mixture of modern tunes and vocals with old school orchestral music. Since their start, they have sold out headline concerts across the country at various notable venues. Performing around 200 shows, many have been for low-income students in urban communities.
 "The stereotypes are always there, embedded so deep in our culture. Just by nature of our existence we challenge those ideas. It's a unique thing that brings people together who aren't usually in the same room, and in the current climate, it's good to bring people together," said Baptiste. 
Capital Region teachers are able to register for the virtual event starting Jan. 5 on https://school.proctors.org/blackviolin/. Teachers who do want to participate will be given a study guide, link and access code prior to the show.