Metallica and Metal Church played the night after Thanksgiving in 1986, and the Mid-Hudson Civic Center was sold out.  In years following the Mid-Hudson was usually open floor but this show was seated, which killed the vibe a bit, but did not prevent a massive crush and mayhem in front of the stage.
Late 1986 was a strange and sad time for Metallica.  At the beginning of the year, they'd released their monumental third album 'Master of Puppets', and capitalized on 3 years of touring and huge underground acclaim by becoming THE band of 1986.  They opened a nationwide tour for Ozzy Osbourne (which included several New York State gigs in Rochester, Syracuse, Binghamton, Glens Falls and Nassau Coliseum in Long Island) earlier that year, and the ex-Black Sabbath singer was routinely faced with the prospect of following their fireball performances, daunting even for a titan such as he.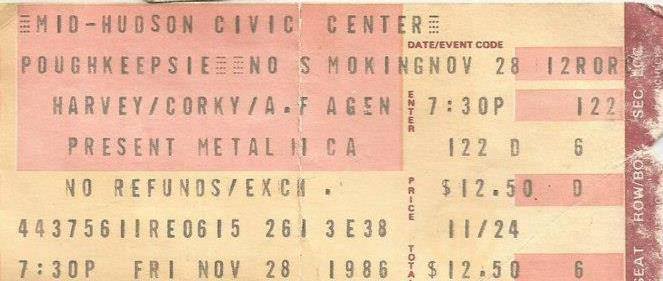 Summer 1986 headline gigs – including a scheduled August '86 gig at this same venue – were postponed when frontman James Hetfield busted his arm skateboarding, but were rescheduled for October 1986, when the band were scheduled to return from a European tour and headline across the States.  Sadly, these too were postponed, for much worse reasons, when iconic bass player Cliff Burton was killed in a bus accident in Sweden in late September 1986.
Astoundingly, the band bounced back almost immediately, recruiting Flotsam & Jetsam bass player Jason Newsted, played their first gig in early November, and the band did a Japanese tour just over a month following Cliff's death.  This Poughkeepsie gig, rescheduled for the third time for November 28, happened just 2 months to the day after Burton's death.
The opening band for Metallica: mighty Seattle metallers Metal Church, who had just released 'The Dark,' their second album, a great record.  They opened with "Ton Of Bricks," and played a solid set with songs from both records, to a decent reception, although the crowd was there for one band.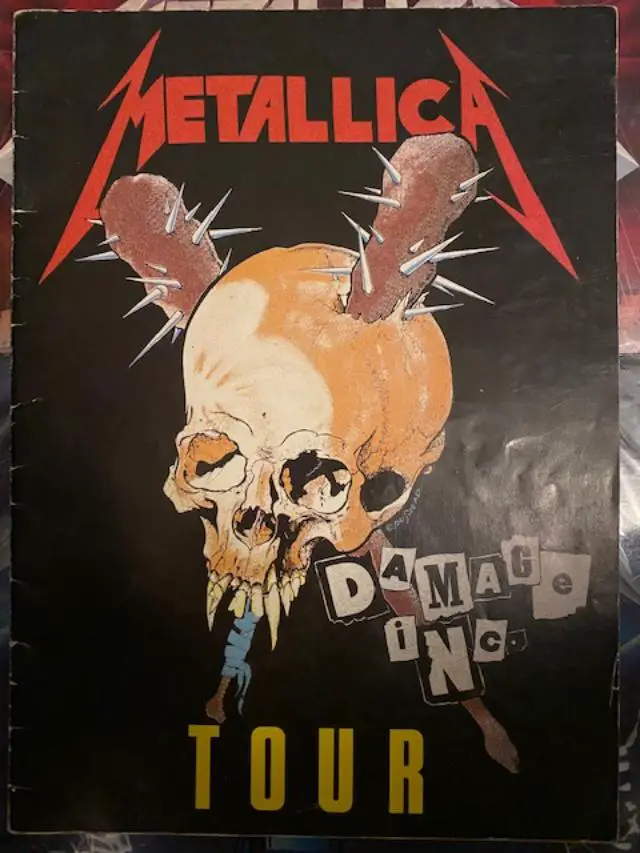 Metallica were crushing, of course. This was Newsted's 3rd ever U.S. gig with Metallica, and to this writer, it was weird not seeing Cliff up there. In retrospect, Jason did a fine job as Cliff's replacement – he could never really replace the man, but he was a good bass player, great background vocalist, and did as solid a job as one could do replacing such a major figure. That night he looked uncomfortable and out of place, and for some reason the band stuck to the same routine they'd had previous to Burton's death – a bass solo before "Whiplash" – and made Newsted do a bass solo, which was utterly unnecessary and really made you miss Cliff.  The biggest cheer came at the end of the solo when he did a quick riff from Cliff's trademark bass solo "Anesthesia". Beyond that, no mention was made of Cliff Burton.
Anyway, even with a major absence, a great show – pretty much the same headline set they'd been doing all year, all those immortally mighty songs from the first three albums: opening with "Battery" and "Master of Puppets", a few more newer 'MOP' songs like "Sanitarium" and "The Thing That Should Not Be", and more vintage classics like "For Whom The Bell Tolls", a thrashing "Whiplash", singalong bruiser "Seek & Destroy" and a set-ending, world-destroying "Creeping Death".
The encores were bulletproof pure metal: first-album standard "Four Horsemen," a quick Kirk Hammet solo, and then their much-loved cover of Diamond Head's "Am I Evil?," coupled with a neck-snapping "Damage, Inc.," and a raging, apocalyptic "Fight Fire With Fire."  A final, extra encore was another cover, this time of Blitzkrieg's face-removing "Blitzkrieg."  Again, there was an air of strange sadness about the entire thing, without the man in bell-bottoms usually on the left side of the stage, hair flailing, roaring on his bass, something was missing.  But it did not stop the raw power of this band – at this point, they were still the greatest band on Earth. All hail Metallica.
Metallica Setlist: The Ecstasy of Gold – intro, Battery, Master of Puppets, For Whom the Bell Tolls, Welcome Home (Sanitarium), Ride the Lightning, Bass Solo, Whiplash, The Thing That Should Not Be, Fade to Black, Seek & Destroy, Creeping Death, The Four Horsemen, Am I Evil?, Damage, Inc., Fight Fire With Fire, Blitzkrieg