Skyfoot is back to cure your quarantine blues with their fourth album, Astronomy Man. This four-piece band from Boston has firmly established themselves in the Northeast music scene over the last decade, playing hundreds of shows and being named "Best In State" at the 2019 New England Music Awards. Skyfoot recorded this album this past winter and spring and thanks to a successful Indiegogo campaign, Astronomy Man was released on November 2nd.

The eleven tracks on this album shimmy through a number of different genres and feature tremendous psychedelic and funky jams from start to finish. Starting things off is "What'cha Gonna Do," an upbeat, soaring opener with a catchy chorus. The track culminates in an incredible jam combining Tyler Arnott's fantastic guitar work with Eric McEwen's beautiful organ playing. The opening slide guitar in "Follow Me Down" will immediately perk your ears as Aaron Morey's drum beat kicks in, invoking a cross between a steam engine crossing the plains and a lone cowboy on horseback.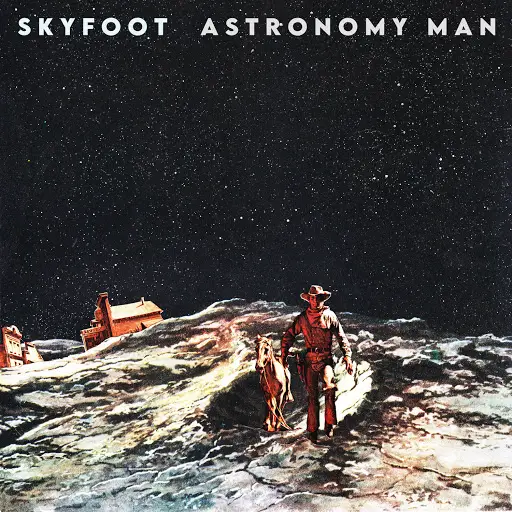 Astronomy Man also features a bunch of longer tracks that allow the members of Skyfoot to explore the space in your living room. "Take Time" is a toe-tappin' ditty featuring a beautiful dance between banjo and keys before morphing into a kaleidoscopic puddle of a jam. James Taylor's bass oozes funk during "Everybody Have a Good Time Tonight" and if you close your eyes during this track, you'd swear you were shoulder to shoulder with your best friends at a show. The title track is the quirkiest and catchiest song on the album, but features a shredding guitar solo before skyrocketing into the interstellar. This album takes you on a stellar journey from start to finish, ending with the angelically prismatic "Spoke."
Skyfoot was able to do something really wonderful with this record. They used every bit of aural space within 67 minutes to pack a mind-bending amount of music into these eleven tracks. This is a band truly worth traveling to see once we are blessed with live music again. Check out Astronomy Man on Spotify, Apple Music and YouTube or visit the Skyfoot Store to purchase the album.
Key Tracks: Everybody Have a Good Time Tonight, What'cha Gonna Do, Lovin' Kind