One of the better Grateful Dead shows at the Fillmore East was aided by its surprise attack. Allegedly, two nights before at the same venue, Grace Slick, on behalf of Bill Graham, announced an impromptu "pop-up" show with Jefferson Airplane and the Dead at the same venue that would take place just days later. Since Slick was still pregnant at the time, Jefferson Airplane wound up being replaced as the opener by Hot Tuna. The New Riders of the Purple Sage played an opening set as well as was customary for this tour.
There's also some previous controversy surrounding this show. For years, it's been misidentified as an 11/23/70 show at the Anderson Theater in New York City. After a Bill Graham introduction, the band is off and running immediately with a "Casey Jones" that ably motors down the tracks. Next, Bob Weir leads them through the traditional first set stalwart of "Me and My Uncle."
Oddly, the house PA seems to cut in after this with a recording of Elton John's take on "Honkey Tonk Women." This leads into a a cut version "Friend of the Devil." Despite this lapse, Garcia's vocals sound pristine in the recording and the band is on point. Then, after essentially a "no huddle" transition, a short yet crisp version of "Cold Rain and Snow" takes place. Afterwards, Pigpen finally gets to take lead for a while as he leads the Dead through a cover of Slim Harpo's blue standard "I'm A King Bee." The opening harmonica solo and later interludes between that and guitar solos stretch this one out into a healthy, bluesy jam.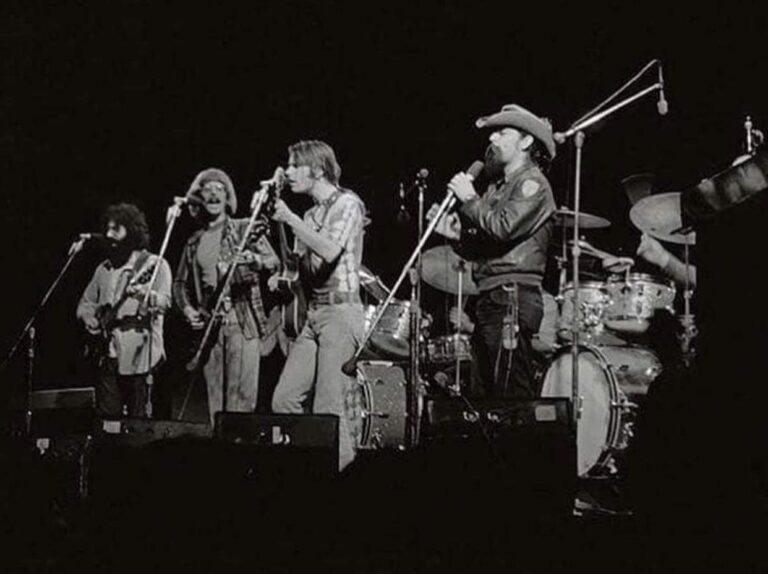 Another classic first set pairing ensues with "China Cat Sunflower," eventually joined by its traditional partner, "I Know You Rider." A seemingly quick transition jam later sees the band in full vocal harmony on this spirited take of yet another classic blues cover.
At this point, a special guest joins them on stage in the form of Traffic's Steve Winwood. The blues sentiment that had been previously established seems to carry right over to the cover of Otis Redding's "Hard To Handle" that follows. Once again, Pigpen lends his signature vocal prowess to this classic Dead cover. Winwood's backing on Pigpen's Hammond organ is immediately felt and can be heard throughout. This one gets into a serious jam with Pigpen taking a backseat and Winwood soloing on top of the groove. Then came the relatively new "Big Railroad Blues," yet another cover, written by Noah Lewis of Cannon's Jug Stompers that dates all the way back to 1928.
Right after, the heavily percussive intro of "Not Fade Away" begins with. Chris Wood and Jim Capaldi of Traffic join the band on a half-hearted attempt at the vocals. This eventually evolves into a deep, drum-led jam. More splendid Winwood outbursts later lead into "Goin' Down The Road Feelin' Bad" with Garcia and Weir reassuming command. Surprisingly, at its conclusion, this shifts right back into one more quick take of "Not Fade Away," albeit this time with Weir confidently taking the lead on vocals.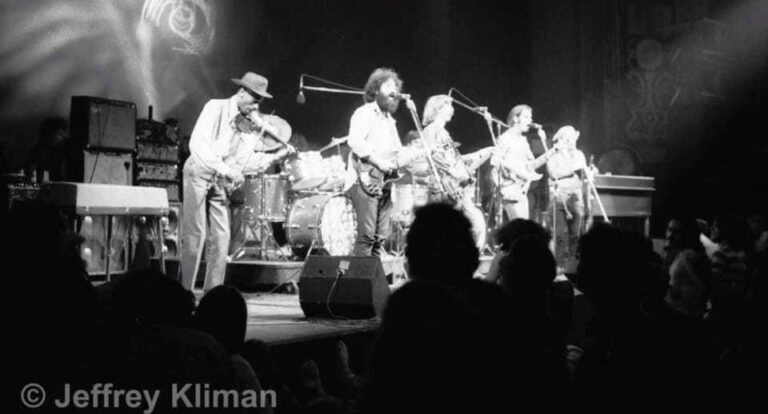 After more than three minutes of a break between songs, Weir once again takes lead on the "Mama Tried" that follows. This is followed by one of the better two-song sequences of the evening. The relatively fresh "Truckin'," debuted only months earlier at the Fillmore West, follows. Hot Tuna's Will Scarlet adds a touch of harmonica to this one. Another percussive laden jam follows that seamlessly steers itself into a mesmerizing version of "The Other One."
The jam that ensues gets spacey midway through before settling back into its normal progression. This is followed with the unofficial encore of "Uncle John's Band" with more early harmonica fills from Will Scarlet – a near acoustic version until the drums kick in. It's still fairly new song at this time, but this version is flawless as it continues to build its reputation. This put the cap on the Dead's "surprise" Fillmore East gig.