Utica's all grown up boy wonder guitar god, Joe Bonamassa, has just unleashed another fantastic solo album, Royal Tea. Recorded at London's iconic Abbey Road Studios. Bonamassa's latest is a tip of the hat to his British blues rock heroes, Jeff Beck, John Mayall & The Bluesbreakers, Led Zeppelin, Cream and more. It is also as much a showcase for his increasingly progressive and mature songwriting, as is his always sizzling six-stringery.
The 10 originals here were co-written by Joe and Brit notables including former Whitesnake guitarist Bernie Marsden, ex-Cream lyricist Pete Brown and piano man Jools Holland of Squeeze fame. Bonamassa's long-standing producer Kevin Shirley and his touring band, Anton Fig (drums), Michael Rhodes (bass) and Reese Wynans (keys), flew in for the sessions.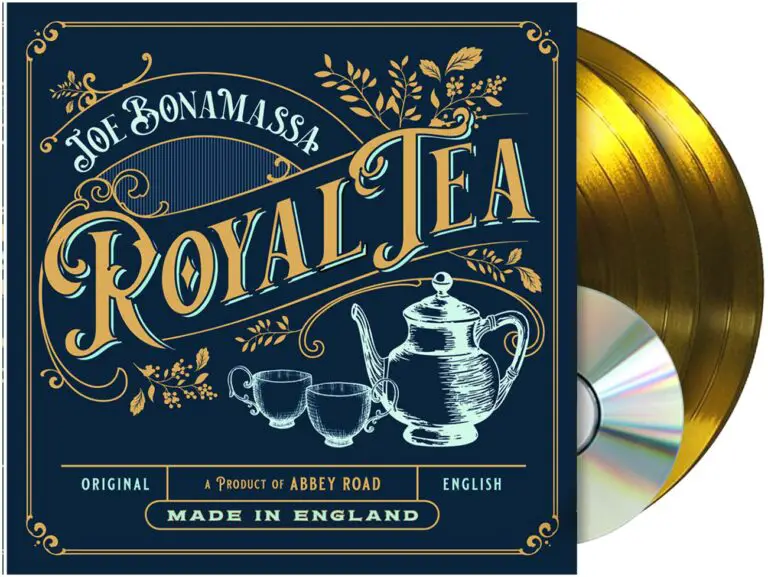 While Royal Tea is a nod to British blues masters, it is not at all about retreading the classics, or the simple but saintly joys of going round and round the 1-4-5 pattern. It's an album full of songs that are firmly rooted in a blues feel, but with very progressive and surprising leanings. It's all about the unexpected chordal turnarounds and multi-movements that span epic length, things that owe more than a bit to Brit prog acts of the '70s.
Bonamassa sets the tone with the album opener, "When One Door Opens." It kicks off with baroque strings and brass that could've been mustered up by another true Abbey Road legend, Beatles' producer George Martin. It's a mournful ballad that feels a bit like Guns N' Roses "November Rain," until it shift into a nasty Led Zep-styled groove and then a boogie for a screaming wah-fueled solo. It solo winds down with rhythmic quote from "Beck's Bolero," before returning to the mournful orchestral mood for the close.  A ballsy move, as this one clocks in at 7:34, making it the longest track on the album.
The title track follows. It's another hard blues with a thick slamming groove and unexpected descending chordal turnaround, and yet another Beck-era Yardbirds' quote in the solo. Here and everywhere on the album Joe's guitar tones are killer, honey thick and biting. And his solos here are kept brief, always in service of the song. And why not? Joe's got one of the world's best employed vintage guitar collections to make these varied sounds, a virtual museum that can be viewed here.     
"Why Does It Take So Long to Say Goodbye" is another of the many slow grooves here. Joe wrenches every bit of emotion out of the melody, with his guitar playing and his vocals, the latter which gets better in each passing album. This is another blues in a few epic movements over its six and a half minutes, where he complements thick power chording with sweet flourishes on his acoustic.
For a John Lee Hooker-styled boogie, with extra crunch, turn up "High Class Girl;" for a bit of Southern rock and slide, tap into "A Conversation with Alice."  On "Lonely Boy," Joe and company go for broke, with a sprightly big band jump blues with rocking' horn parts. Some beautiful soloing from Jools Holland and what must be flashy chromatic runs on a vintage Telecaster from Joe. This is a track that would be totally at home on a Brian Setzer album.
One of my favorites is the offbeat "Lookout Man!" This one combines another Jimmy Page-styled riff with Space Rock sound effects a la Gong/Steve Hillage, with a nasty blues harp and a chorus of female singers that sound like Ike and Tina Turner's Ikettes. "Savannah" ends the album on an up tempo, with slamming' country picking and a droney fiddle.
This week Royal Tea made a big splash on the charts, earning Joe Bonamassa his 24th #1 album on the Blues Chart, an incredible feat, more than any other artist in the history of the chart!  More importantly, it's gaining Joe fans beyond the narrow blues niche. He's #5 on Current Albums, #6 on Indie Albums, #7 in Rock and #7 in Rock charts. 
Bands like Cream and Zeppelin were successful because they took to the wonderful foundation of American electric blues and did something new and different with, with each album as their careers progressed.  Bonamassa deserves their level of success because he is following in their progressive and bold footsteps.
Key Tracks: When One Door Opens, Why Does It Take So Long to Say Goodbye, Lookout Man!