In celebration of five years of their 2015 LP Digitonium, the nine-piece Brooklyn funk group Turkuaz has released never-before-seen in-studio footage of their fan-favorite song "Nightswimming." Fans can pre-order a special anniversary vinyl of Digitonium, in both black and a limited-edition blue only available on their website. "Nightswimming" received high praise from Relix Magazine for its "saturated synth line and bubbling bass" as well as JamBase praising Digitonium as a "major progression" for Turkuaz.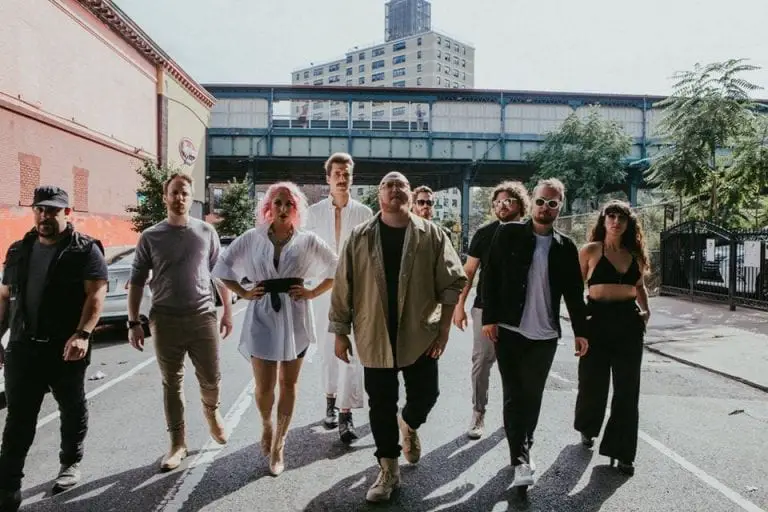 "Nightswimming" was recorded at More Sound Recording Studios in Syracuse, NY. The track was produced by Dave Brandwein, mixed by Jason "Jocko" Randall, and mastered by Chris Athens. According to Brandwein, he created the lyrics and melody for Nightswimming before Turkuaz recorded it."
After the first take, I'll never forget when Jocko chimed in through my headphones saying, 'Alright, there's definitely a vibe going on in there. It's no surprise that this is one of the fan favorites from Digitonium. It's one of our favorites too!" Brandwein said. Shane Grace Allen (Danke) joins Turkuaz members on vocals with Nate Werth on percussion.
"Nightswimming" was born out of two demos that Taylor and I each made individually They were in the same key with the same tempo and feel. We started to wonder if we could combine them and as it turns out, we could! So what you hear is my original riff (the synth line that begins the song), with Taylor's bass riff coming in over it. They weave and bob around each other in a very cool way that I think gives the song it's unique feel.

Dave Brandwein
In the meantime, Turkuaz has taken part in several virtual performances, including a performance of "Electric Habitat" for the virtual music festival Democracy Comes Alive. The festival partnered with Headcount support voter participation.
Turkuaz also created a web series called "Keep Your Mind In Tune" which presents conversations between musicians and experts about various topics as well as musical performances. Fans can watch the episodes on the Turkuaz YouTube channel or the Keep Your Mind in Tune YouTube Channel.