Hold off on making your Album of The Year lists, alt rock fans, until you've taken the debut album from Carpool for a test drive. Erotic Nightmare Summer checks all the right boxes: electrifying riffs, crafty turns of phrase, and choruses you can't help but sing along to. In short, it slaps. Hard.
Erotic Nightmare Summer is a follow-up to their 2018 EP I Think Everyone's A Cop, a work that launched them on the East Coast touring circuit and a spot at Fest last year. They've already been named on the lineup when Fest resumes in 2021.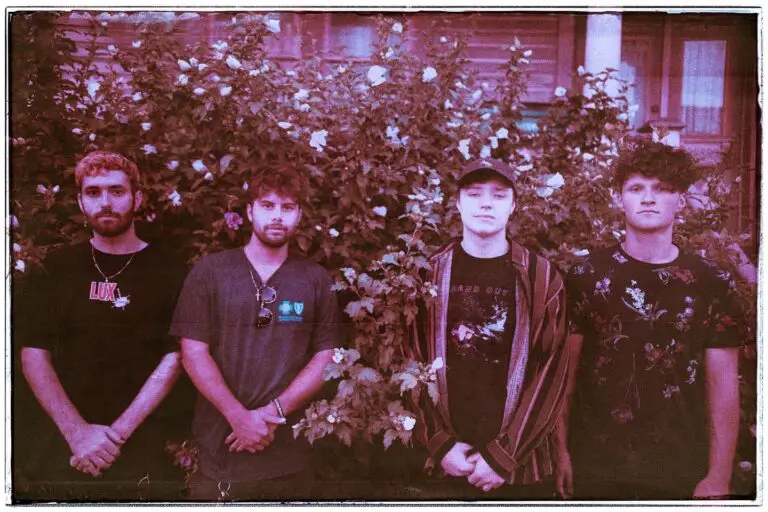 NYS Music caught up with band members Stoph Colasanto (lead vocals, guitar, synth), Tommy Eckerson (lead guitar, vocals), and Alec Westover (vocals, drums) to talk about the album, starting with the overall concept and inspiration.
"Lyrically, it's about the realization that some close relationships had become toxic, and the need to move on," said Stoph. The music follows suit, pushing the boundaries of what is expected from an emo band. With the help of their producer, RJ Demarco, they challenged themselves to leave their comfort zones instrumentally, incorporating unexpected touches like classic rock elements and instruments that are unconventional for the genre, like violin, sax, and glockenspiel. 
The story of the album artwork is also intriguing. For most works, the visuals are an afterthought. But Erotic Nightmare Summer was actually inspired by the striking collage that now graces its cover. It was a print Stoph had bought off artist Aaron Gordon from Buffalo to hang up on his wall. "I was just sitting in my room staring at it, and I got some ideas for songs. It just went from there."
That spark fueled the concept of the album, and the melodies and lyrics for a handful of songs. Stoph called Tommy over that day, and together they started crafting the majority of the songs that comprise Erotic Nightmare Summer. They've fielded a lot of questions since the release. We went track by track through the album because there's a lot to unpack. 
Cruel Intentions
The guitar progression on "Cruel Intentions" may seem slightly familiar to Carpool fans. There's a reason for that. Tommy explained, "The main riff for Cruel Intentions is one that Stoph has been playing, in several variations. The way he played it for 'Cruel Intentions,' we built the song off that."
In the story arc of this concept album, this starting point represents the dawning comprehension that some relationships are emotionally damaging, like the song's 90's namesake movie. Stoph recalled watching the movie as a kid with his siblings, and really being drawn in by the music on the soundtrack, including Counting Crows and The Verve.
The lyrics tell a heart-wrenching tale of trying to disentangle from a messy relationship. "And I'm drunk and waiting for your call / I reek like alcohol / When you finally pick up, this is my fault / And I won't crawl back to you."
Whiskey & Xanax
"That's for sure the darkest song on the album. The first lyric is 'Take two steps forward, take your 12 step back,'" explained Stoph, referring to 12-step self-help programs. "It's like you're doing well, then all of a sudden something happens and you lose something important to you like your sobriety."
"A lot of people advocated for us to change the name before we put it out," Tommy noted, "But it's not like we wrote an edgy song just to write an edgy song."
"The last thing it's doing is promoting substance abuse," added Alec.
Going against the grain can be hard in the music scene, where drugs and alcohol are pervasive. Bands who want to play live are often performing at bars and house shows, where there's a lot of social drinking and casual drug use going on. 
This song also points to how the unhealthy relationships and substance use become intertwined. Alec pointed out, "It's easy to relate to people's flaws, especially when it comes to addiction, or being attracted to people with similar flaws."
The Salty Song (Erotic Nightmare Summer)
"I was mad, I was salty," Stoph said about how he felt when he was conceptualizing the lyrics for the song. "But it's okay to be mad." "The Salty Song" was one of the first written for the album, and the seething intensity of the lines is counterbalanced with a mega-upbeat melody. The short, catchy pop song features a big chorus. 
After writing it, Tommy knew this one was something special. "Stoph and I were texting each other, and I was like, I don't care if the song or the album does well, I just want people to make a TikTok of one of our songs." They put out a challenge on social media and it took off. They had responses from a lot of people, including an employee at a mall pretzel shop. "Shout out to everyone who did a TikTok to that song," 
Beauty School Dropout 
Stoph refers to this song as Tommy's baby. As a fan of the musical Grease, Tommy had been wanting to record the song he had been writing, inspired by his favorite character, Frenchie. 
"Originally it was called Frenchie," said Tommy. "We always have ideas for songs lying around, and finally I was like 'I really want to do it.' I liked the instrumental, and I wrote the lyrics in the studio under the gun."
This song about low self-esteem was a natural fit for the storyline of Erotic Nightmare Summer. It also incorporates an audio clip from the television series Euphoria, pulling in a contemporary reference. 
Driving Under the Skinfluence
"This was the first one we recorded for the album," Stoph said. "This song is a sad one, and a slower one. At this point in the lineage of the album, you're good, you're kinda okay with yourself, but you wonder if that person still thinks about you at all."
The chorus repeating "I lie, you lie, we both lie. We self-destruct every time," really drives home the heart-wrenching pain and agony. 
Come Thru Cool (Punk Ass)
Stoph admitted this is his least favorite to sing live. "I always feel like I'm going to throw up after."
But Tommy loves playing it out. He recalled the day when they wrote the song. "We were literally rehearsing and Stoph started playing this riff. Meanwhile, I'm trying to show him 'Beauty School Dropout,' which I had written for like two years and I was dying to finally show them how to play it. And Stoph was like, this is a sick riff. That's how we wrote 'Come Thru Cool.' I love the song now, but at the moment, I was like, seriously, you're going to write a song in the middle of me trying to show you my song, with no other basis other than the riff sounded cool?"
Toronto
"That was our first studio song through and through," Tommy said. They wrote it and recorded it in the studio with their producer, RJ Demarco. Demarco recorded all the bass lines on the album, and was in all of the group vocals. A man of many talents, he also plays saxophone.
"There's a bridge, like a pre-chorus breakdown. I wanted a trumpet player to come in, and I had a specific melody," Tommy said. "We were in crunch mode at this point, trying to finish it, so RJ played saxophone. It was something a little extra."
Like the fan fave "Idaho" off their EP, "Toronto" is a destination song about getting away from it all. Based on the band name alone, Carpool fans can probably expect sing-along road trip songs like these to continue to be a staple in their discography.
Liquor Store Employee (Old Friend)
The band gets a lot of questions about this song in particular, regarding the lyrics and the complexity of the instrumentation. It's a contrast from the shorter chorus-driven ditties like "The Salty Song (Erotic Nightmare Summer)." 
"I just want to say about Liquor Store, first off, I'm the Liquor Store Employee. That's me," said Stoph. "It's not about my friend Hayley at all – that part references a specific conversation that I had with my friend Hayley… it's a little something I put in there because I had a conversation with my friend Hailey and it changed my point of view on things."
This is Alec's favorite song on the album. "There's a super hot beat, and slow parts, and a part that bangs super hard with the lyric. It's just great. That part in the middle with Tommy doing the lead is probably my favorite part in the album."
"This is our band fave for sure," Tommy agreed. "This and 'Driving Under The Skinfluence' are probably our strongest. There's a good blend of instrumentation, lyrics, and structure."
East Coast West Coast
This is the oldest song on the album, predating Carpool as a band. It's one that Stoph's been saving for the right time to record. "This is a song I wrote in 2014, when I was in my first year of college. I'd play it when I came home, at parties, and it was a thing that we did when we had a party. We'd sing 'East Coast West Coast.'"
"This is more like a straight up indie rock song," he continued, "We're a dirty emo DIY band at the end of the day, but if you listen to this album, you're not just going to hear a lot of emo songs and open tunings. You're going to hear Alec going off on the drums in ways you wouldn't think. And then you'll hear Tommy do a classic rock and roll solo that just fits better than anything you could imagine over a contemporary alternative song."
They drew on some influences from the music they listened to in their formative years for this nostalgic song about long distance friendships. The sentiment of the song is underscored by the use of violin, played by CJ Westcott (who has now been dubbed CJ West Coast). 
Stolen Self Help (I Like You)
This is a softer song, originally written for another musical project, but it made more sense to use it to complete the trajectory of the journey from self-loathing to self-love. And at the end there's a clip of a little girl saying the band's motto: Carpool is about sharing smiles with friends.
"That's my sister's best friend's daughter. Her name is Lila," Stoph said. "I sent it to my sister's friend and said, would you be down to have Lila say this in a voice memo? She sent it to me. It's so cool, especially on that song. It's like a soft close."
Tommy added: "Carpool is a band about sharing smiles with friends. Don't get it twisted. It is what it is."
The band cites numerous people who contributed to Erotic Nightmare Summer, including Taylor Kremis, Jake Amadon, Nick Jones, Trevor Balbierz, CJ Westcott, and artist Aaron Gordon. Also, John Naclerio at Nada Studios who did the mastering, and the crew at Acrobat Unstable Records. And they give a lot of credit to RJ Demarco at Skyway Studios, who also recorded their EP 'I Think Everyone's A Cop.'
"I really gotta shout out RJ," said Stoph. "I feel like honestly if we didn't go to him our first time, we wouldn't know what our sound is. I feel like he understood us better than we understood ourselves. His guidance and structure throughout our time knowing him… especially this past year playing bass for us and being super integral… he made us grow." 
Erotic Nightmare Summer is out now for purchase on Acrobat Unstable Records, and can be heard on a variety of platforms, including Bandcamp and Spotify. The band has some material in the wings, including an music video and a cover song. Be sure to follow them on Facebook, Instagram, and Twitter for the latest content and announcements.
(Photo credit: Matt Sledziewski)