Standing Now is the latest project released by the Jess Novak Band on September 27. Jess Novak, a resident of Syracuse and New Jersey native, sings lead and also plays violin, guitar, and piano. The other members include Byron Cage on drums, Anthony Saturno on electric guitar, Jabare Mckinstry on bass, Gavin George on drums, and Nick Fields on trumpet. Altogether, the dynamic group plays off each other's energy to create an album with raw musical camaraderie.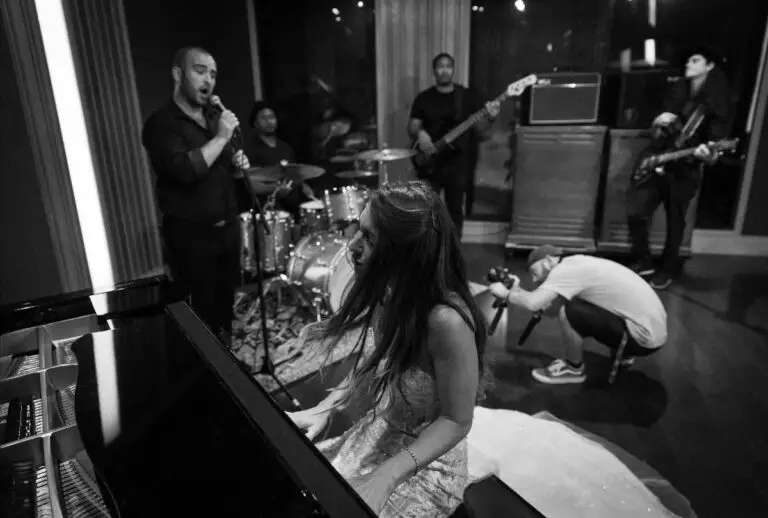 "Northern Lights" is a ballad about losing your way but not giving up.  The background vocals from Nick Fields and guitar solo add a heightened level of reminiscent feelings. "Northern Lights" provides a happy medium balance between the tempo of "Place of Solitude" and "Match."
"Place of Solitude" highlights the band's versatility between songs and provides a necessary break from the up-tempo beat. Anthony Saturno's backing vocals takes the lead from Jess Novak's to provide a poignant message of hope during the tough times of a pandemic. The effortless transition from violin to trumpet solo elevates the message of taking advantage of self-discovery with the lyrics "Never feel alone."
Complemented by drums and guitar, the upbeat tempo of "Match" creates an eccentric mood. The beat leaves listeners toe-tapping and wanting to get up and dance. The violins match the fast-paced tempo and create a new level of fire expressed through Novak's singing.  Overall, Standing Now is a quality album that easily allows listeners to fall in love with their unique style of pop, rock, and soul music. 
The album was meant to be released in May, and between storms and colds, the band was nearing completion. Then the pandemic hit, but good things come to those who wait. The Jess Novak Band are clearly proud of their latest example of how their band has grown and worked to build each other up.
Key Tracks: Northern Lights, Solitude, Match