Grammy-nominated recording artist Aloe Blacc and Harvey Mason Jr., Interim President/CEO of the Recording Academy, will join other keynote speakers in a conversation at Mondo.NYC 2020 on Wednesday, Oct. 14.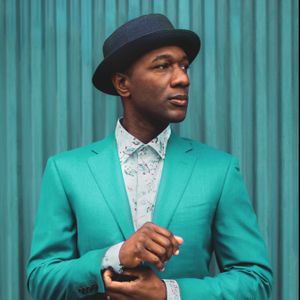 Mondo.NYC is a festival and global business summit of music and tech industry insiders. Their goal is to connect fans, innovators, and emerging artists to the changing music business and technology landscape. This year, the festival celebrates its fifth anniversary as a four-day virtual interactive meeting and livestream from Oct. 13-16. Participants will experience curated panels, conversations, workshops, and virtual network activities. The festival also includes Mondo.NYC showcases of up-and-coming bands around the globe.
Aloe Blacc worked his way from a nine-year-old kid who used to write rap songs, to a now Grammy-nominated singer and songwriter. The breakout success of his single "I Need a Dollar" helped propel his sophomore album Good Things to gold status and paved the way for his signing to XIX Recordings/Interscope Records in 2012. Blacc's most notable work includes co-writing and providing vocals for Avicii's hit song "Wake Me" which has surpassed one billion streams and 2 billion views on YouTube. His album Lift Your Spirit debuted at #4 on the Billboard 200 chart in 2014 and earned him a Grammy nomination for Best R&B album. Blacc is now actively working with the Black Music Action Coalition and several organizations to use his platform for positive change in social justice. Aloe Blacc's fourth solo album All Love Everything drops on Oct. 2 through BMG Music.
As a multi-Grammy nominee, Harvey Mason Jr. has written and produced songs for the music industry's legends and biggest superstars today. His resume' includes working with Whitney Houston, Beyonce, Elton John, Michael Jackson, Aretha Franklin, Chris Brown, Ariana Grande, and Britney Spears to name a few. Mason produced some of the biggest musical films and TV events of the decade including Straight Outta Compton, Shrek, Dreamgirls, and "The Wiz Live." Harvey Mason Jr. donates his time and resources to several charitable organizations, including the GRAMMY Museum, MusiCares®, Ronald McDonald House, the American Cancer Society, and Los Angeles Children's Hospital.
Other keynote speakers featured at Mondo.NYC include:
Binta Niambi Brown-Founder of Omalilly Projects with Ty Stiklorius-Founder & CEO of Friends at Work
Jason Flom-CEO of Lava Records and Founding Board Member of The Innoncence Project
Kevin Lyman- Founder/Producer of Vans Warped Tour and Co-Founder of 320 Festival
The conversation is presented in partnership with the Recording Industry Association of America (RIAA). Click here for more information about purchasing tickets.